Working in the special events industry, we as professionals are always focused on creating the right feel or design for a space and the purpose of the event. Let's define mood or ambience as what creates the impression you have when a guest enters the room. Impression is a key word to consider whether you are an attendee or a planner. Sensing the mood is instinctive to all event attendees while, creating the right mood is paramount to event professionals. Lighting, color, texture, flowers, location, food, beverage and entertainment, these elements and more combine to create perception and design. I'd like to suggest an element out of the "and more" category above that you might wish to consider when you're setting the tone, look and feel (or as we are calling it) the mood of your event. I'm talking about furniture. Yes, furniture.
I'm betting that you've really not really pondered or thought about it too much other than…"that will look best with everything we are doing." Yet, furniture can be an useful consideration when creating atmospheric clues that touch the senses, create opportunity for interaction and complement the personality of an event. In fact, at times it can completely define the landscape.
Let's talk about a few different examples of how furniture can be used a design tool:
Using lit furniture creates a distinctive setting, reflects a color palette or even delivers on a branding or communicates a message. Easily customizable, this element is flexible, and reflects a modern looking space.
One of the big things that we are hearing a lot about this spring is the trend color tangerine. Color options along with style can easily set the theme or create a focal point of a room. Furniture can easily add the bold splash of color you are looking for.
Love the style of the furniture, but you want to add a unique flavor? Consider custom slipcovers in a fabric and texture that really promote the theme of your event. Metallic? Moroccan? A styled slipcover can carry the theme a long way. Add in accents and accessories and you are on your way to creating a complete mood palette.
Having an outdoor event? Create cabanas styled with furnishings that carry the theme. From bar mitzvahs to outdoor club lounges, wicker and woods with colorful accessories accentuate the environment, and set the mood.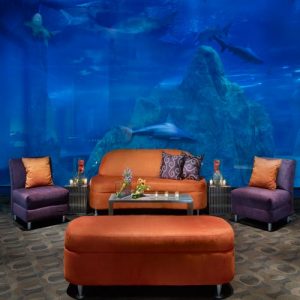 With a large selection of style choices, furniture can easily define any space. Consider modern white leather for a club feel or minimalistic theme or perhaps crystal-accented furniture for an ethereal elegance. Mix and match black and white or colors together to create an atmosphere that says anything from black and white party theme to Madmen. It's all in what you want the environmental design to say. Don't be afraid to step into other styles, colors and textures to really create a space that says exactly what you want it to say.
Furniture is a also a consideration when designing for a dining experience. From elegant sophistication of modern high top dining to rustic family French cottage styled settings, different furniture, can help carry the mood.
Finally take it to another level and create a distinctive and original theme by customizing tabletops and accessories to tie in a theme or brand.
See? I bet you have never stopped to think about all the different ways that furniture can set the mood. Perhaps now, you'll have a different perspective. Furniture can truly be your passport to design!