Furniture isn't just about a place to sit anymore. It's morphed into a major design element for meetings and events. Today, furniture falls into line with styles, textures and colors that play right into the design palette. It is an element that by its very nature strengthens the vision of the designer and underscores the purpose or theme of the event.
In 2012, trends take us even further away from the traditional thought process of furniture as furniture and capitalizes on it as a clear design element that helps create the environmental ambience of an event. Realizing that the definition of what a client is looking for ranges across a broad spectrum, let's talk trend through different uses of furniture in an event.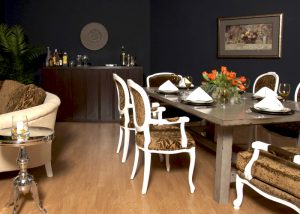 Alternative Dining: Event planners and designers are still looking for creative and fun alternative dining options. Mixing and matching chairs with benches not only maximizes space, but also provides a style that is unique and fashionable. Need to create a rustic feel in a modern environment? A distressed dark wooden table with cushion top benches and crisscross dining chairs up the ante. To reincarnate lit tables, place a mirrored runner down the middle and add bold color blocking and it's a must have look. Demands for unique tables that don't need linens are hot! Distressed finishes, acrylic, and mirrored tables when paired with a synthetic chair, or even an event sofa, reinvent the dining experience through an eclectic mixture of styles.
The French Provincial look is back in the game in a big way. Our Chateau line featuring cabriole legs, and simple scalloped carvings defines this dining style. The look is popular this season with rich patterned textiles intermixed with other styles like a less formal distressed wood dining table. It's a very French countryside feel with culture and design cleverly mixed together. Formal, meet normal.
Branding: Branding an event through accessories is big and going bigger. Clients and sponsors are asking for ways to better brand their events and still keep an edgy look. Intricate cutouts on bars, water features, accent tables to custom logo pillows and even branded furniture pieces dictate the forefront of this important trend. Additionally, monochromatic color-coding with brand colors allows clients to brand an event as their own in a subtle, yet distinctive way. Branding is all in the details when it comes to furniture.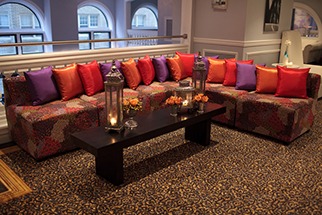 The Lounge: The lounge is here to stay. This go-round people are looking for fabrics and textures that play into the overall design of the event. Our Extravaganza line is a perfect example. Brightly woven patterns help define the overall theme with a "world" flavor. Black is back in a big way by using different textures and styles. In addition, metallic finishes create an interesting interpretation of the new lounge look accompanied by mirrored accent cubes, bars and tables. Mixing synthetics with naturals is on the upswing. Think dark woods (from furniture pieces to wooden bars) mixed with vibrant color, luxurious fabric textures and brushed stainless accent tables. In addition, lounge elevations within events are a big deal right now providing exclusive areas and opportunity for sponsorship and branding.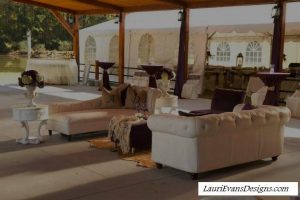 The Meeting or Conference: Comfortable seating for general sessions and conferences are edging into the conscious of clients desiring to make sure that their employees are comfortable while effectively capturing their attention and getting their message across. AFR Event Furnishings recently provided VIP seating for a corporate conference where the VIP section was ticketed for the GM's, VP's and other upper management staff who enjoyed the general session from our white leather Whisper sofas. We've also done events for a thousand attendees where sofas and comfortable chairs were set throughout the ballroom creating a more comfortable and conversational seating option for guests. It's not always the ballroom chair holding center stage anymore.
Weddings and Social Events: Personal touches are where it's at when it comes to weddings and social events in 2012. Every element is a reflection of the personality of the couple or hostess. When it comes to furnishings, we are seeing a big trend in using a vintage home accent piece to create a very homey feel to the reception environment. Vintage "found items" fit whether your style is shabby chic or modern – it's about creating a contrast. In the furniture world this might be an accent chest, a serving buffet or a distressed dining table for a candy bar, but whatever it is, eclectic settings within an environment speak to the personality of the couple or hostess in a very personal way.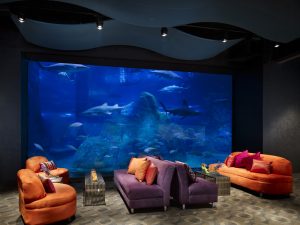 Color: Tangerine is the hot Pantone color of the season. Vivid strokes of color blocking speak to a bold fresh approach rather than a more subdued environment with neutral or monochromatic palettes. Infused with different upholstery media of textured fabrics, weaves and patterns and you have new choices that play to the latest trends in design. Expanding the "found items" trend into the special event means utilizing pieces in an unexpected way to invent a "look."
Metallic and distressed leathers are also very popular this year and we are seeing a demand for anchored accent pieces in these finishes rather than whole collections.
And, finally, we'd be remiss if we didn't point out that during an election year primary colored traditional red, presidential blue, and classic white, coupled with, clean lined, masculine styled furniture is in high demand.
Clients and designers can create an updated and versatile look by using different textures and upholstered pieces to give a sense of a residential feel. Add in further warmth with rich color and "found items" accents to create warm yet trendy environments. Furniture provides a foundational design element and allows event designers to infuse their flavor for a customized look. From a single stylized grouping to many different internal environments with distinctive theming, the impact and trending of furniture in event design is one that isn't going anywhere.