Over 200 event professionals attended this year's tour stop at the Mead Center for American Theater in the nation's capital on Monday, October 1. The day started early with hard work from the AFR crew and our vendors to transform this beautiful venue into Fifty Shades of AFR.
As guests entered, they walked into the office where the CEO ofGreyEnterprise Holdings Inc. put in a lot of hours! Our vivid table served as his desk and the sleek black leather of our Metro and Grammercy groupings, complimented by the white leather of our Function collection, added class. Yours Truly Lighting and Décor did a wonderful job at highlighting each room!
From the office, you entered the Penthouse living room of Christian Grey at the Escala in Seattle. Beautiful drapery provided by Quest Drape provided the perfect backdrop to Function, Grammercy and Sophistication groupings for the modern look Grey fancied. The mood was really set with floral centerpieces and accents from Blue Vanda Designs, who did an amazing job with all of the flowers.
Christian enjoyed classical music while in his secret room, so what better than the serene sound of a cellist from Bialek's Music to invite you into the Red Room? This room featured AFR's newest collections. The Winston sofa and chair was showcased on stage in the center of the room. Our new Vermont table was complimented with Dijon chairs. Two peek-a-boo lounges surrounded the Chateau grouping, along with a Tuscany grouping. While in the Red Room, guests enjoyed a fabulous beaten to a pulp smoothie bar provided by our friends at Traveling Bean from our brand new Umber Bar!
Guest's hung out on the Broadway line outside, while lighting up hand rolled cigars provided by Cigar Row.

Because Ana and Christian liked to unwind with their favorite champagne, we transformed upstairs into a crystal champagne lounge using, of course, our fabulous white leather. Continental, Crystal Button, and Plaza were used to create a whimsical feel. And Booth-o-Rama was there with fun photo booths and guests enjoyed music from Chris Laich. Market Salamander did the catering all served with Select Event Rentals stunning and area specific product.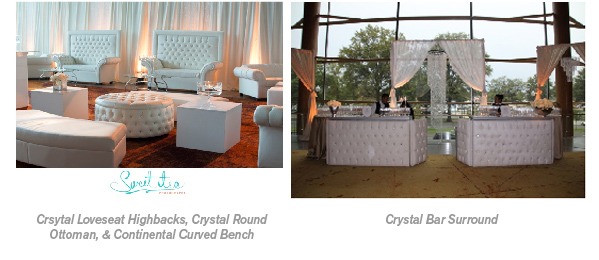 Spoiler alert...the coup de grace was the Happily Ever After section which was a serine picnic setting using our latest grass collection with floral!

And a very special thank you to our generous sponsors Etouches, The Mead Center for American Theater, Hosts, Blue Vanda Designs, Booth-o-Rama, Quest Drape, Select Event Rentals, Sweet Tea Photography, Atlantic Valet, Chris Laich Music Services, In Depth Photo & Video, Bialek's Music, Market Salamander, Yours Truly Lighting and Décor, FutureShow, Cigar Row, and Traveling Bean.
Laters, Baby!