We are just back from the Las Vegas World Market Center where 300 top event professionals experienced the sizzling hot energy and excitement of the 2012 AFR Networking Tour and Showcase - "Electric." If you missed out on the event October 18th, you are going to want to read all about it. Imagine the excitement; feel crackle of Sin City…experience the tingle of anticipation…now you are in the right mood…read on.
Valet welcomed guests to "Electric" and directed them onto a 100-foot long, lit, purple carpet lined with interactive entertainers paving the way into the event. Our Hour Glass Pub tables stacked high and glowing with electric blue light topped with cascading floral created a branded entryway featuring our new AFR waterfalls. We love using standard items to create unusual solutions, and the entryway was a perfect example of how we get creative.
Moving through registration, guests were entertained by a magnificent 12' tall opera singer before loading into elevators to head upstairs to World View. Arriving on the 16th floor, the entry into the event was draped with lit floor to ceiling fabric columns.
The panoramic view from World View was spectacular with downtown Las Vegas on one side and the Vegas Strip on the other providing a stunning backdrop for the evening. Throughout the space were several vignettes of AFR furniture collections, food stations and bar including an Alien Tequila tasting bar. Yes, aliens in Las Vegas. We thought you knew.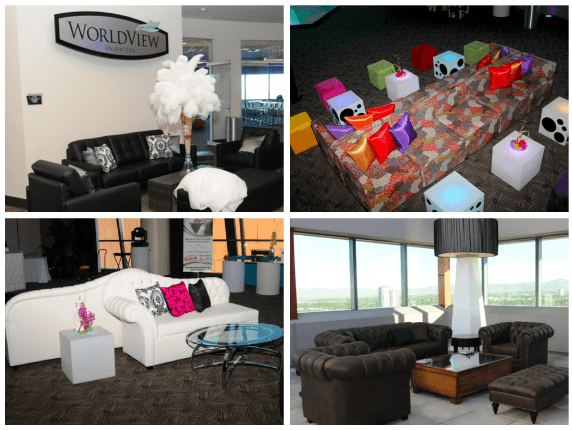 The Twitter Lounge featured the Winston Collection; enhanced with 11' tall Regency lamps topped with 5' white ruched shades adding a modern edgy vibe. Throughout each area we featured different furniture vignettes including our Function line with Extravaganza Slipcovers, our Black and White Crystal Button Collection, the Broadway Collection and our brand new Winston Collection, along with the Evoke and Grass Collections intermixed for several different styles and looks. In addition, we created two different visions with our Vermont Farm tables, the first with ghost chairs, and the other featuring our Marteen and Dijon chairs from our Chateau Collection.  In one area there was an amazing ice sculpture with the Electric AFR Logo, and in another area a mosaic wall with an AFR logo created from photographs of guests. The evening was eclectic, and interesting from beginning to end.
"Electric" was all about experience – a Vegas experience to be exact - so you can imagine that the entertainment in "Club Electric" was simply over the top. The performances by the Neon Drag Queens and the Disco Ninjas in a Bubble on the LED dance floor were to put it mildly – well, electrifying! We loved every minute of it! If you were looking for something other than dancing, there were plenty of activities and games in which to partake, or you could try your hand with Lady Luck.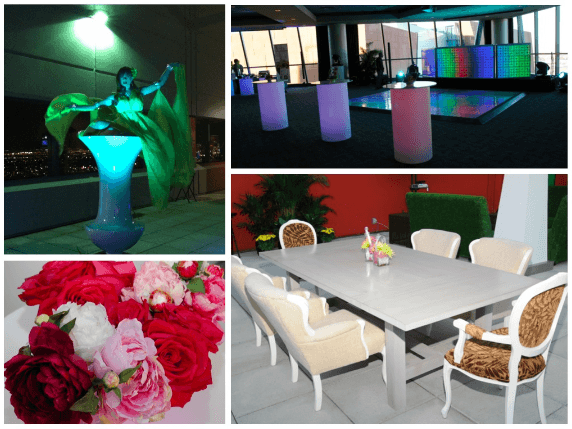 Buffets were laden with delicious food prepared by Las Vegas' premiere caterers which were easy to eat, and sinfully delicious. We especially loved the cupcakes and cake pops…but who didn't, right?
Bars were plentiful and served up specialty drinks and libations from our curved VIP Glow line and were branded with the event and sponsor logos.
Midway through the night, we revealed a surprise – a Cigar and Scotch Lounge. Located down on the first floor, and a separate space entirely, the entrance was designed from white fabric pillars with white feathers bursting from the top of each pillar. The room was shaped from beautiful fabric drape with star a lit sky overhead. Inside the lounge, a 1940's ambience with large vintage photos of the Rat Pack and Las Vegas set the stage for several vignettes of our new Winston Collection. To complement the look we added in our new Wooden Umber Bars and hi-tops surrounded by Regal Barstools.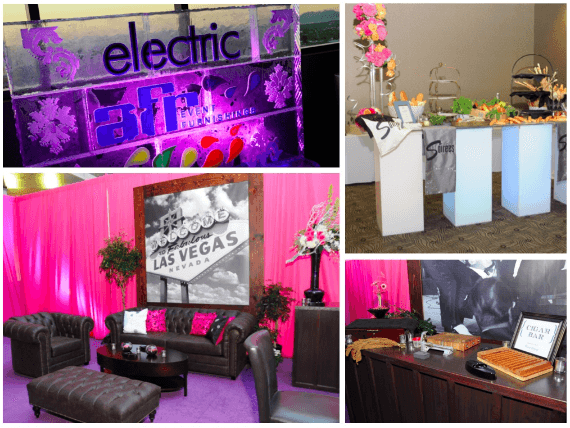 Shadow Dancers, a lounge singer and a DJ provided just the right mood for guests to enjoy their favorite cigar and Scotch. A Scotch specialist was on hand to provide expert information and advice on the different Scotches available for tasting, and a cigar roller artfully rolled perfect cigars for guests to smoke or take with them.
As they were leaving the event, guests were given a gift bags containing small mementos, special offers and marketing information from each sponsor partner. Every minute of the evening was about engaging, networking – and having a lot of fun! Mission accomplished.
It takes every AFR team member to produce these events, and we are appreciative of each of them! And, last but not least, the Networking Tour would not be possible without the commitment and generosity of our partner sponsors. Our special thanks and appreciation goes out to:
etouches, Las Vegas World Market Center, Mundo, Soirees Catering, Masterpiece Cuisine, Let Us Eat Cake, Tasty Little Sins, Events with a Twist, Liquid Courage, Absolute Beverage, Monster Energy Drinks, Ice Occasions, Floral 2000, Freeman AV, Best Agency, Champagne Creative, Neon Drag Queens, Antonio Restivo, Unistaff, ByDzign, AOO Events, 24/7 Productions, Team ACME, Exhibit Fair Int'l, Earth Wind & Sky, Absolute Amusement, Quest Drape, Power Event Productions, Proforma, Moss, American Turf, Roger Pryor, Current Events, Christie's Photography, Reel Lab and Cigar Row.
Our next tour stop is Philadelphia we hope to see you there!