At our next stop, 225 guests took time out of their busy schedules for a quick trip around the world at the AFR national networking tour stop in Philly on November 7, 2012.
Arriving at 2424 Studios, guests were quickly registered and then headed inside for their 180-minute trip around the world.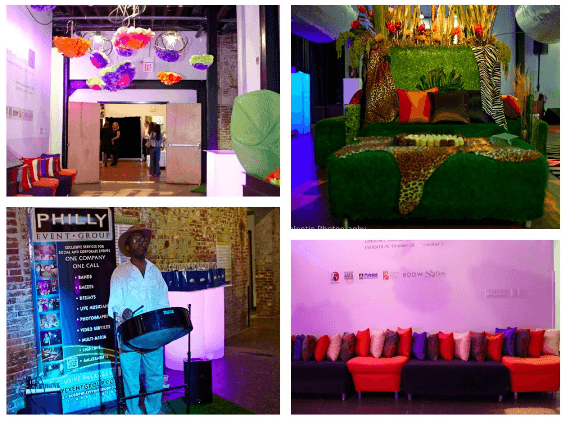 Welcome to South America! With flair of Rio, paper flowers hung from the ceiling and the space featured the Tangerine and Imperial collections topped with Extravaganza pillows. A steel drum player set the party mood. Candy and espresso stations were created out of Umber Bars and featured a Chiquita girl in a red dress…nothing quite like an "oohlala" to start off a great party.
Next it was onto the etouches lounge and a stop at a photo booth where guests had their Passport Photos taken and then headed onto Australian Outback. Vermont tables were set up as design tabletops and were intermixed with the Chateau collection. Add in some animals skin rugs, and the look was rustic and warm.
Globetrotting guests headed north back up to North America - New York City to be exact. In this area, the look was sleek and modern. With food stations created with white square café and Tetrad tables. Beer and wine were served from Manhattan Bars. Bravo high tables with nickel finish provided a place to set a drink or plate of delicious bites from the buffets. Guests could dance to a DJ spinning party tunes or paint it up at the Graffiti Wall.
Then it was across the pond to Europe and romantic Italy. Hayden tables and the Crystal Collection were the foundation for the design here. Stylish and lovely, a dancer/model posed and moved on a crystal chaise and ottoman. A glass blower designed gems and charms for guests to take with them as a memento of their trip. VIP Glow bars with white crystal bar surrounds served as food stations and were laden with delectable hors d' oeuvres.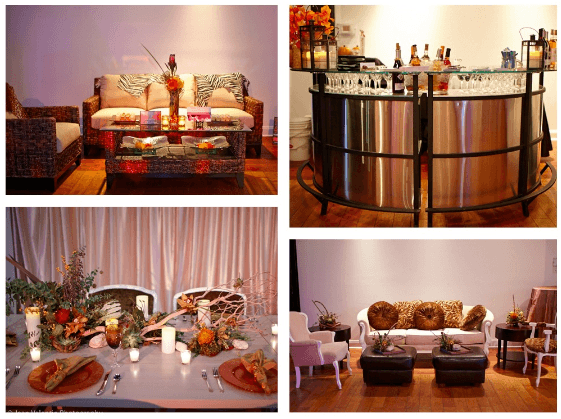 An African Safari was next where our Grass Line was combined with the Winston, Harmony and Broadway collections to create eclectic lounge groupings throughout the area. Umber Bars with Regal Leather Bar Stools provided a place to perch and enjoy a glass of wine or a cold beer while enjoying a delicious cupcake or have the Tarot Card Reader foretell their future.
In Asia, guests stepped into another world where Japan provided a beautiful experience. Created from 16' black sheer drape, a big Buddha surrounded by flickering candles and floral accents created the peaceful Zen of the space. Hayden benches created low-lying tables surrounded by black pillows were guests could sit and enjoy dining Buddahkahn style. Our Evoke Collection provided additional seating. Beautiful displays of Asian foods completed the experience.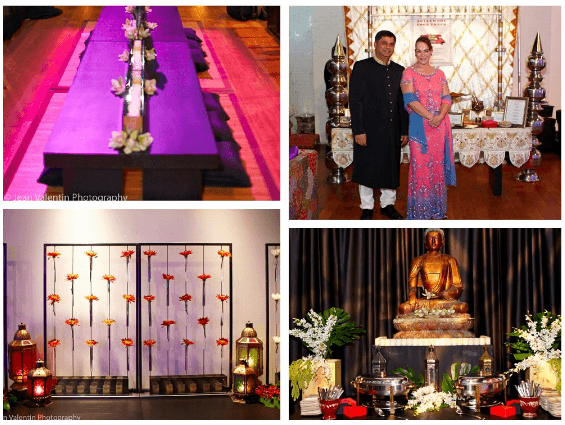 In India, it was all about the lovely colors found within the markets and street bazaars of the country and our Function line with Extravaganza covers set the tone. Bollywood style buffets were laden with Indian foods and served by wait staff in traditional Indian finery.
Under a high peak top white tent, icy Antarctica was set in white with cool tones of blues, and our snowy white Sophistication collection fit right in. VIP glow bars created icy Vodka bars and Adult Snow Cones that helped keep the chill at bay.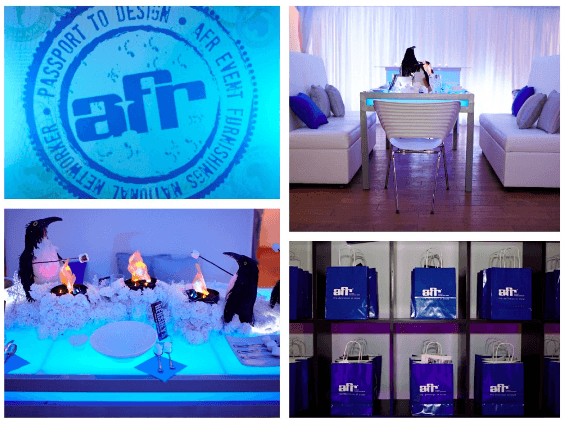 Well that's it folks, it was a whirlwind of a trip, and as guests left for the evening, they were each presented with an AFR gift bag filled with goodies and treats from our generous partner sponsors for the evening. Before boarding the shuttles back to the parking lot, guests stopped to get one last good night snack at one of the food trucks on their way out.
Special thanks to our partners, etouches, 2424 Studios, Eventricity, Philadelphia Event Planners, Gala Clothes, Jean Valentin Photography, Marilyn Sukonick-Zeff, Catch The Moment, DJ'S Available Sound & Light, Paper Rock Scissors, Philly Event Groups, Cupa Cabana, Creative Juice, Choc.oh.lat!, Cinemacake, Wiggle Productions, LLC. Tonz of Fun!, EventFX, Bollywood Indian Cuisine, Event Hospitality Solutions, CutflOwer Exchange, Southern Wine & Spirits of Pennsylvania, Rolling Barrel, Video Game Parties, APLUS at Sunoco, Empire Valet, Mid-Atlantic Limousine, Shutterbooth Philadelphia, South Jersey Party Rentals, Cupcakes Gourmet, and last but definitely not least eva.e.glassworks and CCP Hospitality & Catering!
We've got to run…see you in a few days…next stop…sunny San Diego!