What better way is there to spend a cool fall evening in Southern California than to hang out at a beautiful wine bar in San Diego tasting wines from all over the world? That's exactly what AFR Event Furnishings guests were treated to at the AFR Networker this past week in San Diego.
Arriving to the venue, strains of a Flamenco guitarist set the international tone of the event. Entering into 57 Degrees, guests were quickly registered at stations created from branded VIP Glow Bars bars backed by branded water walls, and presented a wine glass with a numbered cork and a list of wines available for tasting throughout the evening.
A champagne girl greeted guests and offered a glass of welcome bubbly and then it was off to experience delicious pairings of exquisite wines and furniture collections.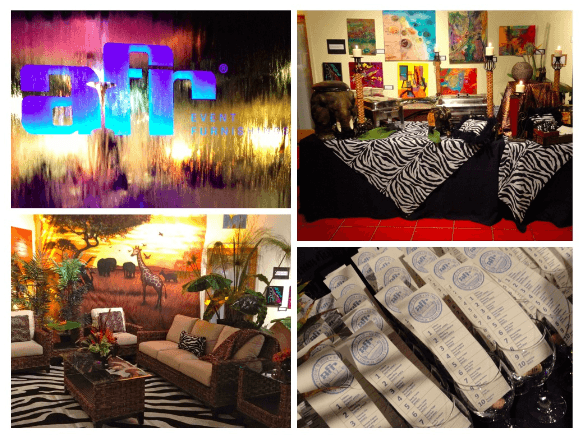 Call of the Wild: South Africa
In South Africa, we featured the Broadway collection with accents of faux animal print pillows, throws and rugs and floral in a setting of lush foliage with a back drop of African wildlife. A Villiere Pinotage and traditional sparkling wine were served by a sommelier from Umber Bars. These were paired with Lamb Kabobs and Polenta (oh so tasty). Later in the evening, you could stop by the Espresso Bar and pick up a delicious cup of energy.
Viva La Mexico
Our neighbor to the South provided a lovely Santo Tomas Merlot and a Red Blend dinner wine. In this area, guests could relax in the etouches lounge on our Function collection intermixed with colored cubes and accented with brightly colored pillows. Regional buffets were created from a Hayden table covered with serapes and served up delicious tacos with homemade salsas that made your mouth water with appreciation. Also, featured was a Vermont Farm Table Top design surrounded by Chateau chairs and topped with stunning floral, winter greens, pinecones and candles. A Hayden dessert bar was designed from a Hayden table and bench. Guests fed their sweet tooth with mini bite desserts and snapped shots using Guppy Pod and posted on Instagram or had photos printed to take as a memento of the evening.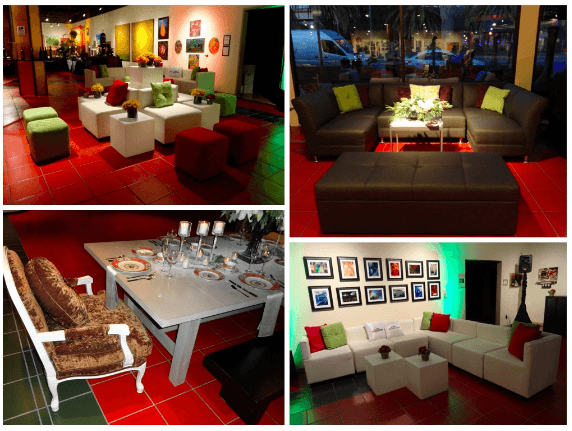 The French Countryside:
What would a wine tour be without some time in France for tastings of Chateau Clos Bourbon or a Domain Eugene Carrel Jongiex served from dark wood Umber Bars? Guests also enjoyed Coq Au Vin with fresh French rolls and an al dente vegetable medley. Again, mouth wateringly delicious. Guests could relax in a French Farmhouse setting created from the Chateau Sofas topped with chocolate brown velvet pillows, Marteen chairs and dark wooden Harmony tables. Another tabletop design featured a Vermont table surrounded with Dijon chairs and finished with gorgeous floral, candles and a replica of the Eiffel Tower.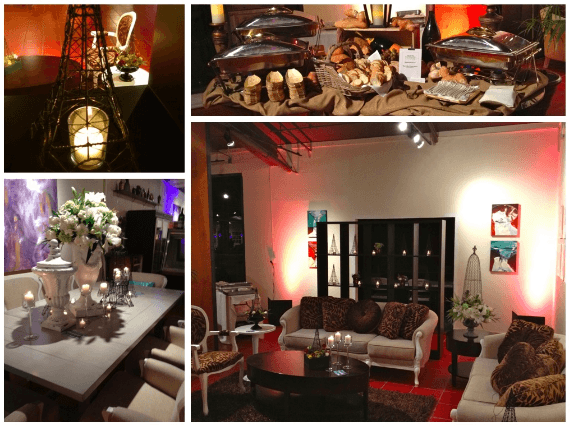 "Que bola asere" Cuba:
Out on the covered patio, guests stepped into Cuba. Here they could relax in Cigar Lounge on the new Winston sofas and ottomans, accented with dark wooden Harmony Sofa Tables, and topped with simple brightly colored floral and flickering votives. A professional cigar roller demonstrated the art of cigar rolling and guests could enjoy them there, or take them as a memento of the evening to enjoy later.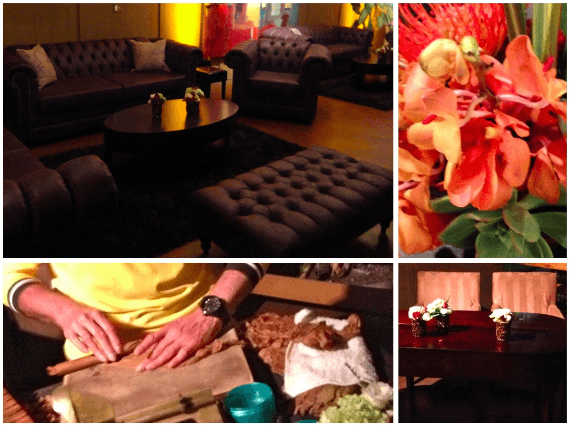 The Golden Coast of California:
No wine tasting would be complete without enjoying wines from California, and networkers tasted a Diamond Ridge Pinot Noir or a Derby Bordeaux Blend while enjoying gourmet sliders in our Grass Collection lounge. Scattered throughout the area were Plaza Chaises and Love Seats or Crystal groupings with glowing club tables. A DJ mixed tunes from a booth created from a Crystal bar surround.
If wine wasn't your thing, then you could step out on the patio and enjoy a Stone Pale Ale or a Wheat Shocktop and relax on the Metro and Evoke collections or perch on a Criss Cross Espresso bar stool at a high boy table and listen to a flamenco guitarist.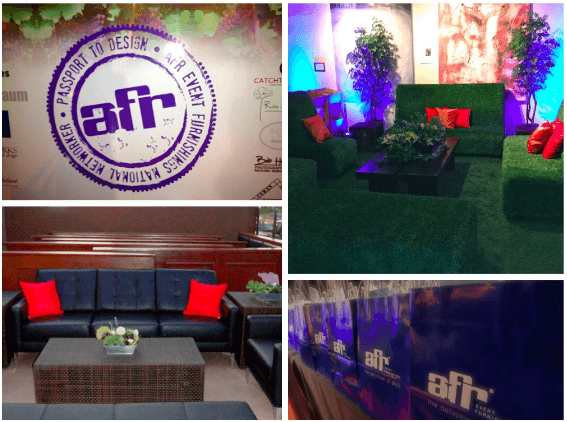 Additional lounges throughout common areas of the venue were designed from the Crystal and Grammercy Collections.
It was an exotic, relaxing evening and without our sponsors it would have been, impossible. Special thanks to etouches, Fifty Seven Degrees, Champagne Creative Group Las Vegas, Catch The Moment, Room For Dessert, Rae Florae, Tim Altbaum Productions, American Turf and Carpet, Cuban Cigar Factory, Backdrops Beautiful, Embellishmint, Classic Party Rentals, EuroBar, Bob Hoffman Photography, Continental Catering, Anthony Garcia Flamenco Guitarist, San Diego Events Lighting, Hartworks floral design, Lois Mathews Design and The French Gourmet.
We're off to our last stop of the tour in New York City. We can't wait to see you there!