Hornblower Cruises & Events
Pier 40
November 19, 2012
Guests: 223
Bringing the events community together one city at a time.
We promised our guests world-class cuisine, the latest trends in event furnishings, and exciting entertainment aboard a state-of-the-art luxury yacht. That's just what we delivered at our last stop on our National Networking tour on November 19th in New York City.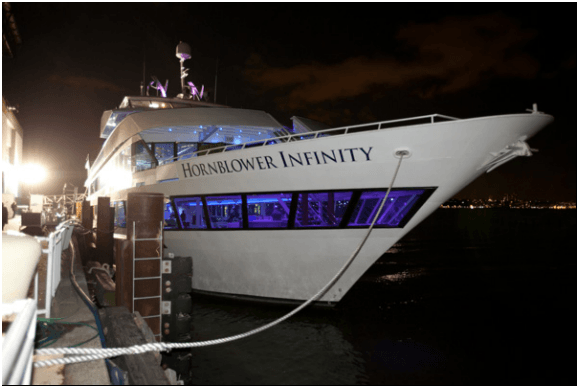 Guests arrived at Pier 40 via a red carpet to registration in the Cruise Terminal, left their autograph on a piece of our Tag It Furniture, and were led out onto the pier to board Infinity. Our luxury yacht would take us to the exquisite ports of Japan, Italy, Monte Carlo, Cuba and the Caribbean. Looming in the background, the twinkling nightscape of New York City provided the perfect backdrop for embarkation on our journey.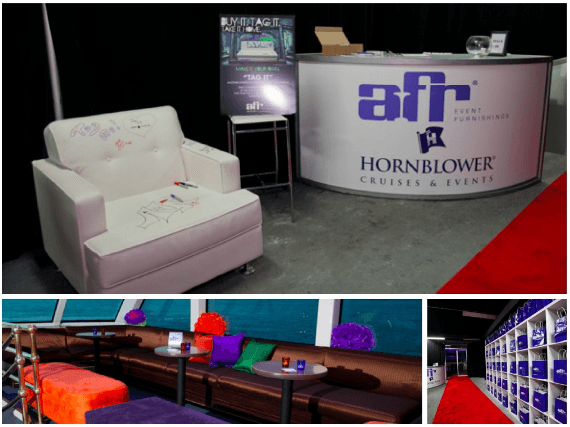 Slide walls on either side of the gangplank let guests know that AFR Event Furnishings and Hornblower Yachts & Events were their hosts for the evening. Boarding the yacht, ship's officers welcomed each guest on board and directed them to the aft of the ship where rum drinks and the sounds of steel drums invited guests into the warm and balmy breezes of the Caribbean. Our Evoke furnishings created the etouches lounge and we featured the bright colors of the islands with our Tangerine & Imperial ottomans with color popping pillows.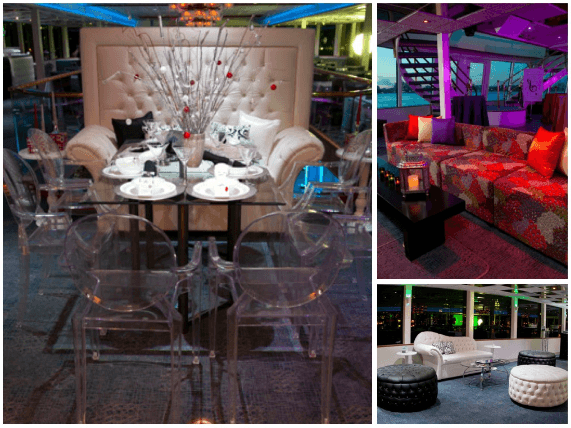 Moving upstairs to Monte Carlo, guests were welcomed into the Royale Casino where they could relax on the Crystal Collection and enjoy a glass of bubbly from the champagne bar created from our black and white Crystal Collection bar surrounds. High back Crystal love seats created tablescapes with Vivid tables which were surrounded by Ghost Chairs. Scattered around the area Chardonnay High Tops with clear acrylic Ghost stools. The high rollers were in the house so the stakes were high, and guests could try their hand with Lady Luck at the black jack or craps tables.
Guests not gambling filled their plates with freshly carved Filet Tenderloin and Crab Claws from the Grand Central Buffet or tried out the virtual photo booth and taking a cruise photo to have as a keepsake of the trip.
It was time to head back out on the high seas to exotic Morocco where more adventure awaited. Our Function line was dressed in Extravaganza covers with wooden Hayden benches for accent tables and topped with colorful glass and metal lanterns and floral. Libations flowed freely from a premium full bar serving any drink that guests dream up. High top tables covered in jewel toned linens of golds, purples and oranges provided a place to set a drink or plate while guests conversed and networked.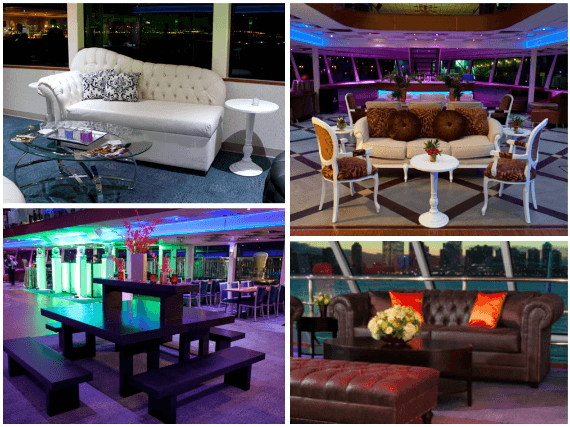 Next stop was Japan where guests could indulge in delicious Asian cuisine. Pot stickers, dim sum, shrimp fried rice and noodles filled plates and guests sat at community styled dark wood Hayden tables with bench tops finished with striking floral and candles. Around the area were high tops draped in red linen. Entertainment reigned supreme with a DJ and light show and acrobatic floor acts performed throughout the evening.
Of course what would a world cruise be without a stop in lovely Italy? In this area, Vermont tables created buffets for Antipasto displays and artisan breads. Our Chateau Collection was featured with more Vermont tables for dining areas with a full bar where guests could enjoy a glass of wine or partake in liquor and spirit tastings.
Upstairs on the third floor of the ship, there was time for one last port – Cuba. The Winston Collection was featured and guests could relax in luxurious lounge pods created from sofas, armchairs and ottomans accentuated with espresso coffee and end tables from our Harmony line. Wooden pub tables with barstools finished the setting and then we added some pillows and stylized florals for a final touch. Guests enjoyed a selection of draft beers from around the world.
After Cuba it was time to head back to New York City where the boat docked back at Pier 40 and in the Main Room upstairs we created the Blue Note Lounge and held a docking party where our travel weary cruisers enjoyed a beautiful dessert station created from Cylinder Buffet tables, grabbed an espresso and enjoyed a jazz trio. Cylinder pub tables were surrounded with acrylic barstools and created contemporary look. Guests grabbed one last memento at the photo booth and enjoyed the sparkling cityscape of New York.
As guests disembarked and headed out through the cruise terminal, they were presented with sponsor bags from White cubed bar backs.
Speaking of sponsors, New York was our final stop on the 2012 National Networking Tour, and as always, we could not have cruised around the world without the support and help of our partner sponsors. Special thanks and gratitude to Drape Kings, NYPW, City Iris, Catch the Moment, Hornblower Yachts & Events, New York's Best, Heliumm, Eclipse Entertainment, Catch the Moment, 5th Avenue Digital, Classic Party Rentals, All Spirit Events and last but not least, etouches. You are the best!