We are always looking for ways to increase bang for the buck when it comes to events and we wanted to share with you a couple of ideas to make your event (and our furnishings in them) shine even brighter!
Lighting is one of the most effective elements that you can add to an event to dramatically transform a room from drab to fab.  While some rooms are beautiful on their own, adding lighting still makes a dramatic difference. The best part is that you don't have to spend a lot of money to make a striking difference.
There are many ways that elements of light can be used to create the ambiance or environment that you desire. From highlighting horizontal and vertical architectural lines to hiding an ugly patterned carpet, lighting is the perfect way to call attention to or hide what you want guests to see.  It also creates the mood and ambience for the experience.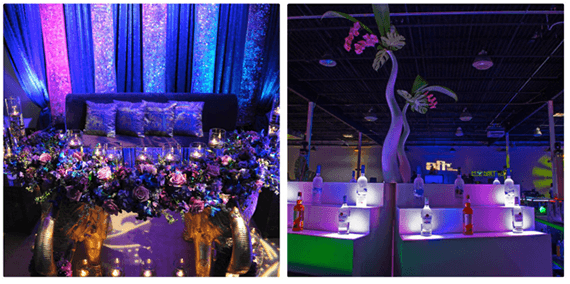 Highlighting vertical and horizontal architectural aspects within a space can provide beautiful dimension to any room. To add even greater texture, add in break up patterns or a client or sponsor logo or themed gobos on the walls.
For a lovely lighting (and décor) element think about hanging a focal point such as a huge chandelier in the room.  This not only adds a unique touch, but the reflections cast from it can create a lovely look.  Colored lighting and mirrored disco balls are also a very easy way to create a feel within a room and are simple yet effective.
Don't think that lighting has to be a stand-a-lone element. Bring light off the walls, floors and ceilings and bring it into other elements within a space. Pin spots are not the only answer to creating a lighting pop on tables. Infusing light into centerpieces to create a point of focus on a table can have a stunning effect.
Furnishings are another element that can be used innovatively to bring light and color into an event.  From bars, ottomans, tables and more, furniture can serve a dual purpose in creating a great look while stretching your décor budget.
Lastly, let us not forget about candles. They add ambience and bring a tablescape to life in a simple yet very effective manner.
Whether you are looking for an extravagant look or simple highlights, through the creative use of light you can bring an environment to life in a theatrical and affordable way.
To view our entire collection of illuminated furnishings, please visit www.afrevents.com or call 888.AFR.RENT.