We are just back from New Orleans where we partnered with Event Pros Take Action and St. Bernard's Project to help rebuild two homes for victims of Hurricane Katrina.  This is the third year that we've participated and as with the past two years, my heart is full and I am proud to be a part of such an amazing, life changing organization.
While experiencing the joy of the families we helped this year, I have to tell you that seeing the difference that we've made for families we have helped in past years was a true highlight of this trip.
You may remember Shelley Rose and Larry Carriere from our trip last year.  We invited them to join us for our Kick-Off event and were thrilled to see them again.  Shelley is always so full of emotion and appreciation when she sees us and this time was no different. At the end of the night, she informed us that she hadn't gotten enough and didn't want to let us go.   She extended an invite for the team to come to her home and share a meal the next day.  I'm not going to lie.  We were a little nervous.  Would her house be the same?  Did she really love what we had done?  When we arrived, the house looked exactly like it did when we left last year.  When we questioned her about it, Shelley said, "Why would I have to change it?  Mark (Wells) got me.  This place is me – and I love it!"  She cooked an amazing pot of gumbo (and a bunch of other yummy dishes) and it was a great time!  It was a special, special evening to see and experience the life-changing results of our hard work.  She is an amazing woman!  Shelley and people like her are who we help get back on their feet. They are amazing, big hearted, loving and special people. I cannot express in words the feelings that wash over me as I try to explain how much I love this worthy cause.
As I was boarding the plane to come home, Shelly sent me this text:
"I am such an emotional roller coaster when it comes to u guys.  I'm so happy to see u and hug u and I drop when u leave.  Do me a favor.  I want all of u to thank your parents for me.  The amount of love u all have and the endless outpouring of generosity had to start in your childhood.  Thank them for teaching u kindness, for filling u all with abundant love.  Please know I was very serious when I said that I consider u all my family.  I love u all and thank u from the bottom, the top and all sides of my heart. Thank you that my children understand how the world really should work. <3 <3 <3. You r in my prayers." ~ Shelley Rose
The group was split up like every year. Each person was assigned to work at Carmelita's house, Cassandra's house, a demolition site or made deliveries of products and goods donated by the event industry. I was assigned to work on Carmelita's house (which was the home that AFR financed), alongside the Rentals Unlimited Group, which was a true pleasure.
We were sweating our behinds off, but how can you not have fun when the cause is so worthy? David Price was AMAZING!! He had a vision and knew how to lead us all to it. Whether it was decorating the bathroom, making beds, setting up the kitchen, painting canvases or bookshelves or any other number of tasks, he delegated perfectly and made the entire group feel good about their contribution to the project.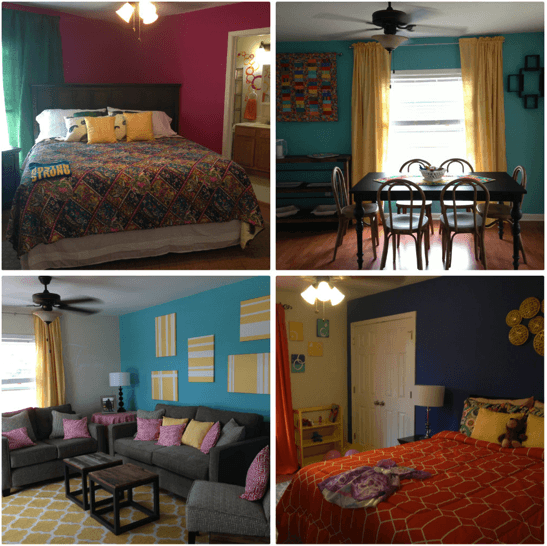 Just like an event, things don't always go according to the plan and we arrived to find the floor plan had changed a bit, but David adapted well and did what he does best  - he got creative – and made it all work perfectly.  Dealing with the unexpected in our world is nothing new, but it was awesome to work alongside Kacie, Jenna, Scott, David and David, and Larry Green (a man with the biggest heart of all) to figure it all out. You guys are just awesome!
Across town at Cassandra's home, Richard Carbotti, joined this year by his son Evan, had their hands full because they were battling wasps (yes, literally, wasps) and time. Their house was HUGE - with a living room, dining room, kitchen and FIVE bedrooms to be fully designed and finished in 2.5 days.  Take a look at what they were able to accomplish.  I call it a miracle.
At yet another location, there was a demolition property. Jerry Hellmann and his wife, Ronne, spent a day working there to help out. Due to the way St. Bernard Project funding is set up, they must rehab, not build homes.  This means when a house needs to be taken down, they have to do it literally piece by piece.  Sledgehammers were flying and a group of event pros were wearing protective gear including facemasks in a 100-degree heat. To say it was challenging is an understatement.  It was some seriously hard manual labor, but very rewarding in the end.  When asked about his day, Jerry said, "Tough day, but it felt great.  I am proud to be a part of a great team."
The world is starting to take note of this amazing organization.  On the front page of the Pittsburgh newspaper on Monday, guess who was featured?  EPTA!  CBS Nightly News saw it and became interested in the story.  After coordinating interviews over the phone, they agreed to send a crew.  They were at Cassandra's home on Tuesday morning to see us in action.  We are hoping that awareness will bring help to the people that still need it. It is an absolute shame that the victims of Hurricane Katrina are forgotten all these years later.  These are hard working people who were able to support their families prior to the storm.  They deserve more.  They deserve a second chance, and AFR along with EPTA and St. Bernard's Project are doing all we can, one house at a time.
I implore you all to get involved. It will not only change someone else's life, it will change yours.  The time and effort are worth every drop of sweat just to see the smiles and joy that arise when a family returns home.  You can find out how to get involved by clicking here.  I promise, you will not be sorry!  Together we ARE making a difference and the results are priceless.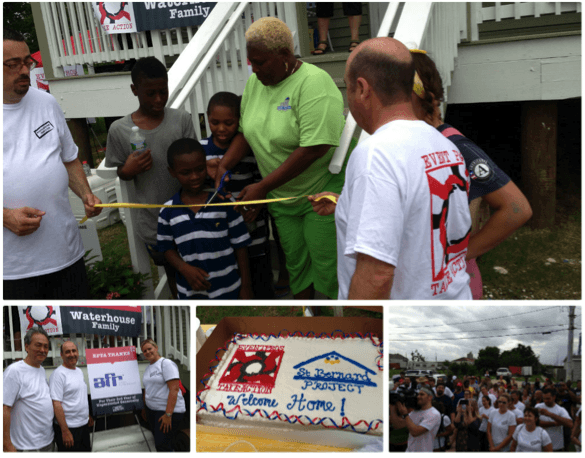 Here's a pic of our great crew! I miss each and every one of you in the Wolfpack, and I can't wait to see you next year. Special thanks to Kenneth Bordelon for such a great group photo!