The beautiful Foundation for the Carolinas in Charlotte, North Carolina provided a beautiful and inspirational backdrop for our second DeSIGN & INspire Nationwide Networking Tour Stop on September 4th. The Charlotte Networker really turned regional with some guests driving 3.5 hours from Raleigh and Ashville to join us for the evening and we also had a huge turnout from our Charleston, SC clients, colleagues and even sponsors!
Arriving for a Welcome Hour, guests registered, entered for the TSE Raffle and were welcomed to the event by living character entertainment.
Setting the bar for a night of design and inspire, guests were given a sneak preview of new AFR furniture lines that will be available in 2014. Guests enjoyed tray passed hors d' oeuvres and AFR branded signature cocktails while they networked and took in the new collections. We showcased four new collections that we know you are going to love.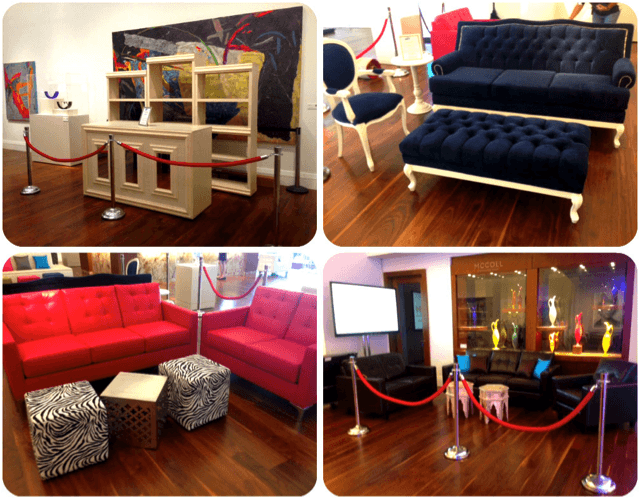 Provence Bar Collection:  Light blond wood bars with matching bar backs.
The Parma Collection:  A sumptuous brown leather collection with sofa, love seat and chair.
Chandler Collection:  Our new sophisticated and sexy lipstick red sofa, love seat and chair.
The Regale Collection:  Fit for royalty, our blue tufted sofa, chair and bench ottomans are trimmed in white and simply…regal.
After the Welcome Hour, we invited guests up to the rooftop to explore the Design Challenge Galleries.  For the competition, we provided furnishings to the designers, asked them to think creatively and design each gallery from their inspiration. The other requirement was that they work with suppliers that were donating product to add a collaborative component to the contest. The results were awesome!  Take a look!
Our four featured designers were:
TCG Events
Todd Murphy Events
New Century Planning
Ivy Robinson Wedding and Events
The guests voted and the winner of the Charlotte Design Challenge was New Century Planning! CONGRATULATIONS!  Your design was spectacular and over the top!
Guests were invited to purchase raffle tickets for the The Special Event Conference package provided by our National Sponsor Partner, The Special Event. We are happy to congratulate Josh Wells, General Manager at George Fern Exposition & Event Services in Charleston on winning the drawing. Pack your bags and we'll see you in January at TSE 2014!!!  All proceeds from the raffles are being donated to SEARCH Foundation, an event industry charitable organization.
If you weren't able to attend, we hope that you were following the event via social media. If you haven't done so already, please sign in and join the conversation #afrTOUR.
Some of the highlights of the evening included:  real tiger cubs, a live owl, hanging swings, a dance troupe, delicious cake pops, living entertainment, a swanky dance floor, artistic drinks and mixology, delectable food, aerialists, amazing design inspirations and a dress made out of business cards…the evening was filled with a ton of inspiration and design through every element of the event. The event community really came together to create a one-of-a-kind evening and from the flowers to the entertainment and everything in between every bit of it was remarkable. Not wanting the evening to end, Xnightclub held an after party and the night rocked on!
Without our generous sponsors, the event would not have happened – Charlotte, you REALLY out did yourself! Thank you! We hope the evening opened up new doors and opportunities for you as it did for us!
We hope to see you at our next Networker in Miami on September 12th!