The seventh AFR Miami Networker was hot, hot, and hotter!!!! The evening was packed with jaw dropping design, great food, inspired furnishing collections and sultry entertainment.
Four hundred guests attended the Miami Networker to catch a sneak peek of our newest collections, network and meet innovative event suppliers. The venue, Studio 255, is a photo studio & event space in the heart of the Wynwood Arts District. The space is a nice blend of indoor and outdoor areas and guests were free to roam between the two throughout the evening. Designed to bring Miami's beautiful daylight indoors, the space was a stylish blank canvas and provided the perfect backdrop for our seventh Networker.
We gave guests an exciting glimpse of our new 2014 collections in many different settings. Creativity came to life as we showed off the Crystal Collection with Rose tables surrounded by a Custom Floral Chandelier & Custom Ghost Stool Chandeliers designed by The Flower Bazaar, a Sophistication Sofa grouping with video mapping projected on it by SRX Events, Essentials Banquette and Turning Bed with Hayden Benches as tables, a Winston Sofa, mirrored Glow bars with custom etched AFR logo inserts, and a large Function grouping with Zanzibar Tables used as Ottomans.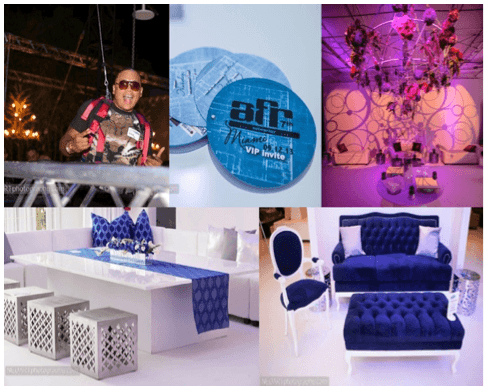 We showcased our new Memphis Tables with Marcus Stools, our Ashbury Tables with Chateau and Elio chairs, a Coffee Station by Aroma Espresso with our Shanti Back Bar and Umber Bar, and our Broadway Collection with Hex tables in a distinctive outdoor setting underneath a cool Edison light bulb display provided by Uplyte.
We also showed off our Florida only collections including Nob Hill, Club High Boy and Ghost Stools at Registration. Beautiful Lanterns & Accents provided by Caidal Events gave each space a beautiful extra touch. Custom pillows and runners from Over the Top finished off the looks of our beautiful groupings of furniture. Temporary Tropics provided lush foliage to accent the outdoor perimeter of the space as well as other accents throughout the event.
This Networker didn't feature a design challenge, but rather a single designer, Javier Pastrana from JTPY, helped us create and execute a cohesive and inspirational design experience throughout the whole space. Floral designs by the Flower Bazaar and flowers provided by Mayesh were exquisite and breathtaking. From a back bar created with an Ombre effect using exquisite roses to custom paper mache birds and warm florals in Balinese containers, unique floral designs throughout the space made our event a beautiful and colorful work of floral art! Theatrical lighting and textured patterns created by Uplyte added further color and interest to the décor design.
The Soulfrito Collective provided hip and funky DJ's for the evening: Mr. Pauer & DJ Africa were on a raised platform in the center of the bar with hanging sofas, chairs and tables built by Rental Stages. The crowd danced the night away on a round glitter covered AFR branded dance floor, provided by Letz Dance On It. Later in the evening, a Brazilian Dance performance included Samba Dancers and a Capoeira routine from Roberta Productions that had everyone shaking their hips to the rhythmic Latin beats.
Thierry's Catering menu was delectable with passed hors d' oeuvres including Yellow Hamachi on seaweed cracker, Goat Cheese Parcels With Crushed Macadamia Nuts, Black Olive Foccacia with Beef and food stations with Grilled Steak with White Peppercorn Sauce, Pernod-Infused Shrimp, Manchego Croquetas, Thai Fish Cakes, Quinoa-Kale Salad and Fried Chicken and Waffle sliders amongst other tasty items to please our guests' palate! We also had a fun station with Thierry's molecular pastry chef by using dry ice and hot chocolate to create crackers featuring different toppings like bacon bits, pretzels, M&M's and sprinkles. Mini Cronuts (a delicious blend of a donut and croissant) were also served and were a big hit amongst attendees. A full bar provided by Bacardi, which included all Grey Goose and Bacardi flavors, Bombay Sapphire and Cazadores Tequila provided top shelf libations.
Providing interactive fun, a photo booth by Capture Pod allowed guests to take pictures and immediately upload them to their social media platform.  It was a great way for guests to sign-in and share their experience. If you're not following the tour yet, you can do so by using the hash tag #afrTOUR. Join the conversation!
Orlando Bordones, Catering and Event Services Coordinator with Jet Set Catering won the drawing for The Special Event Conference package provided by our National Sponsor Partner, The Special Event. Congratulations Orlando!  Pack your bags and we'll see you in Nashville in January!
As a part of our Function Collection display, 250 unique dessert balloons provided by Balloonatics contained Bazaar flavored meringues (Cayenne Pepper, Chipotle & Ginger) and floated overhead for guests to either savor at the event or take home as a farewell gift.
A special thank you to Hasel B. Designs & Balloonatics for collaborating with us on our very special VIP invitations. As always, it is our sponsors that make these Networkers such a great success. Many thanks and a big shout out to all of you, we can't wait till next year!
As you can see by the pictures, the event was spectacular! We hope you are as inspired as we were!
For more exciting details on this event you can watch the unauthorized documentary produced by The Beacon Firm by clicking HERE and also view the spectacular video and highlights of the event shot by LaFrance Films by clicking HERE. Thank you to NEOART Photography for the stunning images, to view the full album, click on THIS link!
It's on to our next tour stop. Please check back for more exciting news and information as we make our way across the country!