The events have been unbelievable on our deSIGN & INspire Nationwide Networking Tour this year. There are many different words to describe them - spectacular, beautiful, stunning, extravagant, elegant and luxurious to name but a few.  When we headed to Boston, we knew that we would be in for a great show, but we have to tell you, the evening went a notch beyond great.  It was EPIC!!
The bar was set high with an elegant and upscale venue - Lombardo's - Boston's Premier Conference and Wedding venue, and everything soared from that point on.  It was due in no small part to our co-host and New England partner, Larry Green and his team from Rentals Unlimited.  All we can say is, WOW!
We're going to recap this evening a tad differently.  We're not going to spend a lot of time describing every minute detail because the pictures are worth a thousand words and we know you are going to want to see as many of them as you can.  The entire evening was a kaleidoscope of spectacular design and inspiration featuring six designers who shared their inspirations and provided a spectacle of design extravaganza.
We opened the doors and…
Moving into the venue, Bliss Celebrations created a beautiful setting with a Vermont table and Elio chairs and lovely table setting in lobby.
After "signing in" to the event at registration, guests were escorted up a beautiful staircase with a beautiful chandelier where the Crystal Collection along with the Essential Turning Bed held court in the center of the Rotunda.
A sneak peek of our 2014 Preview Gallery featured our Parma, Chandler, Provence, Regale and Phoebe Collections on either side of a red carpet running down the center of the upper balcony.
John Orton Flowers and Events created a stunning "Glamorama" vignette.  The setting included the Grass Collection and Tangerine and Imperial lines, intermixed with Broadway end tables.   A beautiful tablescape featured an Asbury table with stunning floral and topiaries.  The setting popped with green and blue drape, grass throw rugs, and a mannequin sitting on a bench.  It was artistic and cool!
Directly beside Glamorama, a green screen photo op provided by Memories In An Instant was set with the signature deSIGN & INspire branding and dressed out with picture frames and a selection of Regency cubes and props.
A beautiful "India" inspired setting designed by David Price from Rentals Unlimited included our Imperial Collection, square table and Hex accent tables.  It was colorful and elegant.
Future Affairs Productions created a "Welcome to Holiday Bling!" gallery with the Crystal Collection including High back Love Seats and Chaise backed by a crystal silver beaded curtain and sparkling accents.  Lit Zanzibar tables teamed with cubes were lit in icy blues and topped with mirrors and beautiful candles.  A stage with white backdrop and snowdrifts featured white boulders and reindeer. If you're looking for the ultimate Winter Wonderland, this design created it to icy perfection.
Some will tell you there was nothing like the 80's, and this ode to the era of MTV, hairbands and the Rubik's cube made us feel nostalgic from beginning to end.  Using our Continental Curved and Reverse Curved Love Seats along with a Whisper Ottoman anchored by Jumangi ottomans accented with funky pillows, David Price of Rentals Unlimited made the space come to life.  Illuminated Club high boys with Equino bar stools completed the styling. It looked mahhhvellous!
The "Rentals Unlimited Café" was out of this world.  Guest seating was designed with Café Tables covered with bright striped linens surrounded with Elio Chairs and Memphis Pub Tables with Marcus bar stools.   Our Umber bars helped finish the cool and eclectic setting.
The Glitz area featured our Function Collection, square whisper ottomans and café tables with Pucci linens.
Everyone loves Madmen, and David Price again outdid himself in theming and design with the Black Metro Line, Ibizia chairs, VIP bar, Shanti bar backs, a fireplace mantle with a flat screen and silhouette custom projections on the wall. He finished the area with gold taffeta and geometric patterned pillows and table linens.
"Fifty Shades of Grey," another setting by the uber talented David Price, was as hot as the best seller.  Using the Grammery Collection, Black Crystal Ottomans with Espresso Shanti bar backs used as bookshelves, the setting was sultry and sexy.
Bliss Celebrations designed "Luxe Lodge."  This setting took contemporary styling over the top.  Just look at how they integrated the Chateau, Elan and Marteen chairs, the Essential Turning Bed and a Vermont table, Zinc High tops and White Espresso Criss Cross stools.  The gallery also featured a beautiful crystal chandelier.  Cleverly integrating cowhide, this gallery was just decadent!
Destination Partners, Inc. (DPI) brought Asia to Boston with their "Influences of Asia" themed design.  It was extravagantly staged with a Pagoda, umbrellas, and a colored paper lantern wall mobile.  The cultural setting featured the Evoke Collection, Regency cubes, and Hayden tables innovatively used to create a beautiful buffet station. The attention to detail and creativity made guests feel if they had stepped into another world.
Exquisite Events designed a "Vintage Flair with Simple Rustic Elegance" vignette. The area was draped off with sheer draping.  On the wall, picture frames created a beautiful perimeter and created the perfect space for our Chateau Collection, Mon tables, Asbury Table and more.  It was the perfect pairing of classic design and rustic warmth.
Lombardo's outdid themselves with top shelf food and beverage, specialty champagne cocktails and helped us create an evening that was perfect for guests to find inspiration, gather ideas for their own events and meet new suppliers.
Entertainment was understated and perfect with music throughout the evening by DJ John Zucco, a sleight of hand magician and tarot card reader.
Congratulations to Maureen Poole of Astounding Surroundings Staging from South Shore Boston, who won the drawing for The Special Event Conference package provided by our National Sponsor Partner, The Special Event!  Pack your bags for Nashville, Maureen!  We'll see you in January!
As you can tell by the pictures, (we told you they were worth a million words), this evening was over the top, detailed and exquisitely epic.  Each area perfectly demonstrated innovative ideas, showcased the amazing talent within Boston and brought a community together for an evening that was simply out of this world!
Our tour could never be as successful as it is without the support of our local and national sponsors as well as our New England partner, Rentals Unlimited.  Larry Green and David Price led the design team and were integral in making this tour stop soar.  A heart felt thanks for your longstanding partnership!
Last but not least, thanks to our photographers Erin McGinn, and Curtiss Photography for the stunning images and Mike Hendriques from Artistic Wedding Films for video.  The lighting was dramatic and beautiful thanks to Amy from Gateway Productions!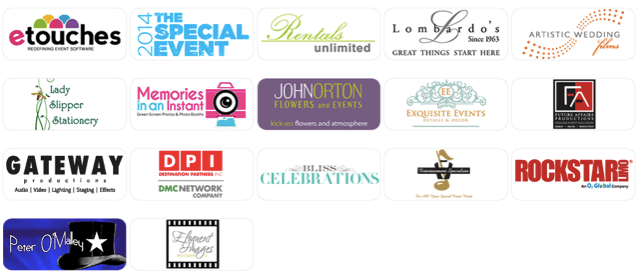 With only five more stops left on the tour, you might want to click here to see the remaining event dates and RSVP for a networker in your area.  Join in the conversation by signing in and using #afrTOUR.  We will see you soon in San Diego!