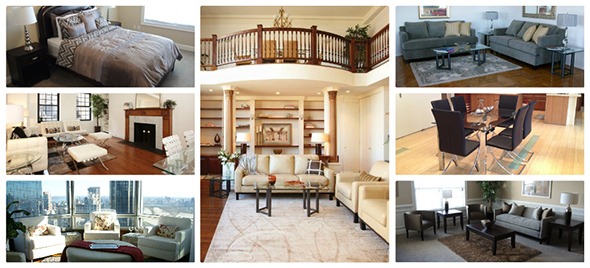 The year is quickly coming to an end, and it is time to think about updating Models, Club Houses and Community Rooms.  While budget may be a concern, there are several ways that you can minimize costs, maximize impact, and ensure that your apartment models and community spaces attract the residents that you want for your property.
Take a walk through your models and community spaces, take a good hard look at them from your customers' perspective, and ask yourself a few questions.  Maybe they still look good, but have they been looking that same "good" for a year or two?  What about your target demographic?  Has it changed?  Perhaps it used to be the first time renter right out of college and you've done a renovation this past year and it is now the 35-year old professional.  Has there been a rebranding effort?  Is the model and community décor aligned with the new branding?  Every detail needs to be reflective of your company and the living experience that prospective residents will enjoy if they rent a unit.
Less is more these days, and trends have moved away from the over accessorizing of the past.  The model of today is a statement about the services and culture of the property. Scaled back models, neutral colors, good upholstery textures and style are all important ways to project style and communicate your brand.  Take a look at the scale of the furniture within your model.  Is it appropriate?  There's nothing worse than walking into a model with furniture that is too large or too small for the space of the apartment.  Staging your model units and community room spaces properly allows the customer to visualize living there.
How do you keep your model current without breaking the bank?   You don't have to completely change the entire model.  Sometimes it is not about doing every piece.  Take a look at replacing key pieces.  Change out the sofa, love seat and artwork.  Take a look at the bedroom, if you have a contemporary leather headboard, perhaps that big floral print comforter needs to be replaced with a print and texture that is more current with today's trends.   Think about what you do in your own home.  You don't go out and buy new furniture every year, do you?  You change the soft goods like the pillows, throws and update accessories and it feels like the sofa and chair take on a new life.  Change the accent color on the bedroom wall, or perhaps add one.  Many times, simple subtle changes have big impact!
Often times these days, communities are moving away from the fully furnished model.  Consider a busy season model or even move to a mini model and maximize the approach.  Most people think about moving in the spring.  Consider having a model unit from February through June.  While you have the model, make sure to schedule a photo shoot with a professional photographer so that you have photos for your online marketing effort and allow guests to take a virtual tour.  Doing so allows you to capitalize on your marketing efforts as well as the asset when you don't need the model unit and can rent it out.
Now is the time to make sure that you've allotted dollars and created a budget for updating or designing a model in a manner that best serves your purposes. If you need help establishing what needs to be done, or need design ideas, contact your AFR Representative for a consultation at 888-AFR-RENT or visit our website at www.rentfurniture.com.