We're already well into the second month of 2014. Time flies when you're having fun! We've been busy helping many of our clients change out their models.  Some of the most common questions we are asked are about are new trends. We thought we'd share a few of the new approaches to design we are seeing this year. Before we begin, one of the most important tips that we can give about re-doing models and community rooms is to not overstate them.  Your model sets the expectation for the rest of the property. When models and apartments don't complement each other, you can actually drive away business rather than successfully closing it. Keeping that in mind, let's take a look at some popular trends for 2014.
Trend 1:  Everyone is simplifying.  Clutter be gone! People are taking a minimalistic and simplistic approach to their lives. Rooms that were often cluttered have been cleared and replaced with a more clean lined and simple look. Doing so doesn't mean taking away the warmth in a room, but rather making a stronger statement within the room.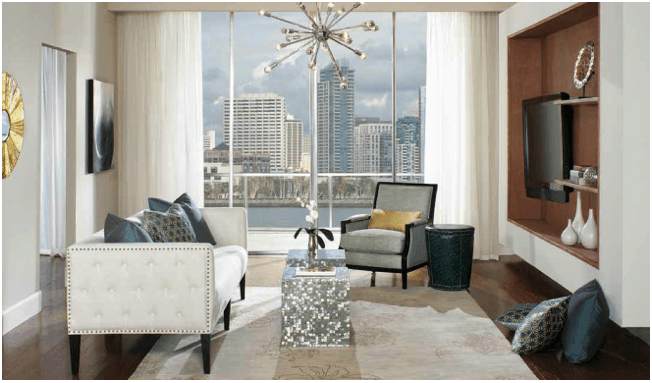 Trend 2:  Defined Pieces Are Being Cross Utilized. Love Grandma's server, but it doesn't fit with the style of the room?  Now you can mix that piece with different settings to create minimalist traditional look. Look around you, there is probably at least one major furnishing in the room now, which you can work this trend with.
Different pieces can be used to identify with the surroundings around it. Take a look at this server.  It would effortlessly blend with several styles.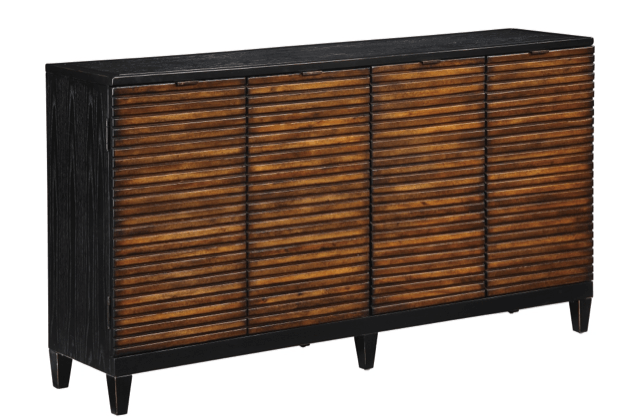 Trend 3:  Common Elements are Share Across Multiple Styles. You can use many different pieces to create a blended look.  Everything flows together and touches one another.  Here a contemporary rug, transitional table, traditional wall color and décor and hardwood floors all blend together for a great looking room.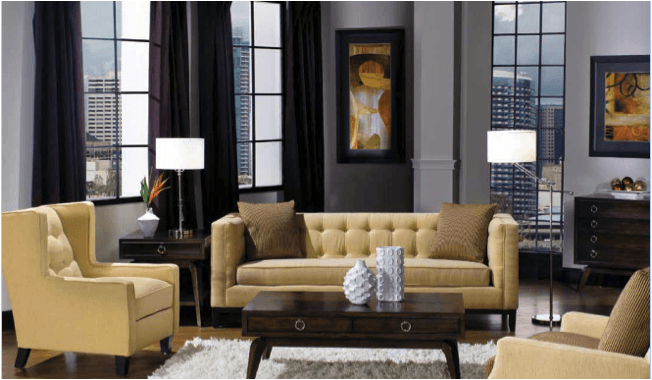 Trend 4:  Mix Environments and Styles. Take everything out of this room. What are you left with? It looks like a great ski lodge or country home, doesn't it?  It feels very traditional.  Try using a contemporary styled bed in a traditional environment, some modern lighting and bedding and it now feels very up-to-date. Mix textures. Note the different textures on the upholstered head and footboard along with the mixed textures of the bedding and pillows. Stay with neutral tones to make this idea really work. You can introduce every trend the world dictates, but the surroundings affect it and they have to rise to the occasion.
Trend 5:  Create Visual Interest. Let the furnishings in your room create visual interest. Instead of heavy dark furniture, think inviting and polished.  Here, the round glass-topped design, with a warm wood finished base, gives an open feeling.  The tufted nail head Parson chair with the French Laundry design emanates subtle sophistication and creates interest. A color pop of floral adds warmth to complete the setting.
You don't have to stick to the "rules" anymore.  The design world has given us permission to put what we want, wherever we want, within reason.  Don't be afraid to try new things and blend them together to create different looks. Every room doesn't have to match either, create a different feel in different space throughout.
Make your spaces warm, inviting, functional, simple and uncluttered and you have some fun with your individual taste and style.  You may just be surprised at what you come up with.
If you're re-doing your model or community room, or need help staging your home, give your AFR representative a call at 888.AFR.RENT or visit our website at www.rentfurniture.com.  We are happy to help you create a design that works for your space and helps you accomplish your goals whether they be 100% occupancy or selling a home.