AFR finished the 2014 National Networking Tour in the Big Apple at 404 Event Space. The venue, which offers 7,500 square feet of multi-level usable event space and is located just two blocks from the Jacob Javitz Center, made it the ideal choice to showcase some of AFR's special event furnishings.
The neutrally versatile space was perfect for our designers to let their design imagination run wild. From whimsical color to the understated elegance of Asian inspired gardens, vignettes throughout the space showcased AFR special event furnishing collections and ideas for the event pro.
From the moment guests entered the space, the sights, and sounds of top-notch entertainment, beautiful decor, and delicious culinary treats tickled their senses.
Check out some of our favorite photos and design inspirations from the evening. Do you see something you like? Look right below the picture to see all the products and the suppliers used to create the look.
DesignSPARK: ICY MIDNIGHT: Regale Ottoman, Regale Chair, Crystal Chaise, and Rose Tables, Light Cubes and Accent Pillows.
DesignSPARK: THE GILDED GARDEN Hayden Benches, Zanzibar End Tables, Gold Leaf Table, LED Acrylic High top Table, Decor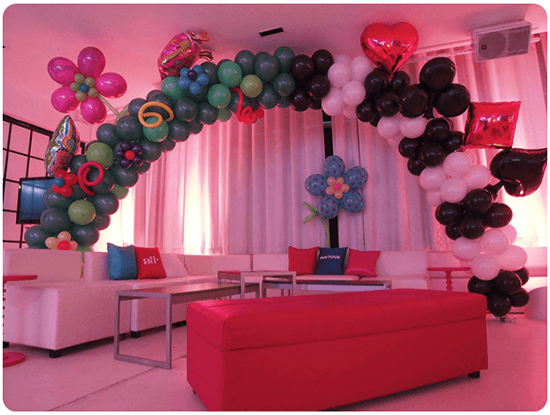 DesignSPARK: WHIMSICAL WONDERLAND Function Armless Chairs, Aria Table Collection, Phoebe Tables, Chandler Ottoman, Custom Logo Taffeta Accent Pillows, drape, balloon arch & decor
DesignSPARK: INDUSTRIAL GLAM Ashbury Table, Elio Chairs, Umber Bars, Memphis Rectangle Pub Table, and tablescape decor.
DesignSPARK: IN THE JUNGLE Parma Collection, Butterfly Table, Jumangi Chair, Gold Phoebe Table, Function Armless Chair with Extravaganza Cover, Marcus Bar Stool, Memphis Rectangle Pub Table, Udder Madness Cube Ottoman, Custom Monogrammed Taffeta Pillow
DesignSPARK: SCULPTED WALLS modular wall system, Zanzibar Tables, birdcage décor, and lighting.

Guests enjoyed a delicious menu including Mushroom Caps with Parmesan Cheese, Vegetable Spring Roll with Duck Sauce, Lobster Tacos, Duck Tartar, and Flank Steak Fritte. Later in the evening sweet treats included S'mores, Lemon Meringue Pie, and Cannoli.
A frozen yogurt bar took our sweet tooth over the top. The Salted Caramel flavor was to die for!
Entertainment throughout the evening included Stiltwalkers, Sheer Dancers, a Jazz Trio, and a featured performance by the award-winning, new R & B group, Good Girl. Multi-engagment content displays  and a photobooth were interactive and fun additions to the evening
The final winner of a TSE Education Package and Opening Night Party ticket for the 2015 The Special Event Conference and Trade Show was Betsy Karetnick, Partner at The Portable Garden. We'll see you in a couple of weeks, Betsy!

A very special thanks to sponsor and special AFR friend Mark Musters from Mamu Studio who went above and beyond to help us with this event. Our sponsors are the heart and soul of the AFR Networking Tours. Without their time, talent, and generosity, the tour would never be successful.
This year's design showcase and networker may be over, but the fun isn't. Grab your camera and enter to win some cold hard cash in our #ispyafr holiday contest. Be sure to join the AFR conversation on Facebook, Twitter, and Instagram to see new products, connect with peers, and discover inspiration and ideas throughout the year.