When it comes to fashion, these trendsetting chart-toppers hit all the right notes. They'll be on the red carpet at the Staples Center this weekend for the Grammy Awards in Los Angeles. With after-parties all over LA these hot AFR celebs will be making the rounds after the Awards on Sunday. Let's take a look some of this year's nominees from AFR Event Furnishings.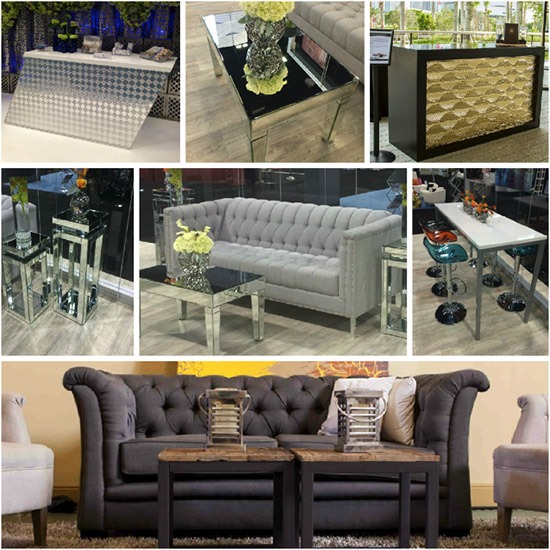 Best International Sofa: Meet Monaco. Dressed in a soft shade of gray with button tufted back and seat cushion, this sofa is pure beauty with a sophisticated edge.
Best Cocktail Table: Check out Stella, the swanky mirrored cocktail table. She's got serious swag and is a true reflection of the beauty that is around her. Never afraid to sparkle, Stella Cocktail is front and center going into the awards.
Best Pedestal Back ups: They say that copycatting is the sincerest form of flattery and these Stella Pedestals aren't afraid to hang around Stella Cocktail and throw some swaggy reflections of their own. They know how to make a lady shine in all their mirrored glory.
Best Shade of Gray:  Meet the Nob Hill Collection. Consisting of a Sofa, Loveseat and Chair, this trio is definitely singing in sweet harmony. Available for national touring dates, this group's schedule is filling up quickly with debuts in all major cities.
Best Standup: Look at the Aspen Pub Table. Simple, clean cut and modern just about says it all. Used alone or paired with our up and coming Vienna Bar Stools in orange, grey or teal are a hit every time.
Setting The Bar: There are two AFR Event Furnishing acts up for this category, and we couldn't be more delighted. Meet Meridian Bar whose flexible range of insets, which allow her to sing the Blues or the latest Rock Opera. Noir Bar is all about the soulful sounds of R & B and Jazz. Choose your style to create the perfect setting.
These collections and more will be coming in APRIL 2015! Be sure to get your pre-orders in early!
No matter where you are this weekend…be sure to tune into the 57th Annual Grammy Awards, Sunday, February 8th at 8:00PM EST on CBS.
We hope to see you live on the red carpet!