Blog Post By: Ruth E. Moyte
With Valentine's Day on the calendar this weekend along with the 50 Shades of Grey movie release, we are feeling the need to steam things up with some romantic inspiration. Here are 50 different ways to celebrate Valentine's Day whether you are single, together, or "it's complicated."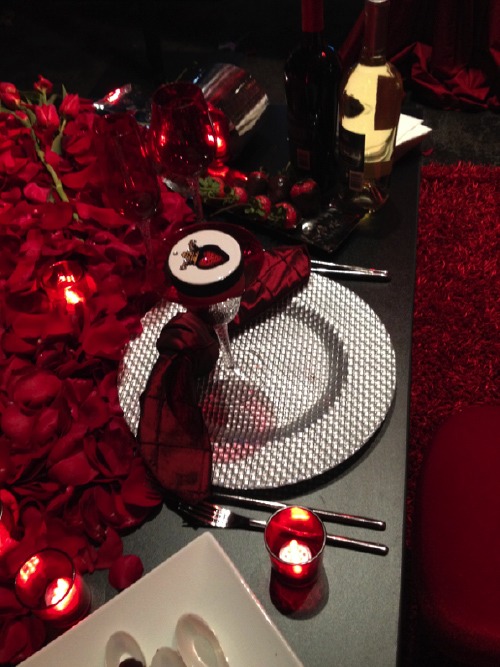 Buy a box of chocolates (yawn).
Take a walk with your special someone (bonus: burns calories).
Take a hot air balloon ride (do not look down).
Celebrate by creating an indoor picnic (Bostonians will love this one).
Create a "mix tape" with all of your favorite love songs.
Enjoy artisan cheeses and your favorite wine in front of the fireplace.
Do your significant other's chores.
Bake cookies, decorate, and put flirty messages on them.
Create love coupons for massages and other extracurricular activities.
Design a romantic scavenger hunt with a big prize at the end (couldn't resist).
Recreate your first date (awww…super romantic, right?).
Celebrate Valentine's Day for 50 days (think 50 First Dates — no, literally).
Make an all pink and red meal.
Go see the movie 50 Shades of Grey.
Take a cooking class together (make sure it involves fudge).
Get a couple's massage (completely safe bet).
Make homemade Valentine's Day cards for each other (beats Hallmark® every time).
Write an old-fashioned love letter and have it hand delivered with flowers and a singing telegram.
Single? Have an anti-love party (absolutely no love talk allowed).
Turn off the technology for the night. No phones, no Facebook, no digital communications. Period.
Write a love poem for your Valentine and have it framed.
Create wine flavored gummies in heart shapes (Click here for recipe).
Have a crafts and cookies party for children in need (it is gooooood karma, just saying).
Make cupcakes and decorate them with frosting and message candy hearts.
Deliver Valentines Day cards to the elderly (old folks love LOVE too!).
Decorate your bicycles with red, pink, and white crepe paper and go for a love ride (if you don't live in Boston).
Go Valentine's Day sledding (great idea for Boston!).
Surprise your significant other and take the day off from work and take them on a daylong date filled with surprises.
Go to a cocktails and canvas party. Paint a romantic picture together (or buy finger paints and a bottle of wine).
Have a professional portrait taken…something arty and fun.
Flowers — a lot of beautiful flowers (not the ones from the street corner vendor on the way home).
Single? Make it a Love Yourself Day. Head to the spa!
Fill your mate's car with heart shaped balloons; each one with a personal handwritten note in it.
Get a room. On the beach.
Make a video of you and your friends as you surprise ten random people with homemade Valentine's Day cards and treats.
Bake some brownies (okay, maybe that's lame, but still delicious. Got milk?).
Go bowling (hey, do not judge! It floats someone's boat).
Go to an Irish pub (why? We are not really sure, but no idea is a bad idea).
Have custom ice cream made for your honey. Any creamery should be happy to create a special flavor that will have your honey swooning.
Redecorate a room in your house with a Valentine's Day motif (we know a great company who has some awesome furnishings).
Make chocolate dipped strawberries together (or at least eat them together).
Are you a pizza lover? Bake a heart shaped homemade pizza.
Buy diamonds (FYI — one can never go wrong with diamonds — EVER).
Create a book of things you love as a couple on blurb.com (it is sort of late in the game, but start now for NEXT year).
Go shoe shopping (there is never a bad day for that, single or not).
Be kind to your heart. Get some extra cardio in at the gym.
Breakfast in bed is the perfect way to start Valentine's Day (don't forget the red rose and the HALLMARK® card).
Make a red velvet heart shaped cake from scratch for dessert (good luck with that).
Make your very own custom erotic cocktail (strawberries and champagne are good starter ingredients).
And, last but definitely not least. Go all out and create your very own 50 Shades of Grey themed setting. Bring it to life with our Hayden Tables, topped with red satin runner and a bed of red rose petals. At each end, a beautifully exquisite red place setting. Use our Espresso Shanti Bar Backs to create a space for flickering red candle accents, handcuffs (gasp!), neckties, glassware, and red roses to accessorize and complete the setting. Create a sensual and steamy dining experience with a private chef who will cook dinner for just the two of you. Finish up with a decadent dessert and a luscious bottle of wine. Trust us, it will put you in just the "right" mood.
No matter how you spell love, or how complicated it may be, there are ways to be creative about expressing your "love."