St. Patrick's Day is right around the corner. Forget the glittery leprechauns and rainbows – there is another way to do green beer and pots of gold that is certainly more design savvy and sophisticated than the dime store cliché. Here are seven great ideas that that will tip the luck o' the Irish your way.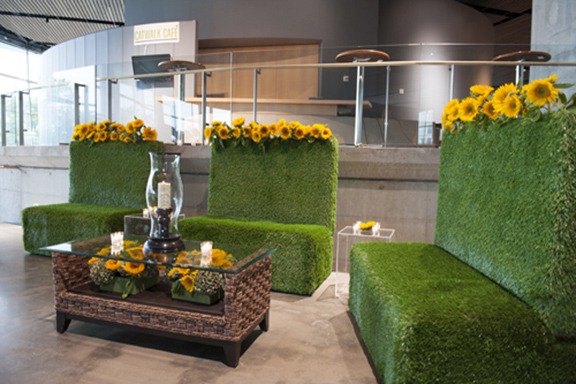 We think a perfect idea to start your Irish design off is to use AFR Event Furnishing's Grass Collection. These furnishings are the perfect color of green and can easily be accessorized with stylish pillows and prints. Create an Irish lounge for your St. Patrick's Day parties and events!
Celtic patterns are lovely in chic greens and gold. You don't have to look far to find them and the colors provide a beautiful transition from wintery décor to an almost spring-like cheerfulness. Pull the patterns onto tabletops via linens, event furnishings with accessories, and textile pattern accents throughout your event.
An Emerald and gold tablescape is sure to bring any "Luck O' the Irish" party to life. Start with a base of white or cream and use a variegated green table runner and top with gilded gold containers finished with fresh greenery and floral.  You can finish the setting with gold and white dinnerware, gold silverware and crystal glassware for a chic look that is not over-the-top formal. Take a look at Jasmine Nicole's photo shoot that includes several ideas for sassy green and gold tabletop and party decor.
Use a variety of pillar glass containers and fill the bottoms with split peas and finish with a crème pillar candle.  It is a great look that is easy on the wallet.  You can also do these centerpieces in square glass containers for a modular look with some succulents or greenery mixed in.
Another table or buffet treatment includes using apothecary jars in different shapes and sizes and filling them with gold coins, Irish moss, white floral, green marbles or a plethora of other ideas. You choose the filler to suit the ambience at your event.  Add in old tin buckets with green hydrangea for a nice, rustic contrast.
We loved this table runner idea. Use a green moss table runner, top with gold coins in a variety of sizes and complete with a line of clear glass votive candles running up the middle of the table. Use gold, green or cream candles to complement the look or add variety. It is a simple idea for the budget conscious planner.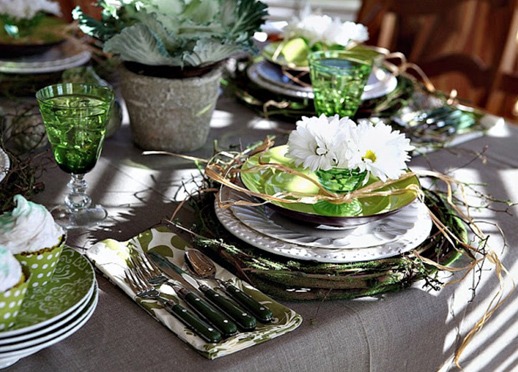 Design by Gollum really got us excited with this totally Irish tabletop. Just stunning.   Take a look, you'll be glad that you did.  There's lots of inspiration just waiting for you to add your own individual twist.
No matter your plans for St. Patty's Day, the team at AFR Event Furnishings wishes each of you a pot of gold and all the joy your heart can hold!  Happy St. Patrick's Day!