The 10th Anniversary of Hurricane Katrina Brings Event Pros Take Action and AFR back to New Orleans
Every day, AFR Furniture Rental strives to make people comfortable with the plush lounge collections we rent and sell. We thrive on creating environments that help our customers connect at weddings, anniversaries or any of life's other important events.
But our furnishings are also for the home -- for making people feel good about coming home, and comfortable in their homes. Home is literally where our heart is and at the center of our work with Event Pros Take Action.
Tricia Schmitt, Chief Brand Officer of AFR with Shelley Rose, the recipient of a new home from SBP and EPTA in 2012. "We still see her every year that we go back to New Orleans," Schmitt said. "She will always have a special place in my heart."
New friends: A new family, a new home this year! AFR and EPTA welcomes home the Smith family.
For the past five years, we've worked with EPTA and St. Bernard's Project to help people come home to houses and lives that were devastated by Hurricane Katrina 10 years ago. When a battle has been that hard fought, it's good to have some friends like us on the ground … and in your home!
In 2011, Susie Perelman from Mosaic Linen and Larry Green from Rentals Unlimited began EPTA. Their mission, working with St. Bernard Project, was to rebuild homes and we knew we wanted to be a part of this. Together we collected 15,000 home essentials from the special event industry. Items such as china, tables, chairs, sofas, carpeting, window treatments, kitchen supplies and much more were transported to NOLA and in to the hands and homes of hundreds of people.
The next year, EPTA enlisted the help of designers from the industry to interact with the families about colors, style and taste. The designers then decorated the homes with the information they collected. The house reveals over the years have ranged from rollicking parties with some of the top chefs of New Orleans, to small, intimate affairs. No matter the size of the reveal there were always heartfelt moments none of us will ever forgot.
This year the design angels for the Felix and Smith homes were (left to right) Jordan and Evan Jordan Carbotti from Perfect Surroundings and Mark Wells from Hello Florida.
JUST BACK FROM NOLA …
In August, we returned for the 10th anniversary in New Orleans. With all of our team on hand we had as many furnishings that the Felix and Smith families needed. It wasn't just our time we donated. We also gave of our blood, sweat (think New Orleans in August) and tears to give these families exact what they needed.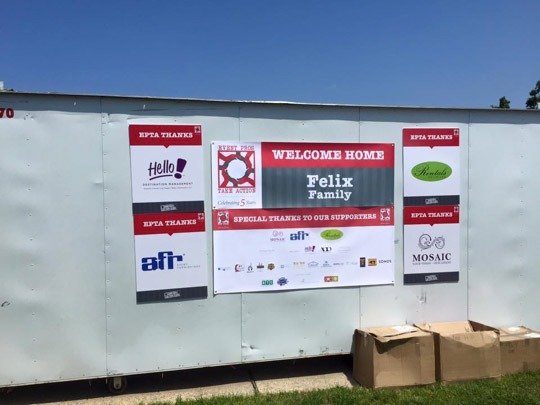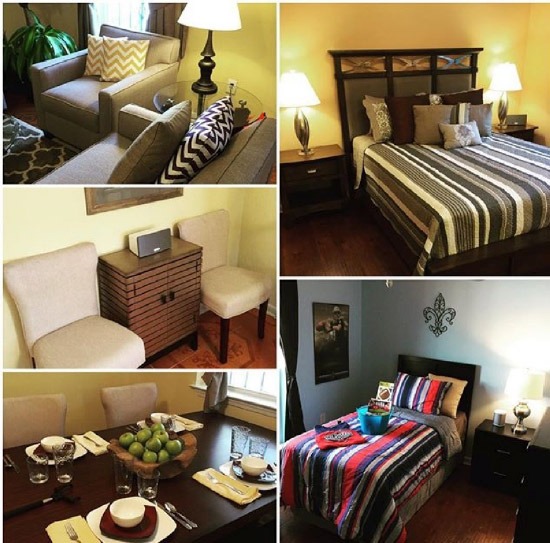 Design angel Mark Wells from Hello Florida went with bold stripes for the Felix family and a New Orleans Saints theme for their son's bedroom.
Design angels Jordan and Evan Carbotti from Perfect Surroundings went with a relaxing color palette for the Smith family.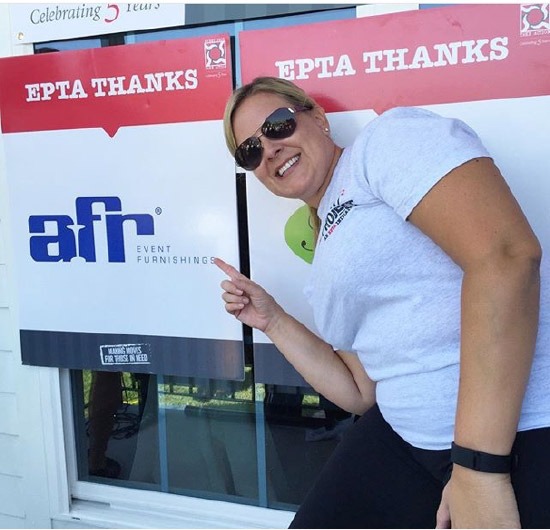 And THANK YOU EPTA! Schmitt was on the ground and ready to donate time, muscle and furniture.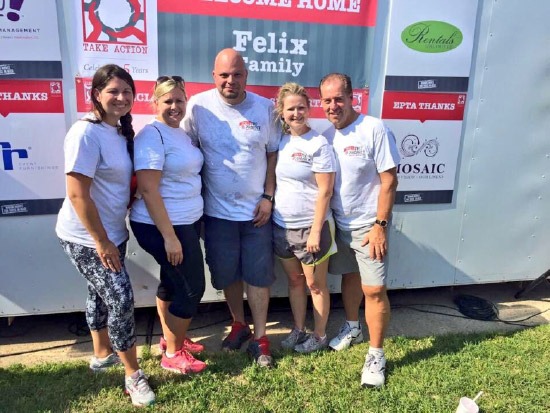 We are so proud of our AFR team who joined EPTA in NOLA this week!
#afrgivesback … indeed! We'll be back next year!