It is elemental – that which we have less of, we celebrate more. Take water for example. Experts say it will become even more precious in coming years as more of the world's population will live in areas of "high water stress." We've seen several celebrations in the art world about water already and can only expect celebrations of this type to spill over into event design. Here are four that are happening now.
A UNIQUE POOL PARTY
In November, Brooklyn's Wythe Hotel was the site of an unlikely pool party. The gala celebrated the final research phase for + POOL, a four-year initiative to build a floating, water-filtering pool in New York's Hudson or East River.
The project began with the simple goal of starting to clean the rivers of New York one gallon a time. The idea being, if New Yorkers were to see their waterways by actually being in them, they would change their relationship to them in a positive manner and fight against future pollution.
+ POOL is a layered filtration system to incrementally remove bacteria and contaminants from half a million gallons of water every day to ensure clean, swimmable water that meets both city and state standards.
It's a drop in the right direction!
RAIN IN LOS ANGELES
Like New York, Los Angeles has its own water issues, namely that there isn't any. Like rainmakers of myth, the artist Hannes Koch has created an installation at the Los Angeles County Museum of Art that allows visitors to control the "skies" above.
RAIN is an immersive installation that explores art and technology. Cameras placed throughout the room (which took eight months to install) sense the human body as it moves through the room, stopping the rain where it is, allowing the person to move through dry areas, like the parting of the Red Sea.
The piece uses 528 gallons of water that is constantly cleaned then recycled back into the room. Knowing the first thing people would ask is the incongruity of a water installation during a drought, Koch has been quick to point out that the installation actually has the footprint of a hamburger (what it takes to feed the cattle, grow the grain, transports, etc.) and that the average household uses roughly 400 gallons a day.
Because the installation is based on the motion of an individual, it's limited to the amount of people who can be in it at the same time. To pre-register for tickets through March 2016, visit www.lacma.org. It might be the only time you will be able to predict rain in Los Angeles!
ICY VISIONS
Water in all its forms is a thing of beauty and at The Annual Harbin International Ice and Snow Sculpture Festival, it's also been a thing of wonder and amazement since 1963. Harbin is the perfect locale for such a celebration. Located in Northeast China, it receives cold winter wind from Siberia and the average temperature in winter is 1.8°F with annual lows of –31°F.
Officially, the festival starts in January and lasts one month. However, exhibits often open earlier and stay longer, weather permitting. It has grown to encompass five areas in total, but the two main locations for the truly spectacular pieces are Sun Island which features enormous snow sculptures and Ice and Snow World, an area open at night which features illuminated full-size buildings made from two-foot-thick blocks of ice taken directly from the Songhua River.
The scale of the pieces and the skill required to build structures from the frozen river is an inspiration and a celebration of the elements that are around us.
UNDER WATER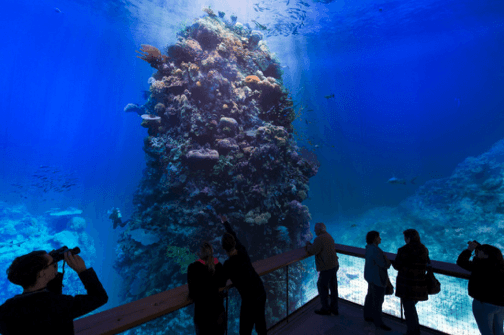 And then there are those times the elements aren't just "around" us, but literally surround us. In Germany, visitors to the Panometer Leipzig, a 360-degree theater, are instantly in the middle of artist Yadegar Asisi's stunning, hyper-realistic digital projection of Australia's Great Barrier Reef.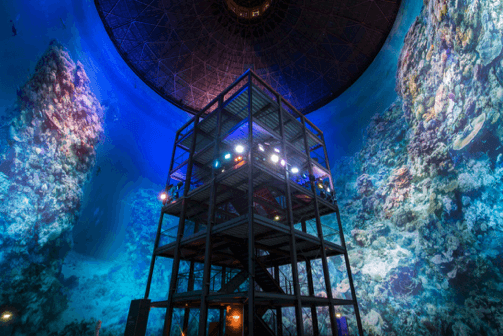 From a multilevel viewing area, visitors can marvel at the 50-foot-tall underwater ecosystem, a vibrant display of colors, corals, sea plants and animals, revealing their interactions through dynamic, changing light condition and even soundscaping.
In preparation for the exhibition, Asisi ventured on three trips to the actual Great Barrier Reef, studying the immense structure and taking thousands of detailed photographs. Asisi then compressed the scenery using countless layers of digital imagery to recreate the totally immersive underwater world.
The panoramic exhibition will be up through September 18, 2016.