Wow, what a whirlwind! The Special Event Conference and Trade Show or TSE, as industry insiders call it, was here and gone in the blink of an eye. If you weren't there we are sorry you missed it! If you've ever been to the conference, then you know that TSE week often feels more like a family reunion that kicks off the New Year. The team powered through a solid week of fun, work and non-stop action via energy drinks and plenty of coffee.
We debuted new AFR collections arriving in March of 2016, sponsored events, hung out with old friends, made many new ones, and gained some new customers in the process. We call that a successful and very productive week and we want to share some of the highlights even though you couldn't be there with us.
A team is not a team without a theme and this year our t-shirts and matching Chucks said it all while providing excellent conversation starters with people attending the conference and trade show.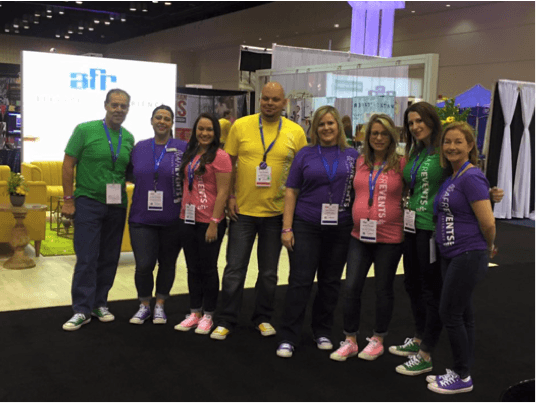 AFR Event Furnishings TSE2016 Team
AFR Event Furnishings was all over the conference with a significant presence on the trade show floor as well as sponsoring the Attendee Lounge and the GALA Night After Party. You couldn't miss us!
The Opening Night Party was a blast at entertainment and dining complex Pointe Orlando. It was an evening of great networking, delicious bites, free-flowing beverages, unusual venues and awesome live entertainment. We don't think you'll find anyone who didn't have a great time.
The next day it was back to finish detailing the booth and the Attendee Lounge in time for the opening of the TSE Trade Show right after General Session. Let's take a look at some of the products you missed seeing first hand. Inspiration was everywhere, and we hope that you will find some new ideas for your next event design.
Our main booth debuting the Oliver Collection, Oro Mirrored Cubes, London Pedestals, and Element Dining Table and Bench.
Everyone says it is all in the details, and we had some pretty awesome decorative features throughout the booth and lounge. Special thanks go to Greenery Productions INC for the beautiful floral design and also to Mayesh Wholesale Florist for providing all the flowers.
Element Dining Table and Benches, and Mod Rug
Oliver Collection, Oro Mirrored Cubes, Marrakesh Rug
London Pedestal
In the Attendee Lounge, we paired the new Madison Collection with Woodland Pedestals and London Cocktail Table for a big winner in the customer love department. Between the variety of color within the collection and the ability to innovate with the Pedestals, these two product lines provide the event designer with the flexibility to be extremely creative.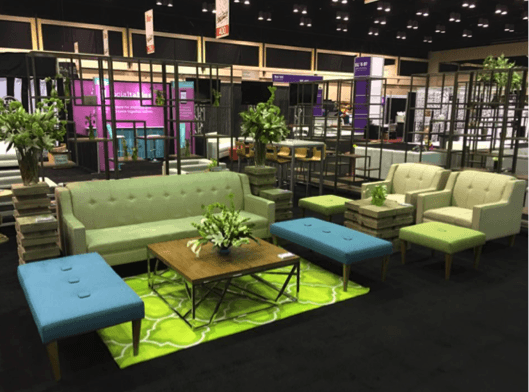 Madison Collection: Sofa, Chair, Bench & Ottomans, London Cocktail Table, Woodland Pedestals, and Marrakesh Rug
The casual urban feel of the Costa Collection with matching cocktail table creates a combination that will complement any outdoor event.
Costa Collection, Costa Cocktail Table, and Mod Rug
Boca Collection Charged: Chair and Corner Chair, Phoebe Table, Aria Table, and Athens Rug
We took a break to attend SEARCH Foundation as a team and support a great industry charity. If you don't know about this incredible organization, click here to find out more and please get involved.
Finally, the big night arrived for the "Oscars" of the Special Event industry. Working with the event designers for the after party, AFR Event Furnishings were woven into the overall design of the event including lush foliage cabanas, floating food stations, eclectic lounge groupings, and last but not least, both standing and seated guest-dining options.
Ashbury Dining Tables, Dijon Chair and Elio Chair
Floating Buffets
Java Pub Tables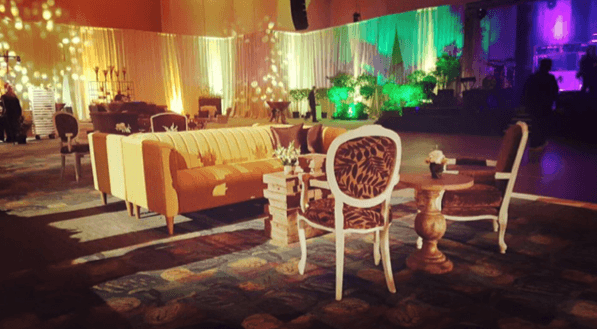 Oliver Sofa, Woodland Pedestals, Marteen Chair, Elan Chair, and Java Accent Table
Memphis Pub Tables and Marcus Bar Stools
The evening was a spectacular and inspiring event from every perspective. Orlando did not disappoint as host for the conference and a heartfelt congratulations and job well done goes out to everyone that poured their heart and soul into making TSE2016 such a success. We look forward to seeing everyone next year in Long Beach, California at TSE2017!
To download our new Special Events Furnishings and Inspiration Guide or to peruse our interactive portfolio, please visit us at afrevents.com.