Effortless elegance – a phrase we hear so much today when it comes to home design. If one were to look it up, if there was such a dictionary for timeless phrases, the definition would be Napa. So grab a glass of Napa chardonnay – a Trefethn or Frog's Leap – and come with us as we take a laconic journey through the valley to define its style and find ways to bring Napa style into your home.
First, one needs a place to stay on this journey. There are many incredible resorts in the area, but we liked the Carneros Inn for its beautiful interpretation and expression of the Napa way of life. The designers incorporated the indoor-outdoor lifestyle of Napa almost everywhere. Because of the weather in the valley which is often hot, the design of the outdoor spaces is as important as its counterpart. Often the day begins with coffee while sitting in a lavender-scented garden and ends with friends and family around a fire pit with a glass of brandy.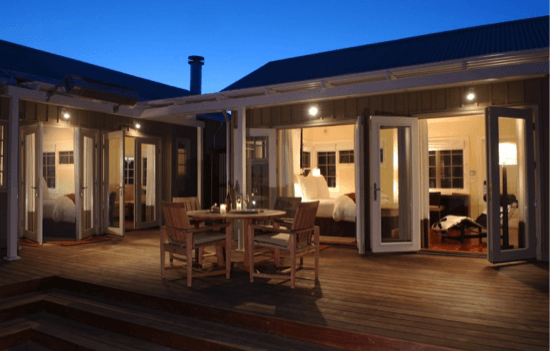 That indoor-outdoor living is illustrated beautifully by this repurposed barn designed by Barbara Colvin Co. By keeping the wood beams, even drawing attention to them with hanging baskets, Colvin gives a nod to the origins of the building, while below, a suite of formal furniture is finished with pillows in a playful burnt orange and gray. And the reclaimed wood coffee table and accessories bring it all together.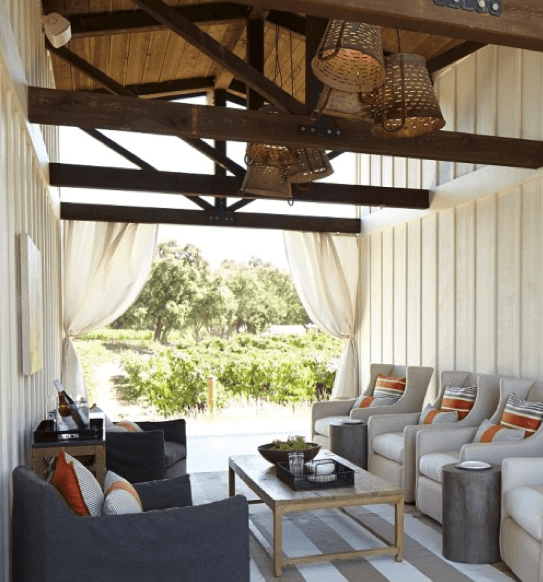 Photo: Barbara Colvin Co., Interior Design
And yet another way to bring the outdoors is this casual look that we've come to know so well … neutral tones, artfully peeling paint, rusted iron pieces and charming vintage antiques all go into this mix.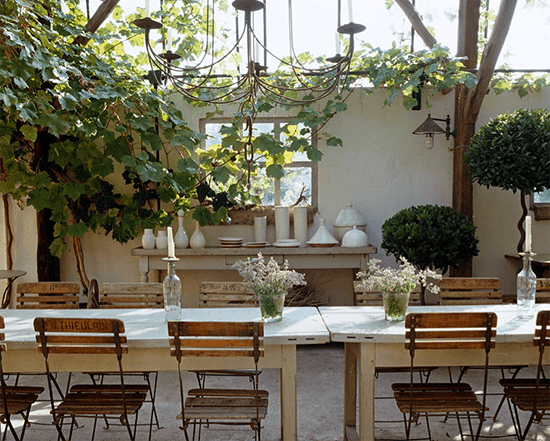 Photo by Simon Upton _ The Interior Archive
Like the wine that is grown there, the spaces of Napa homes are free flowing. Open floor plans allow kitchen and dining rooms to be become one large place to both cook and entertain. Farmhouse tables easily go from prep island to seating.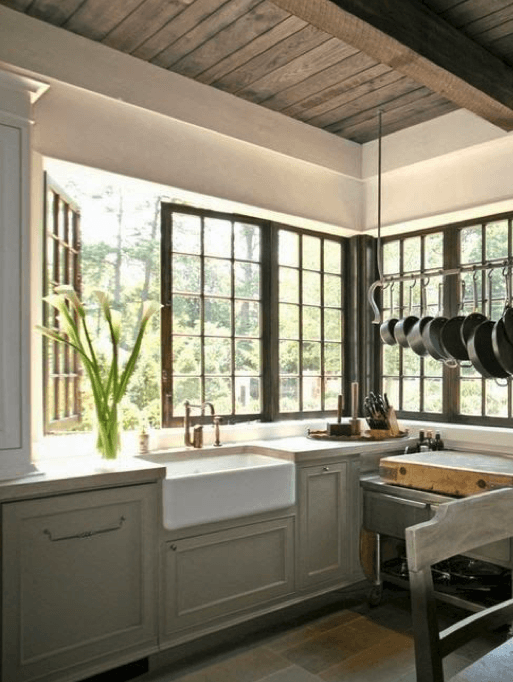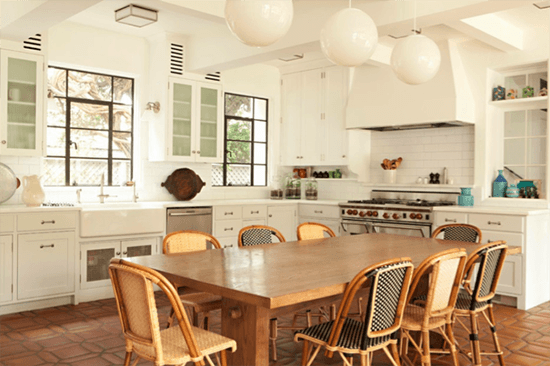 The mix of new and old vintages is what Napa is about. The valley has a sense of age, as it understands that time is what it takes to make great wine. Interior design often pays homage to time in repurposed and vintage elements, such as barn doors. But Napa style is also about adding that touch of elegance that tells one that the owners of the home are erudite and world travelers. Often, the pop of a vase or richly colored Persian rug brings fresh air into a neutral and earthy color palette.
greigedesign.blogspot.com
And finally, entertaining with Napa style has its own special look. Napa is a destination for all types of milestone events from weddings to special birthdays and the indoor-outdoor style prevails here too. Candles, bistro lights, garden chairs, long communal tables and earthy tones are what draw people to this area year after year. It's what remains in memory long after and gives us the desire to bring a little of that Napa style home.
Photo: Elle Jae Photography