Are you tired of the same old boring round banquet tables and chairs? Do you want your event to be different and something your guests will remember forever?  Let AFR's dining furniture options create a dining experience your guests will never forget. Treat your guests to the style and comfort they deserve while making your event stand out.
That's right, step out of the box and consider the many alternative dining options AFR has to offer. Mixing and matching chairs with benches as your dining seating not only gives you a unique look and feel, but it can help you maximize seating and space."Utilizing alternative dining options accomplishes both," says AFR's DC Account Executive Heidi Berger. "Not only is the look unique and fashionable, but the tone is inviting."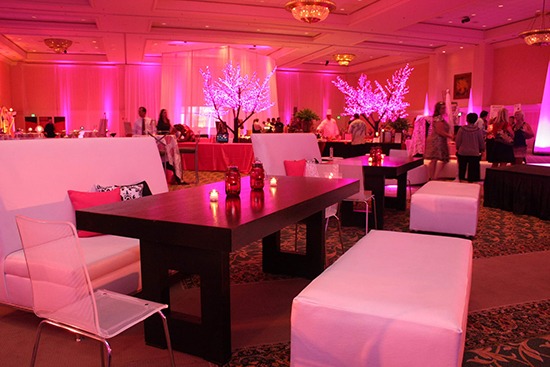 Faced with the challenge from a recent client in Miami to incorporate a rustic feel into a modern-themed dining event, AFR Miami Account Executive Mandy Diaz paired dark brown, wooden Hayden tables and cushioned benches with white leather, criss cross dining chairs for an inviting yet modern dining experience. "There's nothing ordinary or boring about this dining statement, it immediately grabs your attention and it also seats 12 comfortably," Diaz says.
In an event at Foxwoods Casino in Mashantucket, CT, last year, David Blackwell used AFR's Whisper bench ottomans and mahogany conference tables to create a different dining experience for guests. The AFR General Manager in CT, Martin Barletta, works very closely with the Foxwoods team. "When working on the design of this gala, David wanted to have tables that were sleek and did not need to be covered with linens," says Barletta. "Our tables and bench ottomans allowed him to provide a seating environment that was different than the typical banquet rounds."
The picture below is from Valerie Lenz, creative specialist for Convention Planning Services. "The look we wanted to achieve for this particular client was a contemporary awards ceremony. We wanted something a little different than your traditional round, yet sleek in design. Clean white carpet, floating calla lilies along with lighted dining tables gave this black tie event a little added flair. The Room Service S chairs go perfectly with the design because they are modern and reasonably priced" says Lentz. "Along with the S chairs, we also utilized sleek white leather furniture groupings to provide soft intimate seating for guests during the cocktail hour."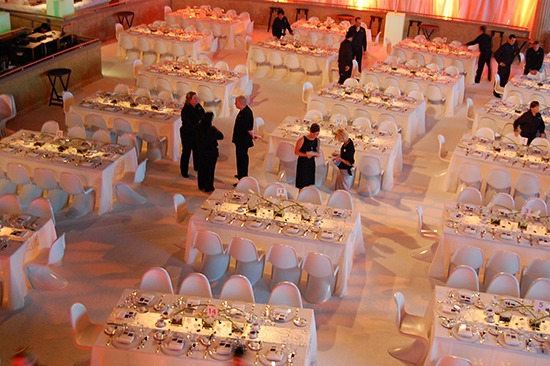 Recently, Petra Compel, director of Express Events for Feats,Inc. in Baltimore, MD,  used ghost chairs at a FAM event at the Baltimore Hilton. Compel says, "The look that we wanted to achieve was sleek and modern, and we wanted to give the guests the feeling of floating above Baltimore city. Along with a clean, white design and contemporary florals, AFR's ghost chairs furthered the impression of a stately dinner with a 21st century flair. Standard stack or folding chairs would not have given us the sophistication that this event called for. In addition, we designed an adjoining cocktail area using AFR's white leather collection, infinity cocktail tables, and a stainless bar."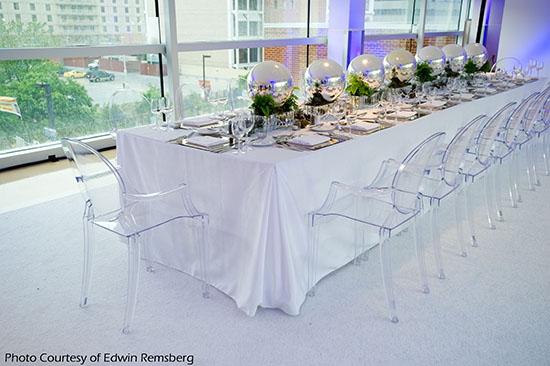 Lindsay Cosimi and Sarah Florio, from AFR Orlando, recently worked with Richard Summers at The Launch Group on the Virgin Holidays Anniversary Celebration at Hard Rock Live in Orlando. "In designing this event we wanted to make sure that every detail in the room captured the fun and modern groove of the Virgin Brand," Summers says. "This was very important since Sir Richard Branson was attending. As usual my first choice for specialty furniture was Room Service, an AFR Event Furnishings Company. I knew that their furniture with clean modern lines and bold colors would complement our red and white ultra lounge environment. The white S chairs we utilized were clean in design and had a sexy curve that truly captured the look we desired. Standard stacking chairs would have cheapened the overall look and been an eyesore rather than a complementing piece. We also utilized some red and white leather pieces along with accent tables and custom pillows with the Virgin Logo."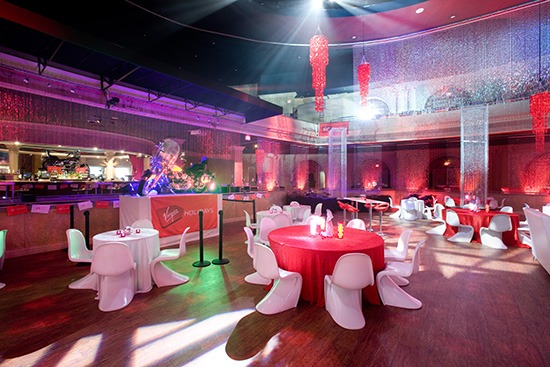 Have you ever considered using bar stools with hi top tables in a variety of unique configurations? Our modern "S" chairs can create a distinctive look. Lola chairs and benches can be paired together for an elegant balance of sophistication and function. Our Vivid glass tables can be paired with Sophistication benches and our criss cross chairs for a stylish dining environment. Creative, fun, and functional dining alternatives come in many different sizes and shapes to make your event unique. The possibilities are endless.
For more information and ideas on AFR Event Furnishings, call our offices to speak to your local representative at (888) AFR-RENT, or visit our website at www.afrevents.com.