It's your big day.
All your representatives are in town for the meeting. Maybe some clients, too. The room is booked, the catering is set, and you're ready to set a course for the future.
There's just one problem; you're stuck with conference room furniture.
Your meeting should instill confidence—display a forward-looking business with a personal touch, a slick operation that's unafraid to impress people. But anonymous round-top tables and stackable chairs have the opposite effect. How many other meetings (not to mention weddings and banquets) use the same fixtures?
AFR can help you design a more efficient, memorable event.
Your people work long hours, so why not make them comfortable? Consider renting high-back leather chairs. They're mobile, and they carry that classic touch.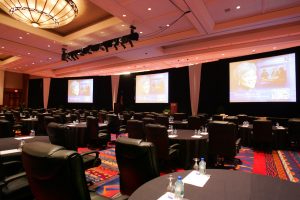 Alternatively, rent sofas or love seats. Employees will cluster in small groups, strengthening their ties and increasing efficiency.
And if your meeting includes a panel, remember to keep the experts happy and give the audience something to watch. AFR will turn your space into a plush, modern stage set that's worthy of television.
Your business is going places. AFR will help you show it. Get in touch with our professional event planners to learn how we can make your next meeting a success.