We're already in March? This year is moving at high-speed. We've just returned from the 2012 CaterSource and Event Solutions Idea Factory, and wow, did we have an awesome time in Las Vegas!
THE AWARDS!!!
First, just in case you haven't already heard, with your support, we RockED the Vote at the 2012 Spotlight Awards bringing home awards in the categories of Event Supplier of the Year and Marketing Professional of the Year! We're so excited about the awards, and even more importantly the opportunity the campaign gave us to communicate with our clients and the event community at large in a fun and meaningful way. Of course, we really love how our new Spotlight Awards look on the AFR Awards shelf too! (Jerry, our President hasn't stopped smiling yet!)
THE REST OF THE WEEK:
In addition to winning awards and making a fashion statement with my crutch and go-kart, we had so much going on at the show this year that we were busy every minute of every day. Without out all hands on deck, we couldn't have gotten it all done!!!
THE AFR BOOTH:
This year, we worked with Frank Clemente and Lynn McGee at ConceptBAIT to build a Moroccan Pavilion that would show-off our new Extravaganza Slipcovers to the event community. The covers were created to fit the Function Line and effectively transform event spaces in a savvy world culture way. To show off the furniture, Frank designed a beautiful fabric Pavilion with stained glass lanterns hung from the ceiling in a variety of heights that put the finishing touches to the environment. In addition to the new Extravaganza line, we showcased prototype metal tables that will be available within the next two months. Please tell us, what you thought of them.
THE DESIGN DIVA CHALLENGE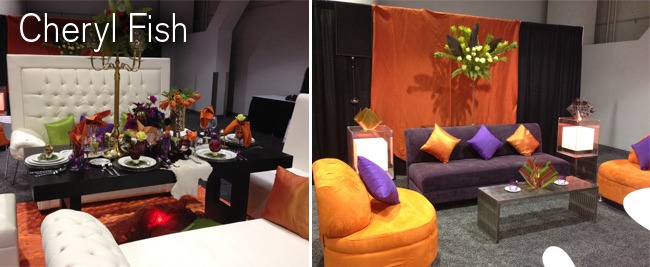 Last year, as a sponsor of the design stage we were given 20 minutes to talk on stage. Rather than boring people to death we did a mini design contest with David Merrell and Frank Clemente. It was such a big hit, that this year, we were invited back to produce the official "AFR Design Center." The headline event for the stage, was the DESIGN DIVAS CHALLENGE featuring industry design experts, Cheryl Fish of Someone's In The Kitchen, and Sasha Souza of Sasha Souza Events. Talk about generating some excitement! The competition was high drama, funny and fierce.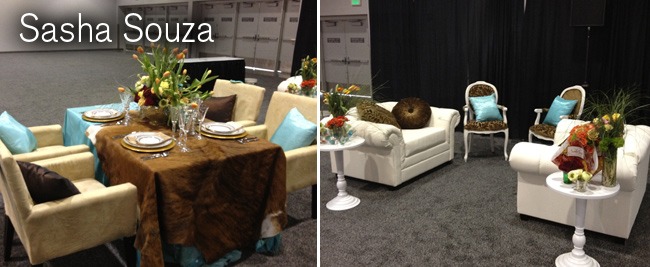 AFR brought a truck of furniture and partnered with Mayesh for floral, Deko Vase for vases, 81 Main for décor, 10 Strawberry Street for china and Rentals Unlimited for linens. Sasha and Cheryl had 45 minutes to design using these items that they had not ever seen before. Our MC, JC York from Wise Guys Entertainment kept the audience engaged beginning with making our Divas arm wrestle for their choice of design space and adding surprise elements like pony and cow hide rugs that needed to be incorporated into their designs 15 minutes into the competition. In addition, our MC placed the Divas in a surprise 2 minute penalty box to see how well they had given their team direction. Unexpected interruptions happen all the time in events, right? After the challenge finished, tradeshow attendees voted by ballot for their favorite design vignette. Congratulations to the 2012 Design Diva, Cheryl Fish who was "crowned" in David Tutera's Closing Session on Wednesday evening.
Watch out for our Battle of the Sexes Challenge next year at the 2013 Event Solutions Design Challenge. It's going to be AHHHHmazing!
CATERSOURCE MAGAZINE LOUNGE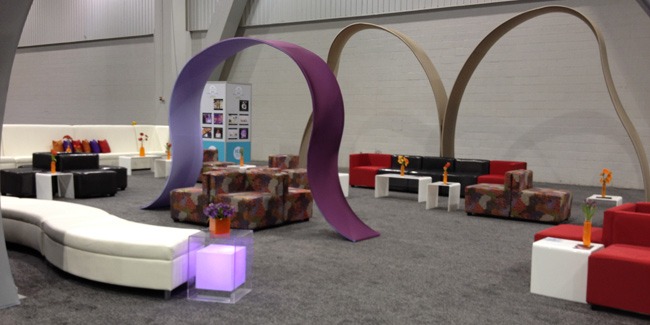 With just two days notice we agreed to sponsor the CaterSource Magazine Lounge. We recruited Deb Roth from Pink powered by Moss to offer us Ribbons and Phyliss from Eventricity in Glenside, PA to do the florals.  We showcased our Function line with the Extravaganza slip covers and previewed two other slip covers- Titan and Saffron which are currently only available in Florida, but may be available in additional markets very soon.
Are you out of breath yet? We are, but rest assured we are celebrating such a successful show. And, just in case you missed it, THANK YOU FOR ALL YOUR SUPPORT of AFR Event Furnishings!!!