The temperatures are finally getting steamy and long days are fading into warm balmy nights perfect for basking under the stars. The time is here to get outside and enjoy a breath of fresh air  - both literally and in the design of your events.
It's easy to create spaces using different decorative elements to make a large outdoor venue more intimate. Try infusing ornate trellis and hedges, window frames, old doors, birdcages or bookshelves into your décor design to create innovative dividers, finish a setting or define the perimeter of an outdoor event space.  Anything can be used; you just need a little imagination to spark an idea. Add in personal items that are reflective of the guest of honor's personality or interests and suddenly you have a new spin on things. Take a look at how Function Event Planning & Décor used different pieces and color to create a personal edge to their event.
Outdoor events have really evolved in the last couple of years with an eye toward creating an indoor feel in an outdoor space. This year goes a step further with a mix and match trend. Take for instance, our Hayden, Vermont, or Club dining tables.  Each style provides a different foundation for an elegant, rustic or contemporary look. Blend any of them with an Elio, Ghost or Criss Cross chairs and you end up with a look that glams up the ordinary.
Think organic materials with metals, leather with soft textiles, acrylics with woods – all of them work. The opportunities are limitless. Look at what happened when David Price Rentals Unlimited mixed our Grass Collection loveseats with a more traditional linen covered table. It gave a classic look, a flamboyant edge.
Want something a little more country chic? Look at our Chateau sofa combined with our Dijon and Elan chairs along with pillows in interesting textures and you are well on your way to creating a beautiful environment perfect for a lovely summer wedding. Add a natural element like hay bales for coffee tables, and some bright floral to complete the look. We love the idyllic and rustic setting, which plays to the natural elements of the venue.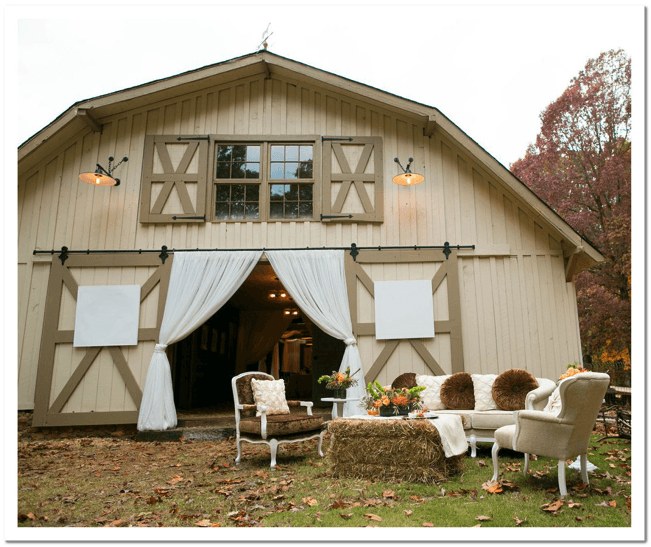 Don't forget about our Evoke or Broadway collections. They are great for creating a setting at the beach, garden party or a day into night soiree. The possibilities are simply endless when you let your imagination wander.  Add bold color or mix and match with specialty pieces to create a look that is all your own. Yes, it's really time to "mix it up" and take the look of your events to a new level for summer.
We have a great selection of furnishings and infinite ideas to help you turn your inside events outside in unique ways.  Check out our website at www.afrevents.com to see our catalogue or call your representative at 888.AFR.RENT. Let us help you get in the summer mood.