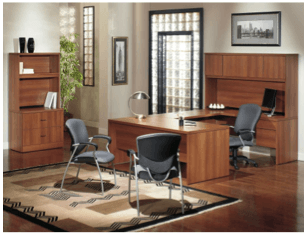 When you have a lot of responsibility at work that includes a ton of paperwork, binders, a computer, and a filing system, you need a lot of space that cleans up nicely. The Correlation Series desks and case goods from AFR Furniture Rental are perfect for helping everyone from your top executives to your receptionist enjoy an organized space and maximum production time.
The versatility of the collection allows a variety of different design layouts that will fit many different office spaces. From shelving units to filing cabinets located under the main desk, it's easy to find practical solutions to office organizational challenges with the Correlation Series.
We all want to maintain a professional image and feel at our companies even in the midst of busy, chaotic, and even stressful times. While a desk unit from AFR will not write that proposal with a noon deadline, help the office intern make copies or deliver coffee faster, or make that presentation to big investors, it will at least give you and your employees a stylish system to stay organized and productive. You won't be scrambling to find those important documents and files or wondering where to look if your manager decides to give you a pop quiz on company procedure. Having the right kind of space to work in can help lower the stresses of a busy office and provide some peace of mind.
The Correlation Series also has pieces that will provide style to your conference rooms. With our 12' long Conference Table and our 48" round Conference Table, interviews and company meetings can be held in a space that is practical, professional, and most of all comfortable.
At AFR, we make it easy to find the perfect furniture for your company. With a variety of different styles to choose from, you are sure to find what you are looking for. You can see the full Correlation Series, as well as our other commercial products at www.rentfurniture.com or call your AFR representative to find out availability and pricing for your custom space.