Whether you prefer a barely-there light grey, a warm medium grey, or a deep charcoal there is a shade of grey to meet everyone's taste and style. Grey is a versatile color that creates depth and refined sophistication. Existing somewhere on the color spectrum between no color and all color, grey lends itself to many different shades that can create a soothing and elegant environment.
Grey can be a difficult color to alter but can be incorporated into a warm or cool setting depending on the grey that you choose. For example, grey with undertones of green, blue, or violet are cool, while "greige", (a combination of taupe and grey), is warmer. Yellow, red, or orange undertones would be considered warm as well.
Layering different tones of grey creates dimension, texture, and pizzazz in any room. From an accent wall to furnishing pieces that contrast within the palette, the world is abuzz about grey — it is a vibrantly dimensional and beautiful look.
For those who are hesitant to make the commitment to a grey-walled environment, build the look with furnishings like AFR's Burnished Collection paired with a Shogun Chair and the silver Parisian Round Ottoman on a Rasta Block Rug. For dimension, add some textured pillows and throws in varying tones of grey. Finish with metal accents in oil rubbed bronzes, pewter and iron or choice of metal finish lamps. Do not forget accent pieces for that bare wall. AFR's Jasmine or Jet Accent Chest completes a perfect look.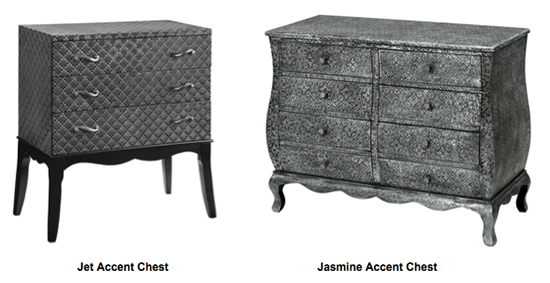 Super Success Tip: Choose your shade of grey by its undertone as that is the color that will emerge once it is on a wall or in a furniture setting. Examples of cool grey undertones are blue, green, or violet. Grey with a taupe undertone ("greige") is warm.
Feeling like you need some color? Decorating is about having fun and living in a happy space. With grey you can toss in your favorite colored pillows and accessories to create just the right pop.