To celebrate 40 years in business (click here for video recap), AFR is visiting some of our top communities and holding events that embrace the legacy of our fine furnishings paired with innovative design sense. Recently, 300 guests packed the Lacuna Lofts for our Chicago Blueprint for Success event. We paired four designers with four caterers who each took on one of the decades of AFR. The teams worked in a 15-by-15 space interpreting a decade through style, food, and of course, AFR furnishings and it was the eighties that took home the gold!
The design of Ivan Carlson & Associates and Feast & Imbibe called upon the excess and wealth of that iconic eighties family, The Carringtons, from the widely popular TV show, Dynasty. The environment they created was that of the family living room. "We used the archtecture and high ceilings to create a draped space for the lounge area," says Claire Smith, Design Director at Ivan Carlson & Associates. "It was a salon space fit for Krystal herself," adds Tracy Gleason, Director of Sales. "Thanks to the beautiful new furniture collections from AFR and a brilliant menu." Oh, that menu!
"American cuisine in the eighties was heavily influenced by classic French dishes," says Heather Bublick, Director of Operatons of Feast & Imbibe Catering. "One of the biggest chefs at this time was Chicago's own Charlie Trotter, an inspiration to many of us here at Feast & Imbibe. Combining Chef Trotter's approach to food with the opulence of Ivan Carlson's decor inspired by Dynasty was a perfect match."
Of course, all the dishes were butlered by staff in formal wear, just the way the Carringtons would have held their affair. For AFR, our "Dynasty" continues into the next decade as we continue to be inspired by creativity such as this.
The winners, Ivan Carlson & Associates and Feast & Imbibe. From Left to right: D'Andre Carter, Feast & Imbibe - Executive Chef, Ryan Campbell, AFR Event Furnishings - Account Executive, Heather Bublick, Feast & Imbibe - Director of Operations, Cortney DeArmond, Account Executive - AFR Event Furnishings
The Elegance of Dynasty: AFR recreates the Carringtons. The designers at Ivan Carlson used the Monaco Collection of furniture paired with Stella Mirrored Cocktail Table and Pedestal, the Zinc Pub Tables, Aria Side Table and the White Café Table.
The catering company's menu included a very "rich" Vichyssoise with house-smoked sturgeon, sturgeon caviar, and Meyer lemon olive oil with a gold leaf accent.
Pulled Pork Cigar, a nod to Dynasty's oil tycoon Blake Carrington, is a signature dish of Feast & Imbibe and is served with barbecue sauce, fire and sesame ash.
THE DESIGN TEAMS
Thank you to all the talented design and catering teams who participated and helped make this event so fantastic!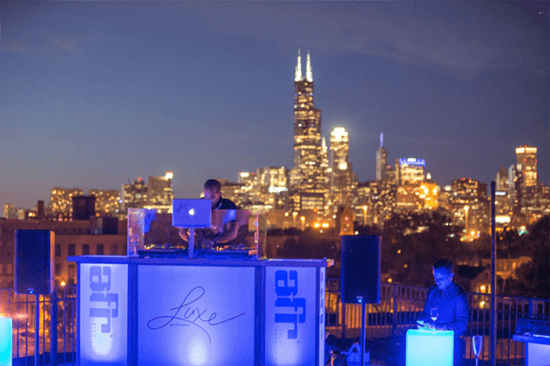 Rooftop
Design: AFR Chicago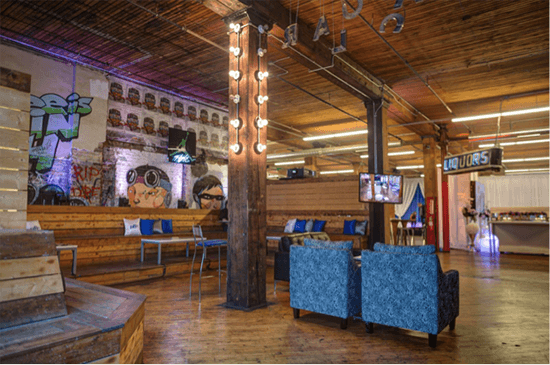 Recharge Lounge
David Michael Productions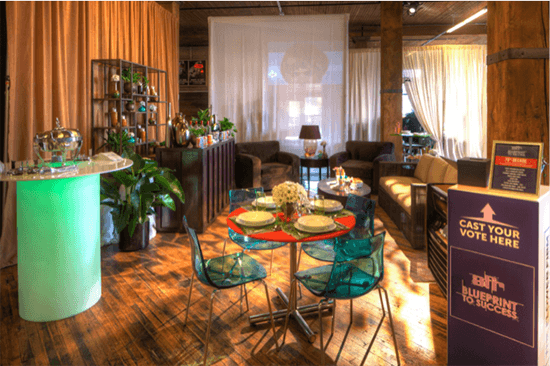 70s
Design: The Flower Firm
Catering: Phil Stefani & Signature Events
80s
Design: Ivan Carlson & Associates
Catering: Feast & Imbibe
90s
Design: Revel Décor Inc
Catering: Limelight Catering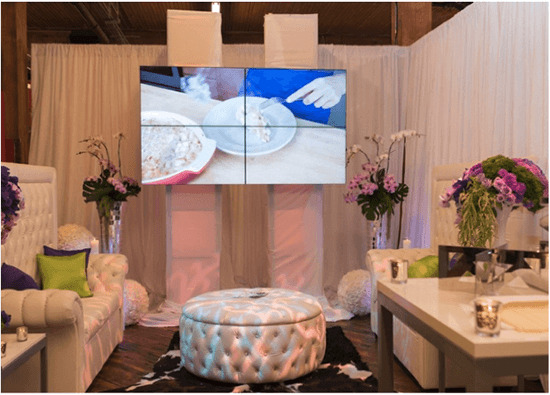 00s
Design: Ashland Addision Floral and Event Decor
Catering: Jewell Events Catering
A SPECIAL THANKS TO ALL OUR SPONSORS