The beginning of the year is always a great time to think about what worked last year, and what we want to create this year. At AFR Event Furnishings, we like to set inspirations, rather than resolutions, for the New Year. An inspiration is fluid and transformational. When we set our intention to shift and grow, we can inspire one another.
At AFR, setting inspirations is done three ways.
One. We talk to our own people such as Mandy Diaz our account representative in Miami. We find that the people who are connecting with you the most have the most unique and exciting ideas.
Two. We create opportunities to inspire through giving. Once again, it's about being inspired when connecting to others.
Three. We remain aware of the beauty and wonder of the world, especially that created by artists. Much of our furnishings are inspired by art and architecture and so we turn to these disciplines for our inspiration. This week, we set our inspiration on one art form, three different transformations of it.
INSPIRED BY STAINED GLASS
The art and craft of stained glass has been around for thousands of years, and much of it has remained intact since the Middle Ages. Today, in the interior design field, stained glass is referred to as "art glass" and many luxury homes, commercial building and places of worship feature it in the architecture.
THE ORIGINAL
You may have seen this stained glass sculpture. The Glory Window in the Chapel of Thanks-Giving is the most prominent and recognizable feature of Thanks-Giving Square in Dallas, Texas.  Designed by Gabriel Loire of Chartres, France, the window is one of largest horizontally mounted stained-glass pieces in the world Inspired by the chambered nautilus it features brighter colors as the spiral reaches its apex, becoming brighter as it reaches the center.
THE TECHNO VERSION
It's no surprise that light designers, technology and architecture would inspire one another to create some amazing temporary stained glass designs. This spectacular light cathedral was created at the Light Festival in Ghent in Belgium. The Italian artists Luminaire de Cagna created the main attraction using 55,000 energy-efficient LED lights.
THE ARTISANAL TOUCH
In Spain, with the help of online fundraising and a sponsorship by Red Bull, a 100-year-old abandoned church was transformed into a skateboard park dubbed Kaos Temple. The well-known Spanish muralist, Okuda San Miguel, was then commissioned to cover the walls and vaulted ceilings with his unique brand of colorful geometric figures, very much inspired by the shapes of classic stained glass art.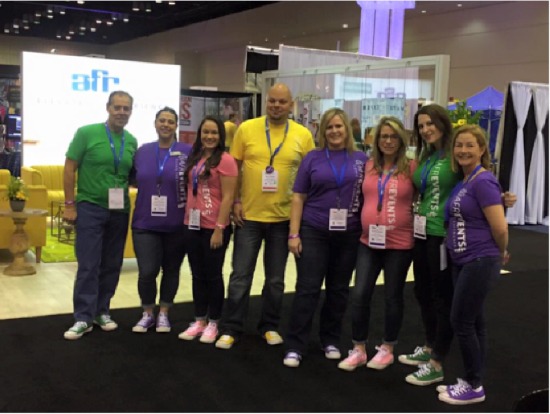 As you can see, the colors of stained glass have clearly inspired the palette of 2016 for us! More than that, setting inspirations keeps us excited about possibilities, open to new ways of thinking, and ways to improve our designs by staying agile in our thinking. We are much more than a furniture rental company. We hope to be your inspiration for beautiful design and transformations!
What inspirations are you setting for 2016? Send us images and we'll put it on Instagram and blog.
#afrinspiration2016