It's summertime and the living is easy but that means the events go wild! Summer raves were not initially on our radar as events that would require our plush lounge furnishings but several of them have become so overwhelmingly popular that VIP sections are now coveted by sponsors and high-end clientele.
For instance, the Electric Daisy Carnival which started in Las Vegas as a small grassroots affair is now, after 20 years, a worldwide phenomenon with raves in Orlando, New York and more. No matter where it is, the three-day alternative music festival has become a destination for high rollers, some of whom arrive by helicopter!
The Electric Daisy Carnival in Las Vegas, celebrating its 20th anniversary
The Electric Daisy Carnival by day: The VIP area at the Marquee SkyDeck, Cosmopolitan with AFR's illuminated coffee tables and couches in royal purple.
Rhonda Boyer from AFR works on all the EDC events and for the past seven years has been bringing the AFR style to its VIP areas. "They like a pop of color," she said. "Everything is illuminated in purples, oranges and pinks. For the furnishings, they like the streamlined armless pieces."
This year the Marquee Sky Club at the Cosmopolitan was outfitted with a fleet of 60 AFR Imperial sofas, accompanied by illuminated coffee and end tables. "We are there early every morning to replace batteries and do any maintenance on the furniture," Boyer said.
Today, EDC might be one of the tamer raves / festivals that contracts with AFR. "We do Nocturnal Wonderland, a huge rave event" Boyer said. "They also have a show called Beyond Wonderland, which is a two-day festival, again with VIP areas and a lot of glowing furniture. It's not as big as the others; about 100,000 attendees. At these events we also do the bars and bring in armless Imperial sofas, and the colorful Tangerine and Oliver sofas."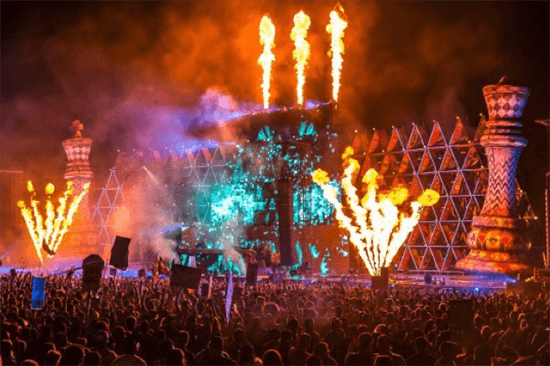 Nocturnal Wonderland, 2015, Photo courtesy insomniac.com
This year, they also added charger furniture and a private artist area embellished with the Regal and Royale lines. Although the wear and tear on the furnishings is a little more than a one-night event, Boyer doesn't worry. Every morning, an AFR team is there to refresh all the furnishings. And another reason she doesn't worry – "We get the deposits up front!"
The morning after … below, the VIP area at 2016's Electric Daisy Carnival in Las Vegas, on the second day, still looking great!