All the world is a stage, as the saying goes. Our event specialists could revise this to be – any warehouse is a stage. That's what our Regional Account Executive Aundrea Hopkins believes. Based in the Carolinas for the past two years, Aundrea Hopkins likes to turn warehouse and loft space into an event site, but more often than not, she's using them as the perfect photo studio for her design pairings.
To show clients the possibilities that exist within our collections, Aundrea often will find an artsy area of the warehouse, pair tables and chairs, and snap a picture or two. Sometimes the pairings work, sometimes they don't, but there is always a spark of inspiration in the look that helps define the design direction for her clients. And as a past food and beverage manager, Aundrea knows the power of a good pairing. We caught up with her to find out what trends are pairing up with AFR's collections.
1. What looks are hot right now?
There are actually three hot looks that are trending.
The first is metallic and mixed metals. Rose gold is super hot, but so are gold and silver. Mix them together and create an elegant design that will work for all market segments.
Above: A mix of metallic with a variety of textures.
The second is not really a trend, but has become a style – that of transforming raw spaces into unlikely event venues. Now, I love an elegant ballroom, modern gallery or tent overlooking the Biltmore in Ashville, North Carolina, as much as the next person. But there is just something about raw space that gets my creative mind going.

Above: An example of a raw warehouse space turned event space. Our Escape Chairs, Bravo Pub Table, and Vienna Teal Barstools looked perfectly at home at Boxman Studio.
Old factories and warehouses are blank slates for any look!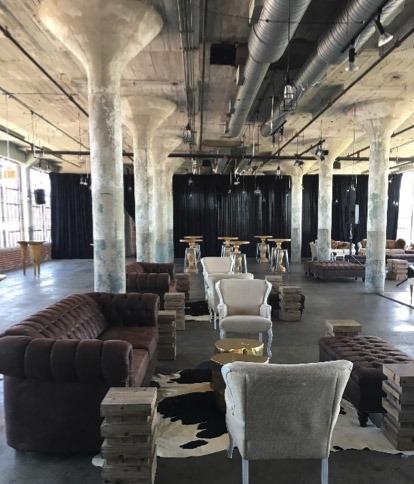 Above: A great look using multiple seating options. This was a General Session, but the use of the avant garde space allowed them to really push the design envelope.
Above: Or, the opposite can happen. Here, a more conventional event space gets a jolt of the new by mixing two collections. It helps that this design remained in the same tone.
Above: This meeting was set in a "think tank" room. I like to imagine that the seat style one chooses says something about the person. But one thing is for sure – wherever anyone sat at this meeting, the look said "Comfort and style!"
2. What suggestions do you have or would you give a client who is truly looking to impress and put on a spectacular event?
It's important to consider the entire guest experience. Anyone can plan a meeting or an event, but not everyone can plan an "event experience." Know going into the event how you want your guests to feel when they leave. It begins with a warm and inviting welcome and should always end with a smile, even if it is your annual sales meeting. Putting your attendees' experience first will keep them happy and ensure a memorable event.
3. How can a client get the most out of AFR's collections to really wow their guests?
It's best to begin with a clear vision of how we can accomplish the overall goal of the event or look. Sharing this information with the event team will give us an idea of the look you are going for. And don't be shy with the information! Every little detail you can impart to us helps us with the design from the floor color to the room layout. Are there columns? High ceilings? Is there any art or décor we can work with? Whatever it is, it goes into the mix. But in the event that there is no clear vision, then I set up a call and get an inspiration board started based on what the client likes. Together we can always find a starting point!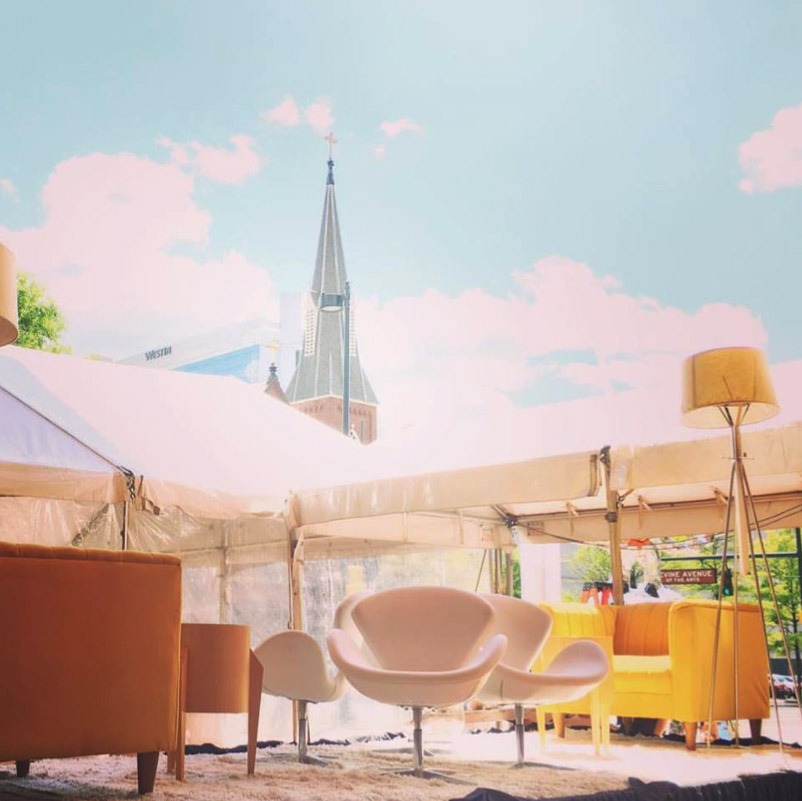 4. What is one of the most important tips you can give someone on collaboration with AFR?
Share your inspiration and ideas! We are the furniture experts, but we also learn from our customers. Having a starting point always helps to get the ordering and design process started. As event designers we have seen a lot but not everything and your idea might be our next "favorite" thing. Ask questions… Will this chair work with this table? If we haven't seen it before that doesn't mean that it will not work, we just need to try it. Staging in our warehouse is always an option!
Here is a warehouse set that I send via text to a customer working remotely:
Yes, the table works. Did the table work for this particular stage set? No, but we offered alternatives until we got to the look they wanted.
Later the client shared the final look with me via text:
5. What are some final words of wisdom you can pass along?
We can always help in a pinch, but consider bringing us in early to the design and ordering process. You will get more bang for your buck this way, plus you can cross off one more thing from your punch list!
Bottom line is this – no question, idea or request is too small or large. We are here to help you succeed no matter what! I look forward to making a trip to the warehouse for you … I have just the right table and chair pairing in mind!
Aundrea Hopkins is Regional North and South Carolina Account Executive at AFR Event Furnishings.