Furnishings are fashion and like fashion …while there are some looks that are timeless, they might just not be right for THIS time! When it comes to home staging, we've sorted out everything into three piles – things that we are embracing now, things that are great but need to be stored for later, and those things that just need to go!
Embrace It Now!
Do you like to live for the moment? Are you always right on top of what's trending? If you are someone who likes to embrace the new, here are four looks to love right now!
JEWEL TONES
Either bring jewel tones in as accessories, such as the Ceylon collection of pillows, or if you a new sofa and chair are in order, consider a soft take on the jewel tone with the Elm Sofa or Elm Chair.
NAIL HEAD DETAILS
The look that became big several years ago and literally peels back the veneer on upholstery to expose the nail heads, comes back in a more livable way. Our Charleston Collection (top photos) shows them off beautifully with leather upholstery. And the Urban Brownstone Chair and Viera Bench give the look an elegant take in ivory tones.
MIXING AND MATCHING METALS
If you don't have the ability to bring in large pieces of gold and bronze, consider accents in room accessories. Top: Caroline Mirror. Bottom, left to right: Glacier Mosaic boxes, Duara table lamp.
Store It for Later
There are many looks we love for all time but they need to hit the refresh button now and then. Don't get rid of those classic pieces! Choose to store them. Somethings to store now would be…
FURNISHINGS WITH SHARP EDGES
While we still love glass pieces, we are entering an era in which we want our homes to offer us maximum comfort. That said, pieces like those above (Buena Vista Dining Table, Overton Side Chair, Kingston End Table, and Kingston Cocktail Table) really pop when used sparingly in conjunction with softer sofa looks. If you have more than two or three of these pieces, put them in storage…they are classics.
OVERSIZED FURNITURE
Oversized and overstuffed furnishings belong to another era, yet we still want comfort. To update the look, consider these pieces above … Cole Sofa, Rain Accent Chair, Dune Accent Chair and the Burnish Chair. You will love the open space these smaller pieces give you. Store those overstuffed sofas to sink into later. You know they will be back in style!
THE COLOR BLUE
We go through phases with color and the color blue has been everywhere lately. While it's beginning to wane, blue and white will never go away completely. It's just one of those timeless looks designers reach for. So instead of a pillow or ceramics, consider adding it on the walls with a painting such as these two art pieces.
ALL-WHITE ROOMS
Again, we can all agree that an all-white room is a classic. Yes, lately they have been overdone. Changing them up is easy (perhaps that's why we all love them)! Simply add some color accent pieces to bring the look up to date. Shown: Norfolk bar stool, Arlo vase, Bristol Owl Canister, and Fire and Ice pillows.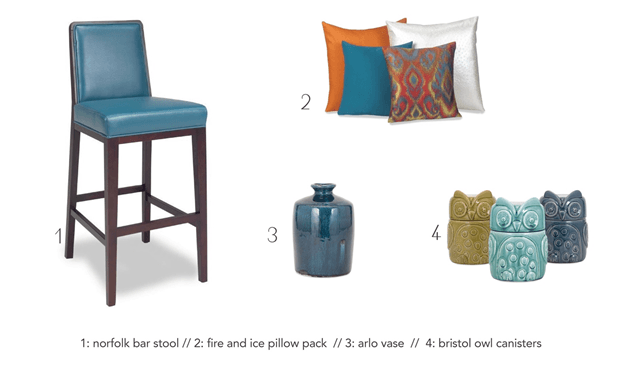 Throw Out and Start Over
Some things are so outdated, or so obviously part of a trendy style, that they just have to go. Usually these are accents such as wallpaper, paint color or pillows. In some cases, they can't be saved, and in others, it might just be time to cycle them out of your rotation. Let someone else love them for a while, but not you…because you love to live on trend!
Chevron patterns – anything with patterns is always easy to fix. Recover pillows, or simply recycle them to friends, garage sales or thrift stores.
Vintage, from DIY to Edison Bulbs, has had its day. Unless of course "vintage" to you means antiques! If so, put those in the "store" category and cycle them back in later.
Anything that just doesn't geographically make sense for where you live, or can instantly be read as a "style." Barn doors are great for Texas, but might not work in Manhattan. Love 'em if you have a barn, cabin or basement rec rooms but leave 'em for when going for a contemporary look.