This past February 27 – March 1, AFR Furniture Rental took part in the Corporate Housing Providers Association's (CHPA) annual conference at the Hyatt Regency in Huntington Beach, California. Between networking events and education, the 600 attendees visited the exhibit floor which offered them roughly 80 exhibitors ranging from furnishing and houseware providers to the makers of security and information systems.
"It's an intimate show, with a lot of time for networking," said Jennifer Bafford, National Sales Manager of AFR's Residential Division. "We all know each other well, having attended this show for years. So for us, CHPA is a great opportunity for us to see people, put a face to a name, and reconnect."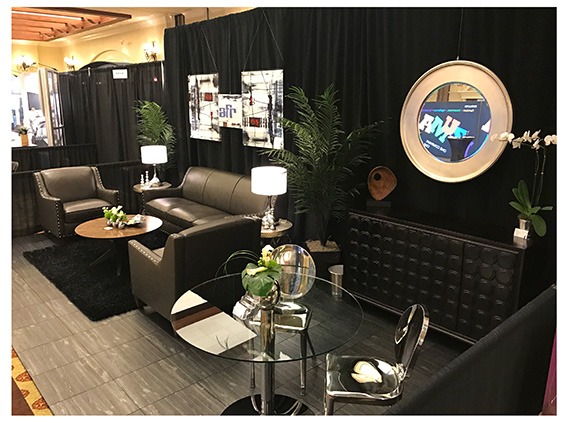 Charleston Sofa & Chairs // Kingston Cocktail Table // Reagan Accent Table // Black Shaq Rug // Lamp // Aldean Side Chair // Galaxy Round Dinning Table // Kennedy Credenza // Joplin Mirror
"The booth was designed to show off some of our latest lines but the key for this particular show is to look classy, just walking the line between high-end and trendy", Bafford explained. "The attendees want the living spaces they provide to look VIP; a place where someone can drop their bags and feel at home, but also be durable and universal in style," she continued.
This year's design had a masculine feeling. Nail head furnishings in dark gray and black dressers mixed it up with sleek end chrome glass tables, lighting and chairs. Draping by QuestDrape set the borders of the space while flowers by Doyle Borden Event Style added a homey feeling.

The Power of Cupcakes and Social Media worked at driving traffic to the AFR Booth
And then there were the cupcakes, a delicious addition by Jose Ramirez, AFR Marketing Manager, who designed the elements of the booth and show promotion. As seasoned convention exhibitors, Bafford and Ramirez know the power of a cupcake and they don't mess around.  "We went straight to Good Gracious! Events [a well-known Los Angeles caterer] for the cupcakes," Ramirez said. Even his pre-promotion of the booth featured them. The mouth-watering temptation alongside stylish furnishings was something few attendees could resist. It was a great ice breaker and reason for people to stop in.

CHPA Party included furniture exclusive to AFR Events Collections
Costa Sofa & Chair // Zanzibar Accent Table // Club Cocktail and Bar Tables // Vienna Stool in Orange // 8ft VIP Glow Bar // Piazza Back Bar in White
Networking took place day and night for Bafford and Ramirez who also hosted a client appreciation party at an outside area at the Hyatt Regency. The event gave them a chance to connect with old and new friends in a relaxed setting as well as show off some of AFR's cool event furnishings, such as our illuminated Club bar tables and Vienna stools. An illuminated Club table was the perfect station for DJ Krieger.
"The event was all Jose's work," Bafford said. "He takes care of all the details, brings in great resources and always takes the event and the booth design one step above of what my expectations were."
As with all conventions, the goal for our booth design and party was to create a deeper connection between AFR and our clients. Whether that bonding took place over the small things (cash bars and where the coffee is), or the large things (education, laughter, awards, and catching up on family news) it was all the sweeter with a cupcake.