High Tech and Low Tech Ideas for 2017 and Beyond
If it's all about staying on top of trends then does it make sense to read another article featuring ideas from the event planner on your own block? That's what we thought, so we looked outside our own areas of expertise to take the pulse of design in 2017. We looked at the fields of typography, infographics, computer coding, and textiles. Here's what we found, along with some ideas that we'd like to incorporate into our own furnishings, as well as your event style.
Trend: Neon Tropical Style
From: Patternbank, an online textile trend forecaster

How we can use it: Already we've seen neon colors catch fire in the world of event furnishings such as our Oliver line in tangerine and other bright colors that are beginning to be introduced in each line. But as a design force, we still haven't felt the full impact of neon. With the prediction by Patternbank that it will hit fashion in 2018, we are looking forward to a burst of colorful energy in our seating choices, as well as all related décor. Inventive cuisine continues to push those color boundaries. To this we say, let it glow!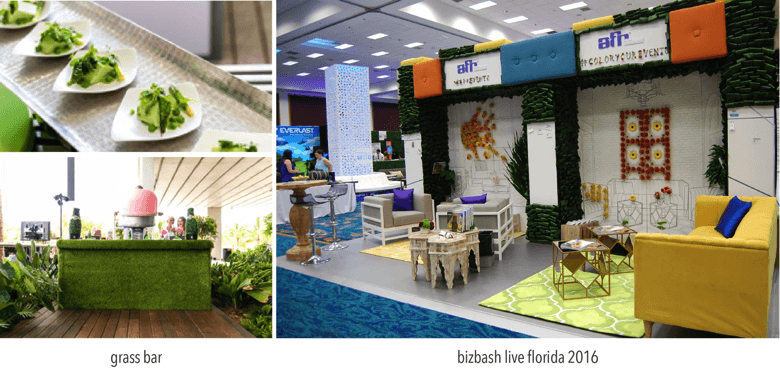 Trend: Hand-drawn Graphics and Icons
From: Venngage, an infographic site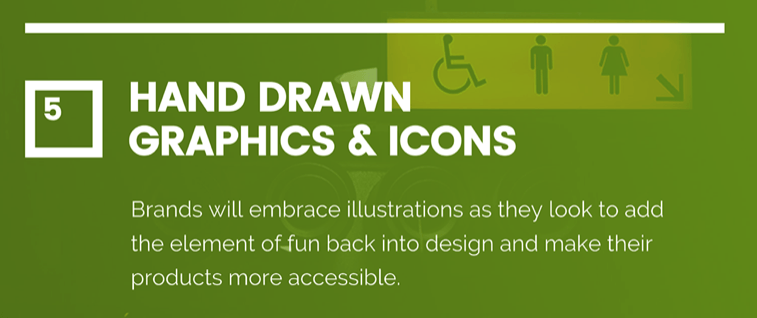 How we can use it: This completely different look in fonts ties in with the recent trend of authenticity in event design and social media photography. A couple ways to incorporate it is in your event logo and anywhere there is branding or type – from the invitations to the dance floor. The look is fresh and relevant.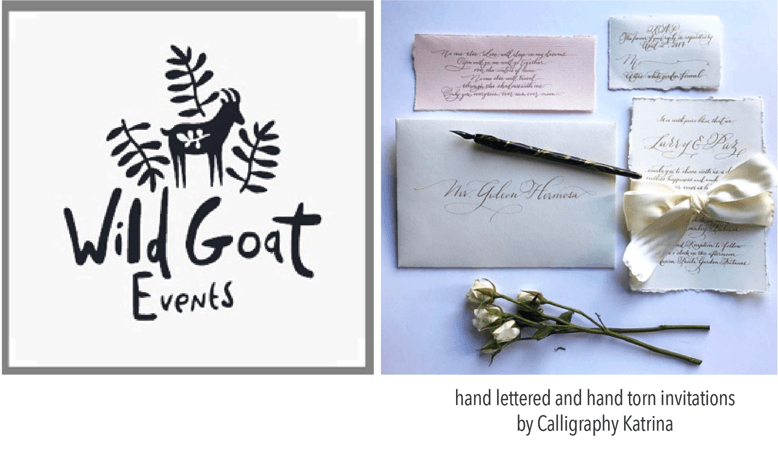 Trend: 3D Printing
From: Architecture Daily
How we can use it: The biggest news in the world of interior design is 3D printing and not just for the furnishings but the entire room! Architects Michael Hansmeyer and Benjamin Dillenburger introduced this concept by pulling off a three-dimensional printing feat last year. As part of the project, "Digital Grotesque," the duo 3D printed an entire room creating a 16-square-meter cube adorned with unbelievable ornamentation that looks like it belongs in a futuristic cathedral.
For events, 3D printing has started much smaller to be sure. The closest we've come is popsicles frozen in shapes created from the dimensional printed molds. But while that trend is cool larger applications aren't far off. Today, it's still too long a process for larger pieces of furniture but we predict that someday we will be able to offer clients 3D printed furnishings that are totally customized for the event!
Video showcasing 3D printing process
TREND: Video mapping
From: Well, all over now. While this "trend" has been around we haven't seen it at small events as much as we are starting to. The cost is decreasing making it more attractive to smaller event planners and we love it for the transformation it can create!
How we can use this: For weddings, indoor reception spaces can now be transformed into enchanted forests without uprooting a single tree. You can change scenes to, giving your ceremony and reception its own unique special vibe. The technology is now so good that, if budget is an issue, you can have a projection appear just in one area or even just on the wedding cake. For large corporate events, projection artists such as Megavision Arts and BART KRESA Design are creating art pieces using projection mapping. Some of them, such as this one in Qatar that was projected onto a tent wall in the middle of the desert, literally rise out of nowhere.
TREND: Cognitive Design
From: IBM Watson and Marchesa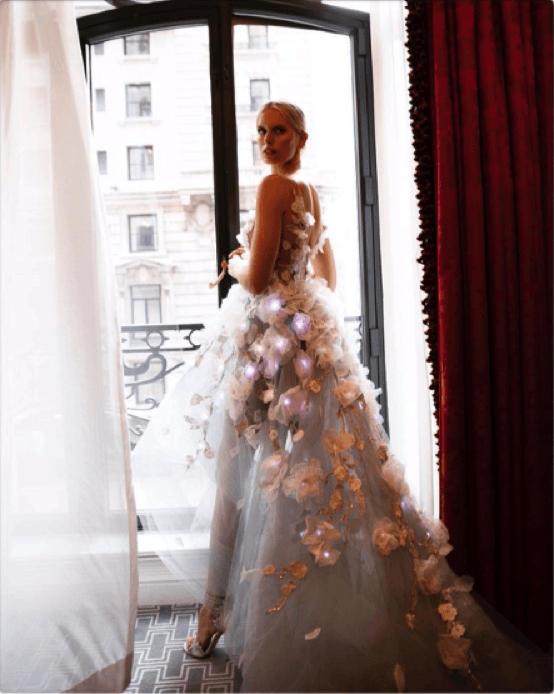 How we can use it: We may be referring to cognitive computing and design a "trend" but we predict it will be the norm at events soon. The ability for event producers to intuitively know what an attendee wants to see, feel and eat will forever change the way we connect. Cognitive computing is creating a new type of relationship between technology and humans.
While most of it is still relegated to the techie world, cognitive design has made some big inroads into the lifestyle section of the news. Just last year at the Met Gala in New York, the fashion world fell in love with a stunning collaboration by IBM's Watson technology and fashion designer Marchesa with a cognitive dress that lit up in different colors based on Tweets about it. Those tweets were passed through a Watson-tone analyzer and then sent back to a small computer inside the waist of the dress. Based on how much people liked the dress, the colors changed. People could literally control what the dress looked like through their emotions about it. The Marchesa team loved how Watson could immediately use and telecast social media through the dress.
This same technology is making its way into events to create a personalized experience. It starts at registration with a simple conversation that may begin with: "Tell us about your business challenge." The event app can then design the perfect conference itinerary based on the answer. And in the evening, mixologists can concoct a personalized drink based on this information.
In a world in which everyone wants to create a personal experience for their clients, cognitive computing is one of the most dramatic game changers to come along in years. Thanks to technology, and artificial intelligence specifically, we will be able to experience an event, meeting or conference custom designed for our professional and personal needs.
At AFR, we continue to stay on the cutting edge of the revolution in authentic, fresh and personalized event design. We've added two of the latest 3D programs, have created a mobile app, and have recently acquired the innovative furniture rental company, kool. Party Rents.
Combining our 40 years of luxury, with the latest in technology, raises the bar on what defines the NEW CREATIVE STANDARD. There are so many possibilities to explore together. The future is now!