There aren't many people more positive than Talia Malizia. We love her can-do attitude and the fact that her home staging and design clients love her.
When we asked her what her favorite part of being the Residential Account Executive at AFR Furniture Rental NY Metro, she didn't hesitate: "I love making everything I touch glamorous. I truly enjoy transforming spaces and making dreams become reality." That was so easy we asked her five more questions about her design process, and learned some things even our clients might not know about how AFR home staging works.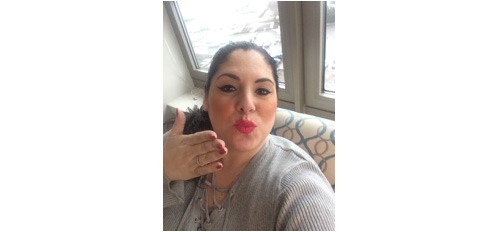 1. Is there a growing trend in the market right now?
The words "Luxury" and "VIP" are at the forefront. Clients want something fabulous at a moderate price, and they want it yesterday. Often there is a time constraint with these projects as the furnishings are the last element. But of course they are the most important component to creating a beautifully inviting space. So I always stand at the ready with gorgeous ideas. You'll find eight of my favorite design tips and trends throughout this piece.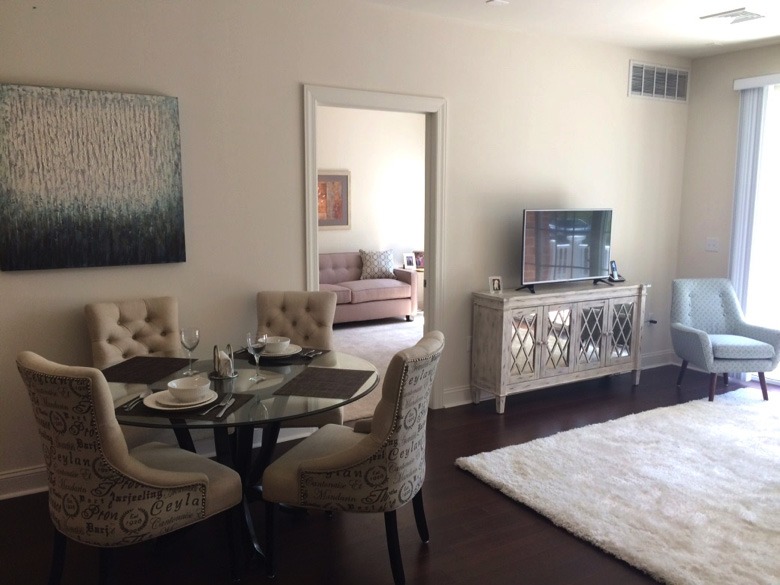 TREND #1 NEUTRALS
Topping the list is a space that soothes and replenishes. Neutral colors such as cream, white and tan appeal to buyers who want serenity in their personal space. The space shown above was done for a client who requested white and clean design. I added her personal accessories to customize the space.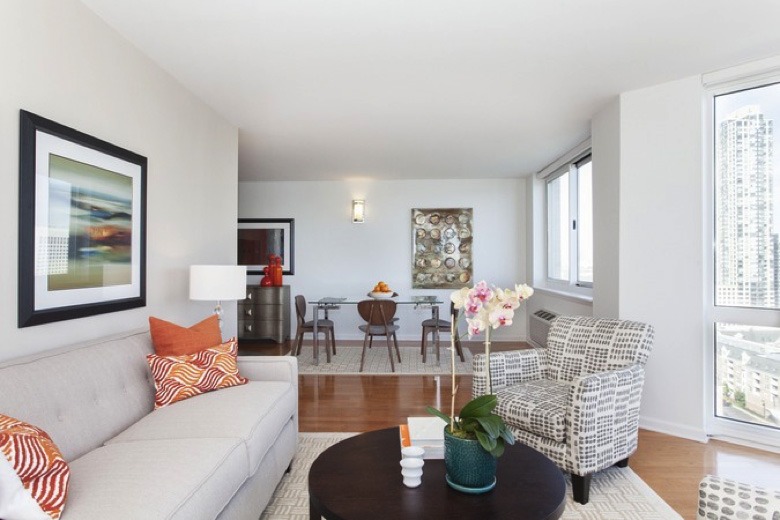 TIP #1 CREATE A VIBE
Add pops of bold and bright color such as orange, yellow and teal to create a distinct vibe. This is a great look for photo shoots as well. This space was done for a realtor staging a condo for sale. We helped to pick the right pieces then added art and accessories to make it pop.
2. What is your personal style?
My own design style is classic and regal with a touch of whimsy. I mix pieces and do various looks in different rooms but I won't mix too much together in one open space because it winds up looking crazy. You can't have a traditional modern look with a touch of contemporary and country. It's not going to work. The space dictates the furniture.
TREND #2: FUN AND CREATIVE
Prints, patterns and textures achieve this trend. This was for a photo shoot for a new development. They needed something interesting that would photograph well.
TIP #2: MIX IT UP
You can stay with the AFR collections, or mix it up! Taking pieces from different collections can create a sophisticated and layered look. One of my favorite stagers designed the luxurious look above by mixing the Carnaby Dining Set with Bergere chairs.
My working style is like that of an interior designer. I believe in creating custom design for high-end homes. A package in a $3 million home could work in secondary rooms, but not for the main living areas and overall design. To create a distinctive look for these types of homes, I visit to the property, take photos, measure, look at the finishes, the surrounding area, when it was built, and in general, get a feeling about the space. Then I begin to work on the ideas.
Once I have a direction, I send photos and make sure everyone is on board prior to delivery.  I take pride in everything looking top notch and going smooth from start to finish. A job well done is my highest compliment.
3. What advice do you like to give people as they begin to design a personal living or work space?
I try not to offer advice right at first. Anytime I start a new project I'm extremely positive in my approach and let the client tell me what they need. I offer feedback and change course only if I know what is requested won't work, which happens often.
TREND #3: LEATHER
Leather can be used to anchor edgy looks such as this industrial chic property. It's a strong statement. The chairs create the right dramatic element to the wood backdrop and fireplace.
TIP #3: ILLUSION
Glass is ideal for creating the illusion of space. Here, one of my luxury properties was faced with a challenging rental space. We used light colors and glass pieces to keep the space open and airy.
In the world of furniture rental, terms and possibilities are unique. I help my clients navigate them. I always work backwards. We set the goal of the final vision and then I break it down to show what needs to happen to get the end result. I always advise that we have a timeline and a game plan from the very first meeting. Usually based on the information given, I will set a date right then and there for completion and get started immediately if possible. Thanks to our professional team, and communication between them and the client, we make the deadline every time.
4. How can clients get the best creative solutions to design challenges using AFR's collections?
I love everything about the options at AFR! Our collections and style get better every year. I have been told regularly that we have the best packages around so someone looking for a deal is blown away by the variety of options as well as the customizations that are available.
Most people don't know that our upholstery is interchangeable and you can request any sofa with any collection at no additional charge. They all look great from the matching pillows to the accent chairs.
And here is something amazing and that helps everyone involved -- you can call us Monday morning and we can deliver a custom order to you by Wednesday morning. You want to upgrade to a sectional? No problem.  Art? TV? Rugs? Bedding? No problem. It's all on the website at: www.rentfurniture.com
5. What are some of your personal words of wisdom that you live and work by?
My motto is to do everything beforehand so that I'm free for any new opportunities that arise. I leave a certain amount of my schedule open so I am available to my clients, which often means I'm working early mornings, nights and weekends to do the minutiae so I can get to my favorite part of my job -- getting out on the scene.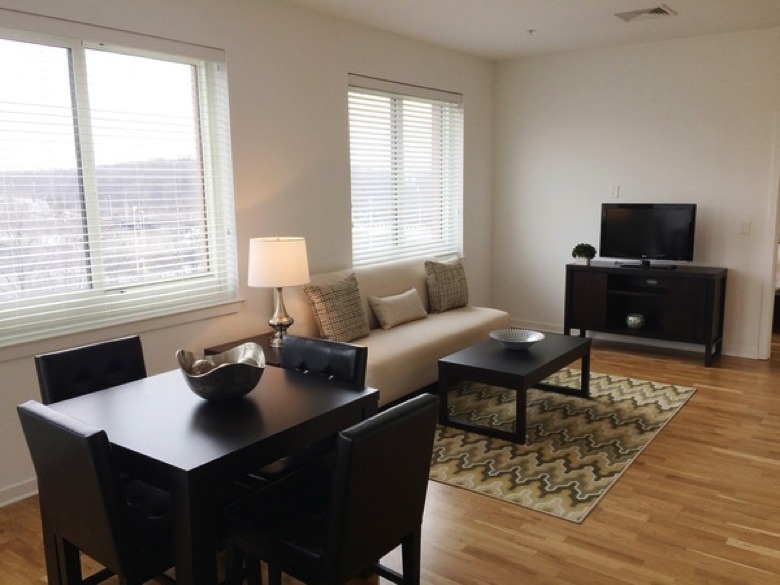 TREND #4: MONOCHROMATIC
This trend is a close cousin of Trend #1 – serenity. A monochromatic color palette makes the design cohesive, the space larger, and adds a perfect finish to a look.  Here, I created an upscale vibe by matching pillows that corresponded with the rug design. Easy and totally classic!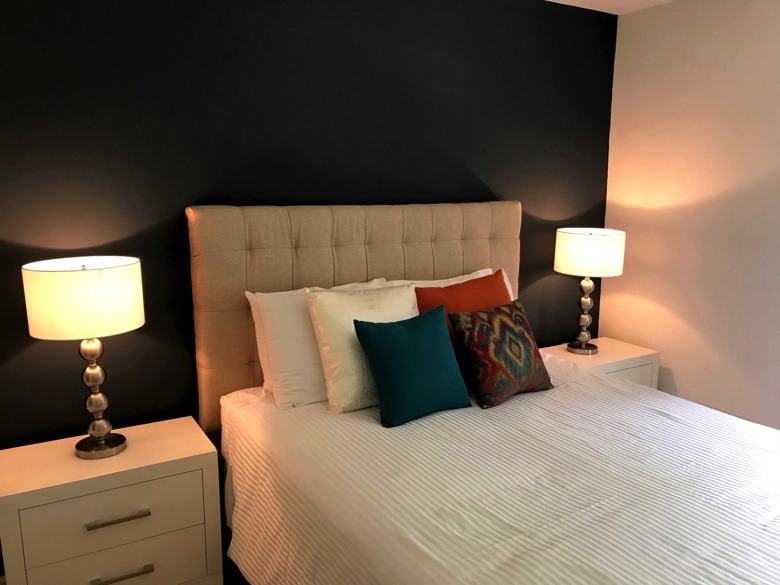 TIP #4: COLOR ACCENTS
I love accent walls! The best ones are tied into the space through accessories. To tie the one above into the environment, I used the Fire and Ice pillows. That little detail brought it all together.
I am fascinated with life and people. I love hearing what people do for a living and what put them in my path. I am a very spiritual person who sets goals in my mind first then puts them on paper where I meticulously make sure I do everything I can to achieve them. I trust that God will get me where I'm going and have tremendous confidence in myself that I will succeed in anything. If I set my heart on it, it will happen.
To connect Talia about your next staging project, call her at AFR's Secaucus, NJ office at 201.974.3700 or 888.AFR.RENT. You can reach her on her mobile at 201.681.2428 or on email at tmalizia@rentfurniture.com