Take this quiz to find out!
1. Which of these kitchens would you most enjoy spending time in?
2. Which of these art pieces is most visually pleasing to you?
3. Which of these furniture arrangements best fits your style?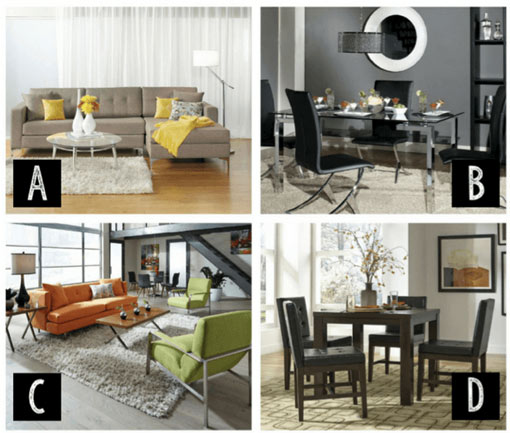 4. Which of these window treatments do you find most calming?
5. Which of these beds looks most inviting to you?
Did you answer…
Mostly As? Your style is ... MODERN.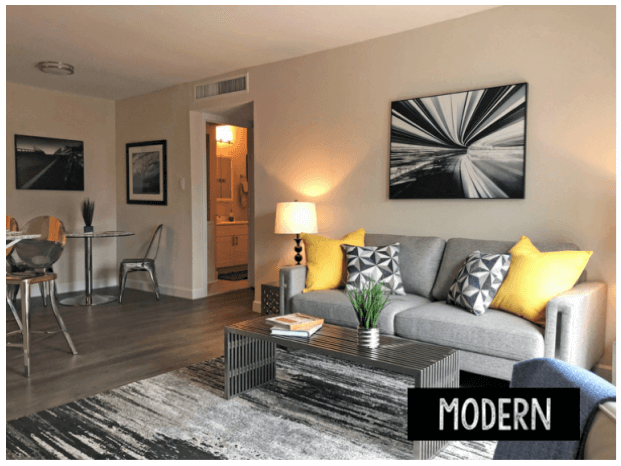 You love crisp, clean lines; a simple color palette; and materials like glass, metal and steel. A sense of simplicity makes you feel calm and at ease. You feel happiest when rooms are free of clutter and bright patterns or colors.
AFR Residential Pieces that would be a good fit:
Novel Cocktail and End Tables
Simon Sofa
Mostly Bs? Your style is ... MINIMALIST/RELAXED
You prefer simple, streamlined furnishings without any excessive patterns or accessories. Everything in your home is an essential. This is an elevated take on modern, with ultraclean lines and functionality at heart.
AFR Residential Pieces that would be a good fit:
Rockford Chaise
Brooklyn Cocktail and End Tables
Mostly Cs? Your style is ... CONTEMPORARY/URBAN
If you prefer contemporary, urban style, your home may include curving lines, as opposed to only straight lines of true modern style. You enjoy incorporating trends into your home décor, including some bold color, and your style is constantly evolving.
AFR Residential Pieces that would be a good fit:
Lanie Cocktail and End Table
Lafayette Sofa and Jonkoping Chair
Mostly Ds? Your style is ... TRADITIONAL/TIMELESS
Rooted in European sensibilities, your home décor style features classic details like deep, rich wood finishes; a variety of patterns and textures; and ornate fabrics. You prefer lots of accessories to accentuate a room and love layering pieces to add dimension.
AFR Residential Pieces that would be a good fit:
Incline Sofa and Loveseat
Kingston Cocktail and End Tables
Now that you know what your style is, let AFR help you completely take the guess work out of creating a space that is just right for you. Please visit our website www.rentfurniture.com to see more of what we offer in rentals by the room or the collection.