"Everyone's needed." Alison Thompson, Founder of Third Wave Volunteer
One of the most important things we can do is practice compassion for others. With an abundance of global tragedies throughout the last century, this has never been more important.
AFR Furniture Rental has found many ways to give back. As a large national firm, we give our teams a voice and support their passions - as we did recently with Mandy Diaz, account executive in Miami.
From left to right: Grissell Carron, Mandy Diaz (AFR), Omar Rosario (Board Member, Global Empowerment Mission), Nilsa Alvarez
Mandy has been on the front lines of many charitable initiatives throughout the years. She has recently stepped up to assist those devastated by Hurricane Maria in Puerto Rico and those in Florida and the South affected by Hurricane Michael.
Through these causes, she has aligned with Global Empowerment Mission (GEM), a nonprofit organization that has provided support (emergency aid, food, housing, quality education, diverse vocational training, and job creation) during some of the most significant global tragedies over the last decade.
"AFR understands how important it is to support charities in our communities," Mandy says. "I'm thankful for the opportunity and support my company gives me to give back through in-kind donations and, in some cases, financial aid."
Mandy's personal connections within the community are an important part of the equation as well. So, when GEM wanted to hold a fundraiser in Miami, Mandy put her energy, design acumen, clients, and friends behind the initiative in full force.
The event was attended by 500 and raised more than $75,000. Mandy's design featured AFR collections boasting an eclectic look. By combining elements such as woods with murals, Mandy highlighted a contemporary, mid-century vibe at this gorgeous waterfront venue in Miami. The Deck at Island Gardens was outfitted with our Metro and Monaco sofas, Regale ottomans, and Monaco benches alongside Vienna chairs and a skillful blend of Ava and Quasar cocktail tables.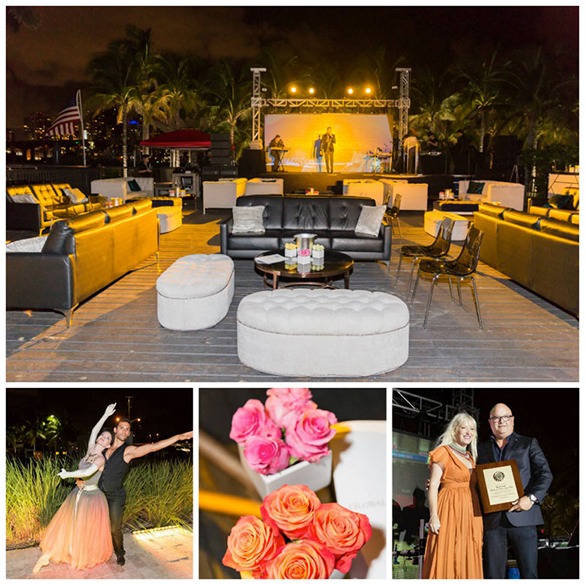 A central stage was filled throughout the evening with honorees from various humanitarian efforts, including founder/director Michael Capponi and Alison Thompson, founder of Third Wave Volunteer who often works in conjunction with GEM. See Alison Thompson's TED talk.
Founder/Director Michael Capponi on stage, speaking about the mission of GEM to foster deeper, richer, and more enduring intellectual connections – as well as transformative experiences and social charity. Top right: GEM Board members and some of the evening's honorees. Below: Our Monaco sofas, Ava cocktail tables, and Regale ottoman.
"The most unique part of the evening," Mandy recalls, "was the fact that on every single table, champagne buckets held booklets with all of GEM's financials so that donors could see that 100% of the funds go directly to aid. That's not always the case with money donated at an event or directly to a charity which is why we stand behind this foundation a hundred percent, and it struck a chord with the guests."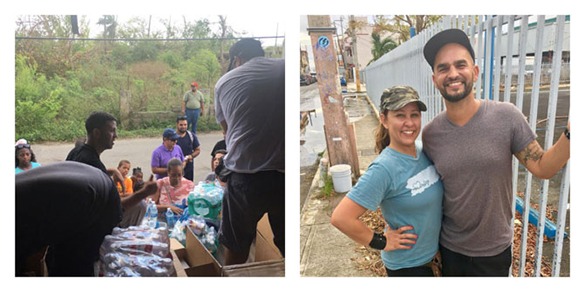 On the ground in Puerto Rico with GEM. Left: Distributing relief items. Right: Mandy Diaz and Omar Rosario ready to work.
In a perfect world, there wouldn't be need for this much humanitarian aid. But in this imperfect world, there is a great need for it - and for the work being done by Mandy, Global Empowerment Mission, and Third Wave Volunteers. AFR is glad they are here, and we are happy to support and champion their efforts! To read more about AFR Gives Back initiatives, check out the AFR Gives Back blog.
---
UPDATE (11/27/18):
In addition to the generous efforts made at the GEM Gala, Third Wave Volunteers took additional action this week by assisting with wildfire recovery in California.
Follow this link and click Vote on Third Wave's giving story to help them win up to $10,000:

Or visit the Third Wave Volunteers home page to make a donation: