Cocktails add something to the festivities besides just alcohol. Color, sparkle, and a little something special. We've assembled a series of delicious drinks for you – some to get you through family drama, some to get you through shopping drama, and still others to help you create some good drama (wink, wink!).
Our findings when it comes to holiday drinks - more is more. Even teetotalers will enjoy these drinks sans alcohol, they are THAT fun! Let's begin!
DAY ONE
Hot Penicillin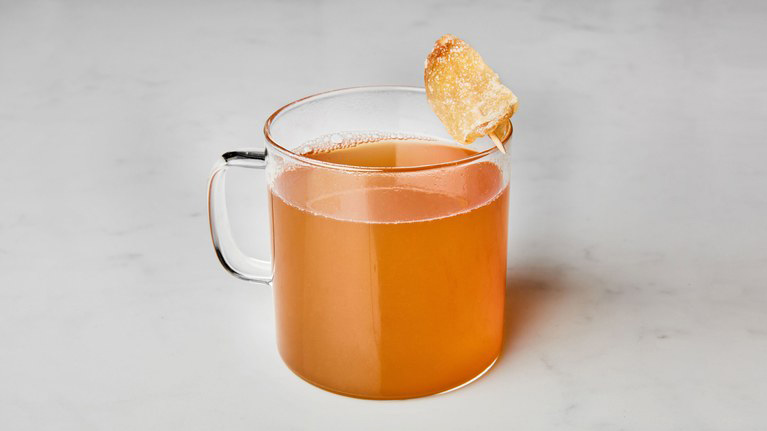 'Tis the season for some self-care amid all the holiday craziness. Hot Penicillin is the next best thing to a hot toddy, but the ginger and honey take it up a notch. They make it perfect for warding off any creeping cold, or tingles down your spine when you learn that Aunt Sally (the aunt that continues to ask you why you are single) is coming this year.
Ingredients
⅔ cup honey
1 4-ounce piece ginger, scrubbed, thinly sliced crosswise
8 ounces blended Scotch
6 ounces fresh lemon juice
1-ounce single malt Scotch (optional)
4 pieces candied ginger
Preparation
Bring honey, sliced ginger, and 5 cups water to a simmer in a medium saucepan over medium heat.
Reduce heat and cook at a bare simmer, stirring occasionally, until honey is dissolved 20 to 25 minutes.
Strain through a fine-mesh sieve into a large measuring glass or a medium bowl. You should have about 4 ½ cups. Discard solids.
Pour honey syrup back in the saucepan. Add blended Scotch, lemon juice, and single malt Scotch (if using). Heat over medium-low until hot but not boiling.
Divide cocktail among mugs. Run a toothpick or skewer through each piece of candied ginger and set over the mug's rim to garnish.
DAYS TWO, THREE AND FOUR
Coconut together with holiday drinks is a beautiful thing, which is why we are dedicating three days of exploration to this combo - beginning with the Coquito. The drink originated in Puerto Rico and is often called Puerto Rican Eggnog due to its similarity to the egg-based holiday drink, though it has no eggs. While there are many regional variations of this holiday drink, every recipe starts with similar base ingredients. And, oh yes…it's delicious with or without alcohol!
The Coquito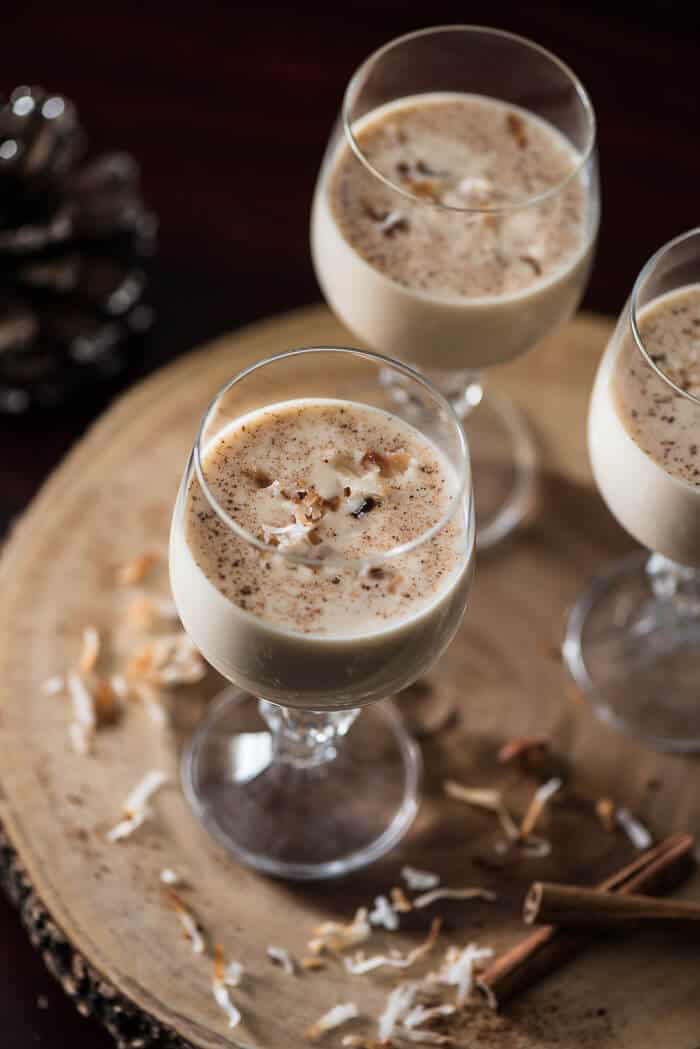 Ingredients
1 cup white rum
2 15-ounce cans of coconut cream
1 12-ounce can of evaporated milk
1 12-ounce can of sweetened condensed milk
1 tablespoon vanilla extract
1 tablespoon cinnamon
Preparation
Most recipes for Coquito call for ingredients to be combined in a blender. This recipe involves a bit of simmering to infuse flavors prior to mixing in the rum. However, you can also combine everything in your blender and blitz it up if you're in a time crunch.
Combine the two milks and coconut cream in a large saucepan set over low heat. Add vanilla bean, cinnamon sticks, ground cinnamon, and nutmeg. Whisk to combine.
Bring the mixture to a steady simmer and allow it to thicken slightly over the heat for 25-30 minutes.
Remove the pan from the heat and allow it to cool to room temperature. Stir in rum and vanilla extract.
Transfer the Coquito to a large pitcher or container and chill for two or more hours.
Serve as a shot, or in a cordial glass garnished with toasted coconut and cinnamon.
White Christmas Margarita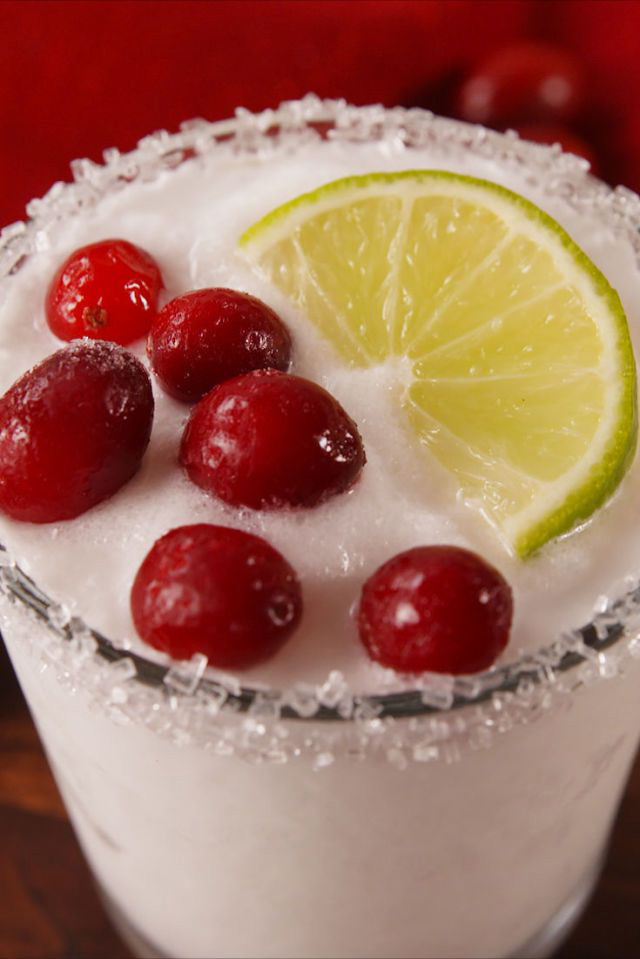 Another unique use of coconut milk is found in the White Christmas margarita. This drink practically screams festive with its cranberry garnish!
Ingredients
1 14-ounce can coconut milk
12 ounces silver tequila
8 ounces triple sec
½ cup lime juice
2 cup ice
½ cup mint, for garnish
1 lime, sliced into rounds for garnish
Lime wedge, for rimming glass
Sanding sugar, for rimming glass
Cranberries, for garnish
Preparation
Combine coconut milk, tequila, triple sec, lime juice, and ice in a blender. Blend until smooth.
Rim glasses with lime wedge and dip in sanding sugar. Pour into glass and garnish with lime and cranberries. Makes 6.
Jack Frost Cocktails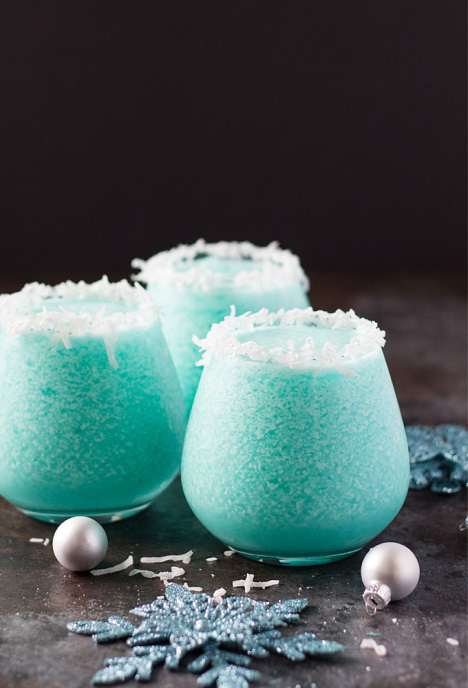 Vodka, pineapple juice, blue curacao, and cream of coconut create the most delicious, beautiful, and festive holiday cocktail. This one has coconut color and flavoring – along with an embellishment of a miniature snow bank. It looks chilly, but it's sure to warm you up fast!
Ingredients
Light corn syrup or honey for rimming glasses
Flaked coconut for rimming glasses
8 cups ice (depending on desired consistency)
1 cup pineapple juice
½ cup blue curacao
½ cup vodka or light rum (I used vodka)
½ cup cream of coconut
Preparation
To rim the glasses, pour a thin layer of corn syrup onto a plate and dip the rims into the corn syrup, then dip in coconut flakes.
In a blender, blend ice, pineapple juice, blue curacao, vodka, and cream of coconut until desired consistency is reached.
Pour into glasses and serve immediately.
DAY FIVE
The North Pole

This is what Santa and Mrs. Claus must drink on December 26th…it's a well-earned treat for all their hard work - sweet, slightly chocolatey, with just a hint of vanilla and ginger. We recommend you also make it as a reward for all YOUR hard work!
Ingredients
4 ounces vodka
2 ounces Kahlúa (or more to taste)
4 tablespoons chocolate syrup
1 teaspoon vanilla extract
3 teaspoons molasses
 teaspoon ginger
½ cup heavy cream or whole milk
Preparation
In a cocktail shaker combine the vodka, Kahlúa, chocolate syrup, vanilla, molasses, and ginger. Shake until well-combined. Add ice and shake again. Strain into 4 glasses.
Top off each glass with heavy cream. Dollop with whipped cream and garnish as desired.
DAYS SIX, SEVEN, EIGHT
By this time, we're getting close to New Year's Eve so it's time to test some champagne cocktail recipes! Champagne cocktails transport us to the world of James Bond, tuxedoes, and diamonds. They are the coolest and classiest of drinks, and yet, they don't require expensive, vintage champagne to make them good. In fact, just the opposite - as you don't want to spend all that money on subtle flavor when you're going to be mixing it. Go with affordable Champagne - Cava, Prosecco, or another dry sparkler for the same sparkle minus the price tag. Here are three sparkling cocktails to get you through any shopping or Aunt Sally drama!
Sorbet and Champagne Cocktail
How does Martha Stewart make a Champagne cocktail? With style! In her version, a scoop of sorbet takes the place of the traditional sugar and bitters and turns this classic into a delicious holiday slush.
Ingredients
1 teaspoon sorbet (such as raspberry or passion fruit)
Chilled Champagne or Prosecco
Preparation
Scoop sorbet into a champagne flute.
Fill with chilled Champagne or Prosecco
Stir
French 75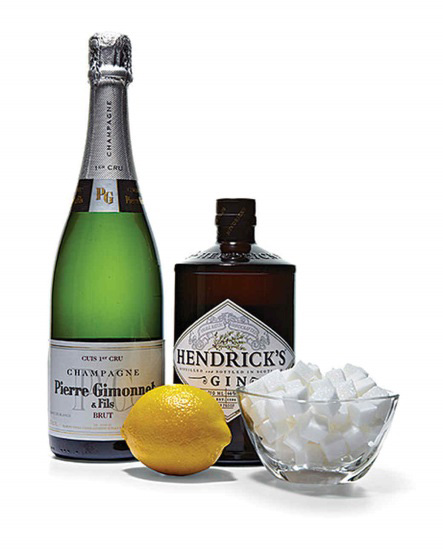 This is the classiest of the classy drinks…the perfect accompaniment for a special moment - perhaps an engagement? Your aunt was so wrong about you staying single! Celebrate your love with the French 75.
Ingredients
2 ounces gin
1 sugar cube
½ ounce lemon juice
Champagne
Ice
Preparation
Shake gin, sugar cube, and lemon juice with ice.
 Strain into an ice-filled Collins glass, and top with Champagne.
Cran Royale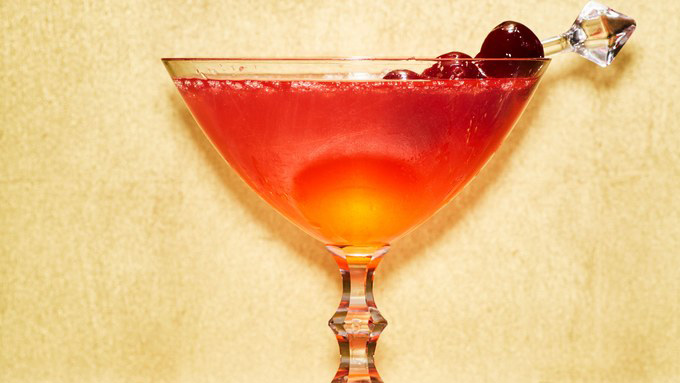 Everything about this cocktail is festive from the color to the ingredients. It takes a little more work than the other two, but like you, it's worth it!
Ingredients: Cranberry-Thyme Syrup
6 sprigs thyme
1 cup fresh or frozen cranberries
¼ cup sugar
Ingredients: Assembly
2 ounces fresh lemon juice
1-ounce Campari
12 ounces Champagne or dry sparkling wine
Fresh cranberries (for serving)
Preparation: Cranberry-Thyme Syrup
Cook thyme, cranberries, sugar, and ¼ cup water in a small saucepan over low, swirling the pan occasionally, just until sugar is dissolved and cranberries have released their color, 12–15 minutes (do not reduce liquid).
Strain through a fine-mesh sieve into a heatproof bowl or measuring cup and let cool (you should have 4 oz). Syrup can be made two weeks ahead. Cover and chill.
Preparation: Assembly
For each cocktail, combine 1 oz cranberry-thyme syrup, ½ oz lemon juice, and ¼ oz Campari in an ice-filled cocktail shaker. Cover and shake vigorously until the outside of shaker is very cold, about 20 seconds. Strain into a chilled coupe glass and top with 3 oz. Champagne; garnish with 3 cranberries on a skewer.
DAY NINE
A little heat is nice on wintry days. We began with the feel-good vibes of Hot Penicillin and are ending with a couple more heated drinks on our holiday cocktail journey. This one is a classic with a twist of fancy coffee and candy cane.
Holiday Irish Whiskey with Nespresso
Ingredients
1 cup hot brewed Nespresso, or any coffee
1 ½ ounces Irish cream whiskey
1-ounce Irish whiskey
½ ounce peppermint schnapps
Whipped Cream
Preparation
Pour the hot coffee into a mug and add the sugar. Stir until the sugar melts.
Stir in the Irish cream, Irish whiskey and schnapps.
Top with a nice dollop of whipped cream and candy cane shards
DAY TEN
Boozy Hot Apple Cider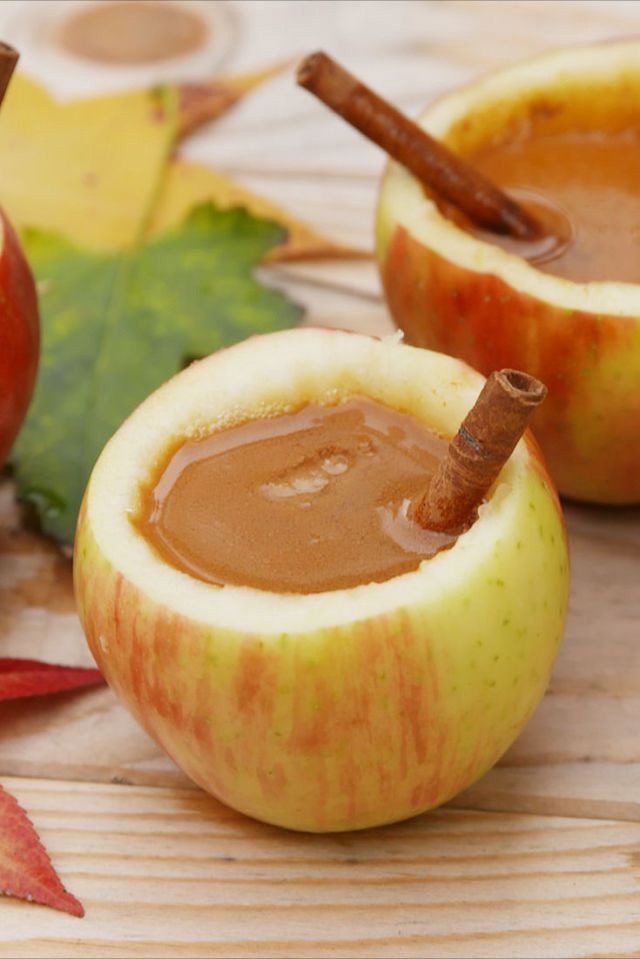 There are two big reasons why we love this recipe! One: it uses a Crock-Pot! We really can't think of the last time, or the first time, we've ever used a Crock-Pot for a cocktail. And Two: it's served in an apple. At AFR, we are always looking for the new creative standard - even when it comes to drinks!
Ingredients
1 gallon apple cider
1 ½ cups whiskey
½ cups caramel
3 cinnamon sticks, plus more for garnish
8 apples
Lemon juice, for brushing
Preparation
In a Crock-Pot, combine apple cider, whiskey, cinnamon sticks, and caramel. Cook on low until warmed through, about 2 to 3 hours.
To make apple cups: Slice off the top of each apple. Use an apple corer to remove the inside of the apple until you're about ½ inch from the bottom of the apple. Squeeze lemon juice inside of the apple cups to prevent apples from browning.
Ladle hot cider into apple cups. Garnish with cinnamon sticks and serve immediately.
DAY ELEVEN
Crock-Pot Red Wine Hot Cocoa
Wondering what to do with all that extra red wine that family brought over for Thanksgiving? Here's a great idea - and perfect to make while your Crock-Pot is still out from the Boozy Hot Apple Cider!
Ingredients
2 ½ cups semi-sweet chocolate chips
¼ cups cocoa powder
½ cups sugar
Pinch kosher salt
6 cups whole milk
1 bottle red wine
Toasted marshmallows, for serving
Chocolate shavings, for serving
Preparation
Combine chocolate chips, cocoa powder, sugar, salt, milk, and wine in slow cooker.
Cook on high for one hour, stirring every 20 minutes.
Ladle cocoa into mugs and top with toasted marshmallows and chocolate shavings.
DAY TWELVE
Healthy Vegan Eggnog Smoothie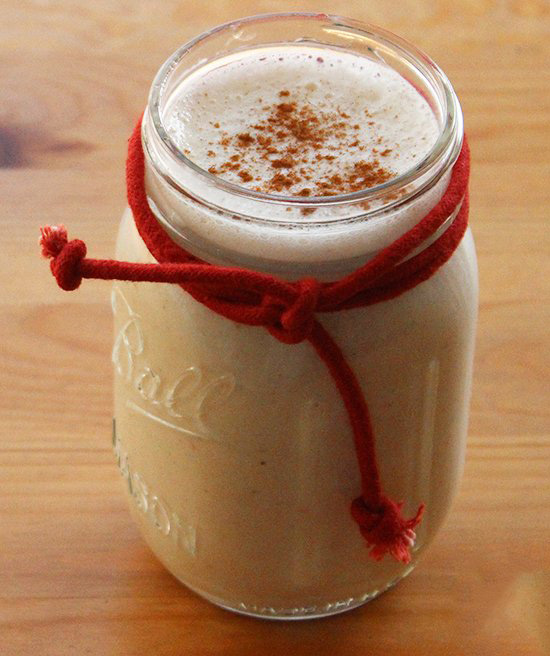 On the twelfth day, we rest with a healthy holiday choice. You won't even feel like you are missing out on anything with this delicious faux Egg Nog in hand. Best yet - it will help you begin all those healthy New Year's resolutions you might have made during the past 11 days of cocktails!
Ingredients
3 cups almond milk
1 banana
½ teaspoon nutmeg, freshly ground
1 teaspoon almond extract
2 dates, pitted
Preparation
In a high-speed blender, blend all ingredients until smooth.
Have a happy and safe holiday season from all of us here at AFR Furniture Rental!