Spring is here, and while the weather is a bit warmer, flowers are blooming, and even the air seems fresher – all of this comes to a screeching halt the second we remember that spring also comes along with a dreaded spring cleaning chore list. This dread can be doubly amplified if, upon further inspection, all of your furniture is looking a bit dingy, dusty, or dull. Take a deep breath of that fresh spring air and put your worries to rest. Here are 5 tips sure to help protect your furniture and make spring furniture cleaning a total breeze.
1. You LOVE the sun. Your furniture, not so much.
Even though we love the sun, we need to protect our bodies from prolonged exposure. Your furniture is similar in this way. Materials like leather, fabric, and even wood are vulnerable to extended UV radiation from the sun. Be mindful of this and position your furniture (particularly bright white pieces) accordingly. Be sure to include curtains or blinds to protect your furniture on days when the sun's rays just won't quit.
2. Assemble a handy-dandy spot cleaning kit.
Spring cleaning is one thing, but you're going to want to plan to keep your furniture clean and looking nice throughout the rest of the year as well. For this reason, you should have a spot-cleaning kit assembled and ready to go for when things get messy. Time is precious when dealing with stains – especially when we're talking about certain materials and colors. You may not have time to run out to the store and wait in line. Have everything (and anything) you could possibly need stocked. You'll be glad you did.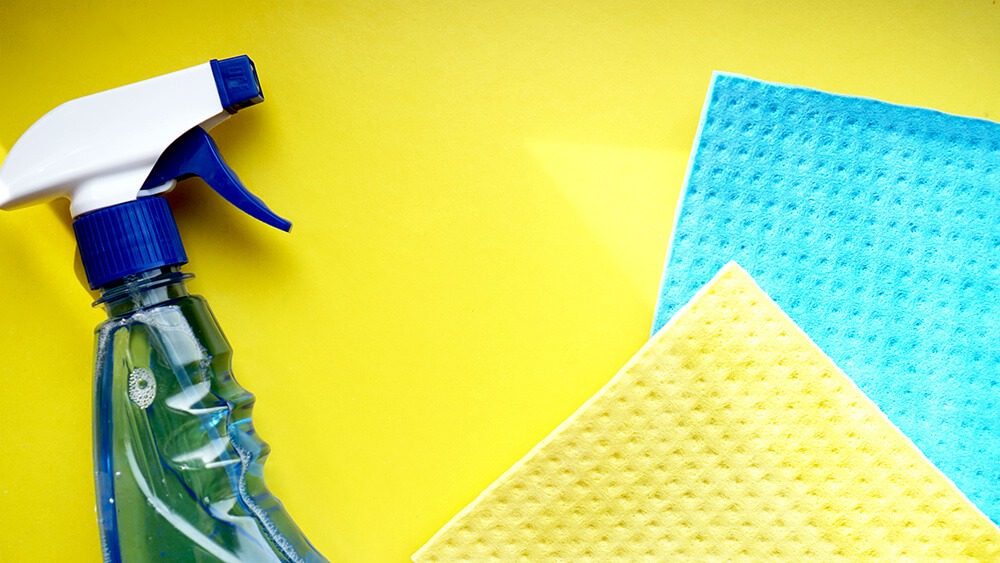 3. Lint Roller – your new secret weapon.
Whether you have shedding pets or not, you should always have a lint roller or two somewhere in your home to help maintain your furniture. Dust, hair, and other unsightly loose particles can collect on your furniture over time. Sometimes all that dingy black sofa needs is a quick once over with a lint brush to make the color pop right back to life – no loud, clunky vacuum necessary. Always test your roller on a small piece of your furniture's fabric first to make sure it doesn't damage it or leave any stickiness behind.
4. Treat your furniture to prevent stains.
If there is one thing we can say for sure, it is this: STUFF HAPPENS. Things get spilled, things get dirty, and messes are made. Especially if you have pets (or teenagers) you know that no furniture is safe. Plan ahead and treat your furniture to keep it protected from stains and dirt. This can be done professionally or with simple products from the store. One of our favorites is Vectra Protectant Spray but Scotchgard Fabric Protector is a classic choice that works great as well. Wood furniture will typically need to be waxed, though some wood polishes also act as a protectant.
5. Consider slip covers for those "special occasions".
OK, so you and everyone who lives with you is a perfect angel and never makes any messes – especially on the furniture? Even YOU are not prone to the destructive force of (cue dramatic music) the in-laws. To be more general, close friends even seem to lose their basic judgement and start messing things up when their home isn't the one being wrecked. Grab yourself a few quality slipcovers for these "special occasions". Throw them on before a big family dinner or a party for the holidays to help prevent serious stains and wear and tear that tend to come along with a successful (fun) social gathering.
With your furniture cleaned and protected, spring and summer can truly begin. You'll be carefree, knowing that when that inevitable spill or similar mishap occurs, your furniture will be shielded from permanent damage, keeping things as bright as the day you bought them for seasons to come.
If you aren't interested in the tedious chore of protecting and spot cleaning annually and throughout the year, consider furniture rental as an affordable and no hassle alternative. For over 45 years, AFR has delivered quality furnishings for any situation. AFR's wide and diverse selection of furniture and décor includes everything you need to make your apartment or temporary space absolute perfection right down to the last detail. Select online from one of our dozens of professionally curated collections and packages or choose à la carte from our extensive inventory of stylish and unique furnishings, accent pieces, and décor for any room. Our team of expert home designers is standing by to guide you from ordering to delivery and beyond.