Being stuck at home for the last 6 months or so has made a lot of us pretty…is creative the word? Some folks are starting their own businesses at home or rekindling a long-lost love of exercise or art. Others are focusing on pet adoption or becoming the next big TikTok sensation. Then there's us - the people who are just plain bored of staring at the same furniture day after day, so much so that we're willing to get down and dirty to produce the beautiful, fresh look our space is calling for.
We're going to show you how to make your bedroom furniture pop and stand out – quickly, easily, and without breaking the bank. You don't need to be an expert to make this happen. You just need a few things…
WHAT YOU'LL NEED
This is where you can get creative! For paint, we used an eggshell sheen in the Sherwin Williams color Urban Putty, but don't be afraid mix up the sheen and color as desired. We also suggest using a fresh paint roller for each coat of paint. The brushes tend to get torn up easily so having three will help create that professional look.
Pro Tip: Choosing great hardware can change the entire look of your furniture.
PREP STEPS
Now that you've picked the set you want to paint and you have all your supplies ready, it's time to move on to the prep stage. We started with a simple wooden 3-piece bedroom set (chest, dresser, nightstand).
Pro Tip: Throw on your favorite audiobook or podcast and really take your time with the next few steps. This will ensure you have a smooth and flawless finished product.
Step #1: Remove all drawers and hardware from the furniture.
Step #2: Lightly sand surfaces with 220 grit sandpaper until smooth.
Step #3: Wipe down with a degreaser, making sure to get all surfaces completely clean, dry, and free of dust and debris.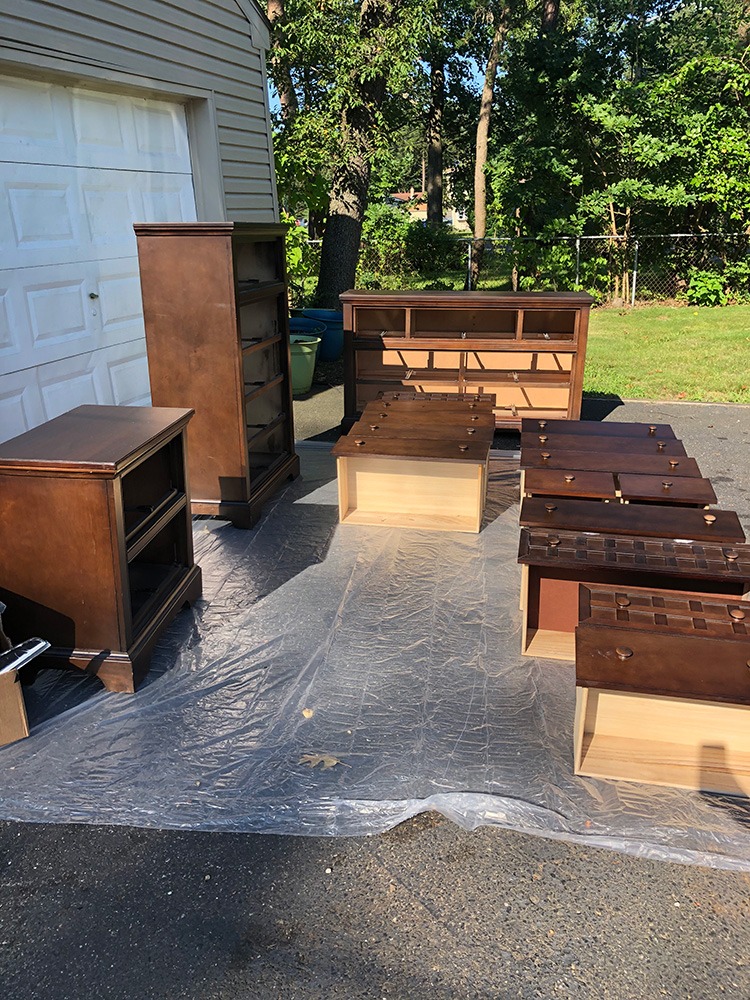 TIME TO PAINT!
It's time to get down to it – the painting. Now we're not saying you HAVE to get messy when you paint. But are you even doing it right if you don't get at least a little paint on yourself? Seriously though, throw down some tarps and bust out your shabbiest outfit because the paint may not wash out. Fair warning!
Step #1: Apply a coat of primer, making sure cover every surface (even the hard to reach cracks).
Step #2: When primer is completely dry, lightly sand any high spots in the paint to ensure a smooth finish.
Step #3: Apply two coats of interior paint, letting dry completely in-between coats.
Step #4: Attach the hardware.
THE FINISHED PRODUCT
Follow these steps and you will have a unique, expensive-looking bedroom set for a fraction of the price. Throw in a couple of décor pieces and some plants (a cute dog couldn't hurt) and relax in your new space - complete with fresh, updated vibes. You made it happen!
Shop at AFR Furniture Clearance Center for the perfect DIY-ready pieces at drastically discounted prices.
Visit AFRCC.com to find a location near you.