AFR Furniture Rental Virtual Showcase
Powered by AllSeated exVo
Hosted on April 21, 2021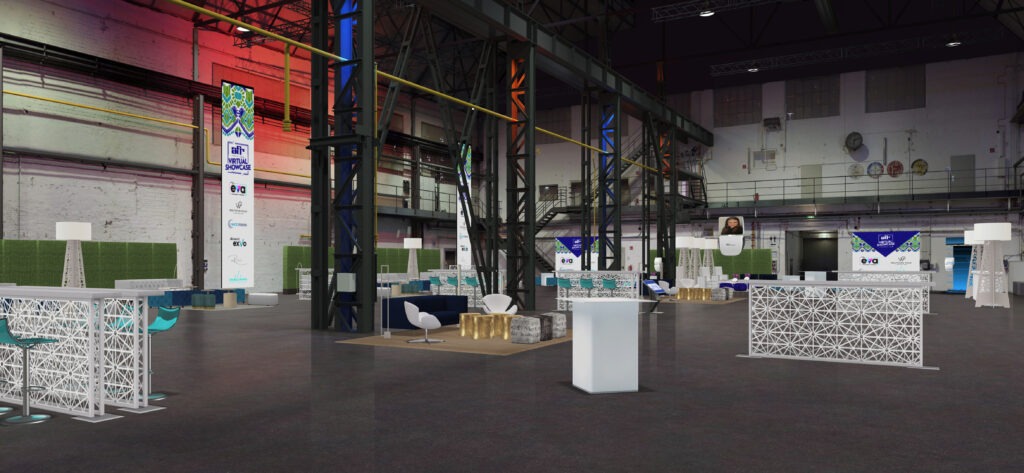 Back in April, we hosted our very own virtual showcase and networking event – the first of its kind for AFR! Since, even now, the historic events of 2020 seem to have stifled almost all hope of safely and responsibly gathering our industry friends and associates, we were wholly honored (and quite frankly very excited) to put this show together for you.
We would like to send a great big thank you to all of our attendees and partners for taking part in this virtual showcase. We appreciate each and every one of you and feel very fortunate to have been able to share this experience with you.
INTRODUCING THE FUTURE OF EVENTS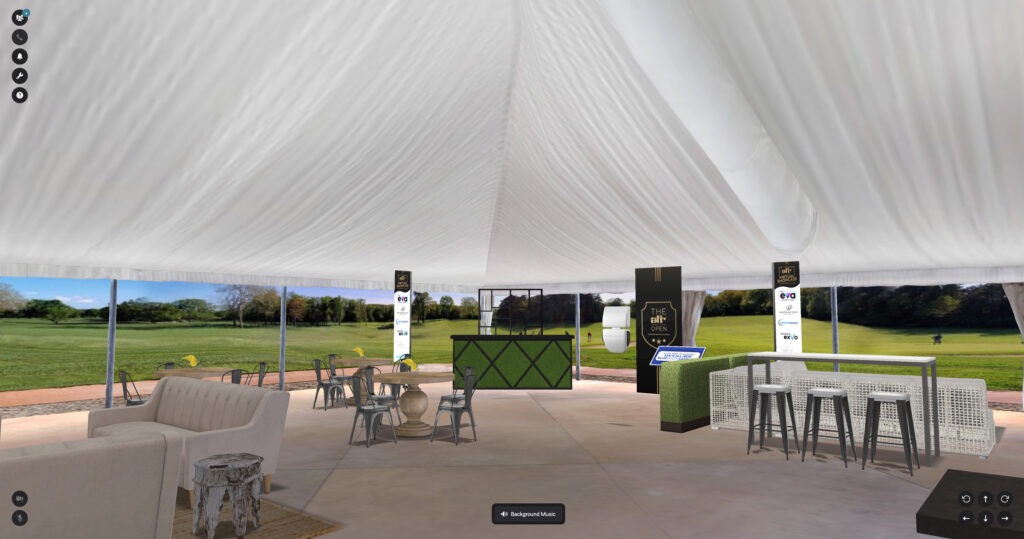 When AllSeated co-founder Sandy Hammer presented Jose Ramirez, director of marketing at AFR, with an opportunity to host a virtual showcase using the brand new exVo platform, he quickly began exploring unique and creative ways to leverage this next-level technology in order to produce an unforgettable afternoon of inspiration and design like none other in our long history.
After several days of researching and cultivating ideas, Jose imagined a way to take past nationwide IRL (in real life) networkers – and recreate them as vivid and immersive virtual environments. After presenting his idea to AllSeated technical experts, Jose and the team went to work and collaborated to quickly bring the full concept to life. The result was five richly detailed and fully-imagined 3D room designs through which attendees could virtually navigate and interact in a way that makes other virtual meeting platforms like Zoom seem a distant memory.
FIVE UNIQUE AND IMMERSIVE ENVIRONMENTS
Welcome Event Room – designed by Mandy Diaz
General Session – designed by Sarah Bradley
Hospitality Suite – designed by Sydney Archer
Gala – designed by Aundrea Hopkins
VIP Room – designed by Mandy Diaz
The AFR Furniture Rental Virtual Showcase & Networking Event was one of our favorite exVo events so far! With fantastic entertainment, engaging conversations, and stunning furniture, what's not to love?"
- AllSeated
SHORT RECAP VIDEO BY exVo
OUR AWESOME EVENT PARTNERS
"The exVo Virtual Event Platform powered by AllSeated was by far the best alternative to an in-person event I have experienced over the past year. The AFR team did an incredible job of recreating familiar live spaces and incorporating design, decor and entertainment throughout.  The networking feature was really engaging and I was able to make some meaningful connections during the event.  While we all look forward to more in person events coming back, I would say this is the next best thing."
- Aaron Sayre, Business Development at EVA
OUR KEYNOTE SPEAKER AND HYBRID EMCEE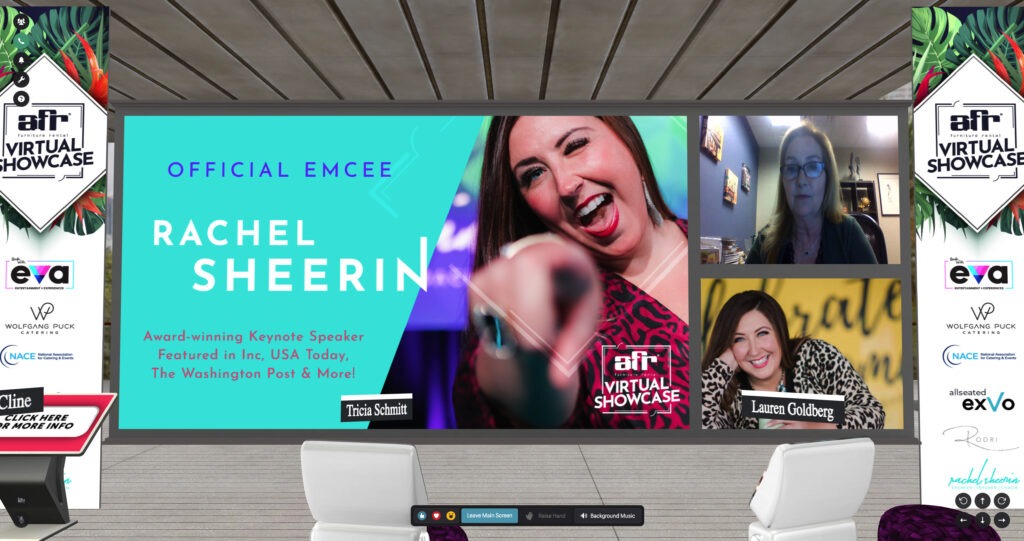 Rachel Sheerin, Certified Professional Behavioral Analyst
We were also very fortunate to have award-winning keynote speaker and hybrid emcee Rachel Sheerin deliver a high-energy speech full of encouragement and inspiration. "AFR did what they do best at the virtual showcase," said Rachel, "bringing conference design and style to enhance the human connection of the entire gathering." Rachel has been featured in Inc, USA Today, The Washington Post, and more, and her words of advice were informative, motivational, and (of course) so much fun! Check out her full presentation below.
REPLAY RACHEL'S PRESENTATION
Rachel Sheerin Presentation Part 1
Rachel Sheerin Presentation Part 2
"Knowing that as a virtual attendee, I would walk around the same space as the on-site folks, navigate the same hallways and elevators? I felt how powerfully drawn together we can bring attendees and audiences in the hybrid setting and as a motivational keynote speaker, that power translates into impact and potential! The future is here and thanks to AFR, it looks and feels great."
– Rachel Sheerin
MISSED THE LIVE EVENT?
Relive the entire event at your leisure.
Relive the Full Event
CRAVING EVEN MORE INSPIRATION?
Experience the all-new 2021 digital BLUEbook catalog.
2021 Digital BLUEbook Catalog
YOUR FURNITURE RENTAL COMPANY HAS ARRIVED
AFR delivers the most exceptional furniture and accessory rentals from coast to coast, inspiring engaging environments that tell your unique brand story. Our creativity and top-level client support make us a go-to resource that event marketers and businesses have relied upon for decades.