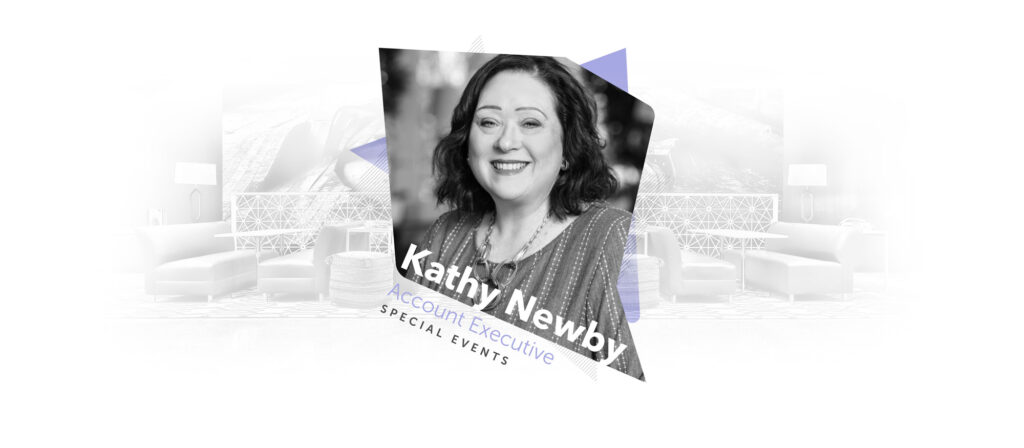 Kathy A. Newby, CERP
Account Executive
Event professional Kathy Newby began her career in 1986 managing and executing trade shows before quickly moving into the production and rental side of special events. Her expertise lies in venue transformation, logistics, and creating seamless full-service event experiences. Her naturally comfortable style and extensive event knowledge make her well suited for social and corporate clientele who require a high level of privacy and discretion.
"Having worked closely with Kathy for many years through our mutual ILEA and professional connections, I'm delighted to find our paths have aligned once again," states Leigh Tidwell, National Sales Manager at AFR Furniture Rental. "She has been a staunch supporter for many years, and I am excited to welcome her to our AFR family as Account Executive for the San Francisco Bay Area."
With accomplishments ranging from celebrity weddings and professional sports events to cultural celebrations and gala benefits, Kathy has been honored with numerous prestigious awards and honors. She has been guest speaker at Eventworld, guest speaker and presenter at The Special Event, and has been quoted in several industry magazines in addition to her published work in Special Events Magazine.
A current member of the International Live Events Association (ILEA), Kathy has served as President of the ILEA Northern California Chapter, Vice President of the ILEA Western Region, and International Chair for the ILEA Esprit Awards – all for two consecutive terms. She has also served on several ILEA International committees and task forces.
Kathy is Inaugural Chapter President for the Wedding International Professionals Association (WIPA) San Francisco Bay Area chapter and has served on their national board of directors. She has also been a member of National Association of Catering and Events (NACE) and served on the Planning Committee for the Bay Area Wedding Network (BAWN).
Kathy received designation as a Certified Event Rental Professional (CERP) from the American Rental Association in 2015 and was recertified for her CERP designation in 2020.
Connect with Kathy
Kathy A. Newby, CERP
Account Executive | Bay Area, California
415-961-0368
knewby@rentfurniture.com
---
About AFR Furniture Rental®
Headquartered in Pennsauken, New Jersey, AFR Furniture Rental® is the nation's second largest furniture rental company. Established in 1975, award-winning AFR Furniture Rental provides the perfect solution for every type of furniture rental situation including residential, home staging, commercial, special event and trade show. With 26 strategic locations across the United States, AFR offers customers a different rental experience through stylish and quality products matched with a commitment to excellence of service. See our full inventory of furnishings and find out more about AFR at www.rentfurniture.com
For media inquiries and hi-res images, please contact Tricia Schmitt,
at 856-406-1206 or by email at tschmitt@rentfurniture.com.