4 Beautiful Furniture Collections for Your Next Outdoor Event
With warmer weather right around the corner, it's time to start planning for the fun stuff – picnics, pool parties and barbeques, wedding receptions, graduation parties, family reunions, performances, and all the other great spring and summer gatherings we look forward to each year.
An outdoor event is truly great when it captures the vibe of the season while also allowing for guests to relax and converse freely. But bringing all the comforts of real indoor furniture outside can be tricky and comes with some serious considerations – including a mandatory Plan B just in case mother nature isn't on our side come the big day. Plus, a lot of furniture is created using materials that have trouble withstanding not just rain but also things like direct sunlight, sand, heat, humidity, fog, dew, wind, and much more.
Instead, consider furnishing your special party with a stylish and durable outdoor furniture collection that balances that perfect spring or summer look with other important considerations like comfort and resistance to the elements.
From beautiful, relaxed looks with big comfortable cushions, sturdy weather-resistant frames, and even modular options – grab your tiki torches from the garage and pour yourself a delicious, chilled drink as we explore 4 beautiful outdoor furniture collections.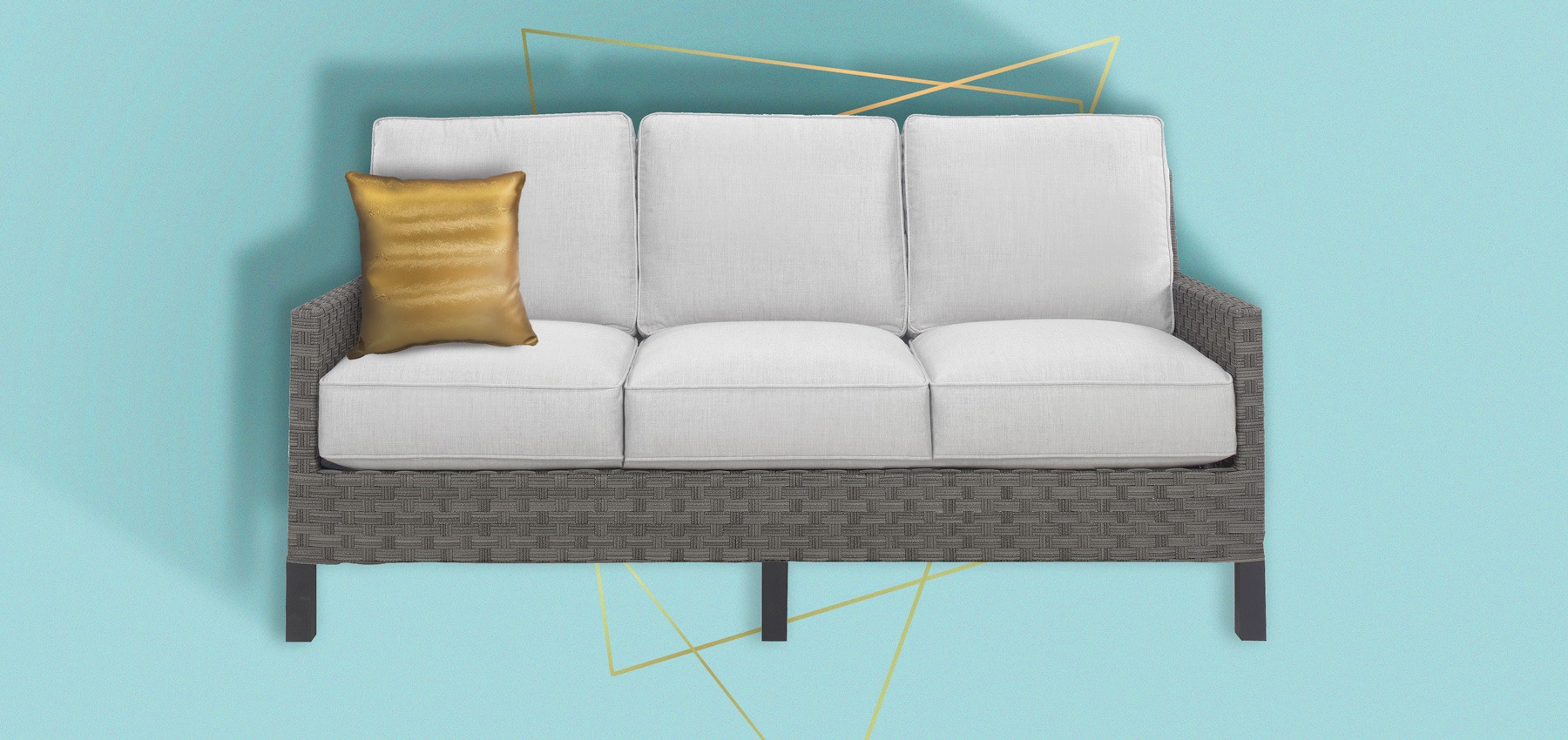 VERONA

GOOD VIBRATIONS
The ultimate casual outdoor collection, Verona creates a picturesque setting for pool or beachside cocktails and hors d'oeuvres. Its interwoven granite finish is mellow and adds a wonderfully relaxed aura to any atmosphere. Friendly dialogue and happy moments are simply inevitable at a Verona party. The only thing left to do is relax and enjoy the vibes. Perfect Pairings: Gold Leaf Table, Shoreline Cocktail Table
Explore Verona…
Casual interwoven outdoor collection in granite finish with aluminum frame.
Verona Sofa | Verona Chair | Verona Ottoman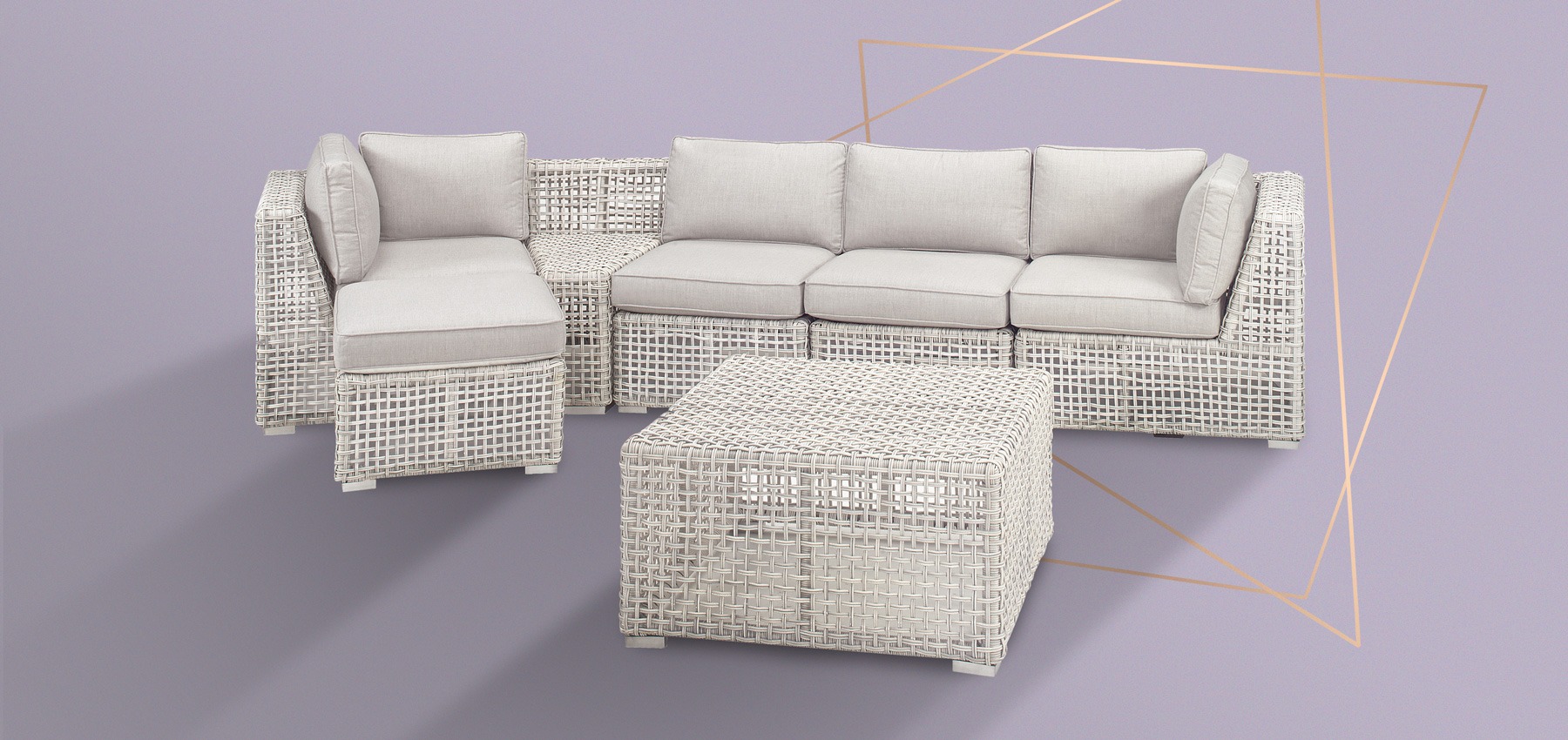 WISTERIA

PARTY UNDER THE STARS
You are cordially invited to an ethereal outdoor dinner party taking place at a serene garden villa. Our elegantly mellow oxford grey Wisteria collection is set beneath bright stars peeking through a canopy of fresh green trees. Its modular design and sturdy aluminum frame allow for on-the-fly adjustments, facilitating the kind of cherished conversations and heart-to-heart connections you won't soon forget. Perfect Pairings: Eden Accent Table - Large, Brooklyn Round End Table
Explore Wisteria…
Transitional and modular outdoor collection in oxford grey with sturdy aluminum frame.
Wisteria Armless Chair | Wisteria Corner | Wisteria Ottoman
Wisteria Wedge Table | Wisteria Cocktail Table
COSTA

OUTSIDE THE LINES
Outdoor entertaining has come a long way from the beach blanket. Today, furnishings like those featured in our Costa Collection create spaces that are refined and inviting. Designed with a durable powder-coated aluminum frame and weather resistant fabric, this is a look that will stand the test of time. Perfect Pairings: Aspen Cocktail Table - Charged, Benton Cube Ottoman - Blue
Explore Costa…
Urban casual outdoor collection with aluminum powder-coated metal frame and grey water-resistant outdoor fabric.
Costa Sofa | Costa Chair | Costa Cocktail Table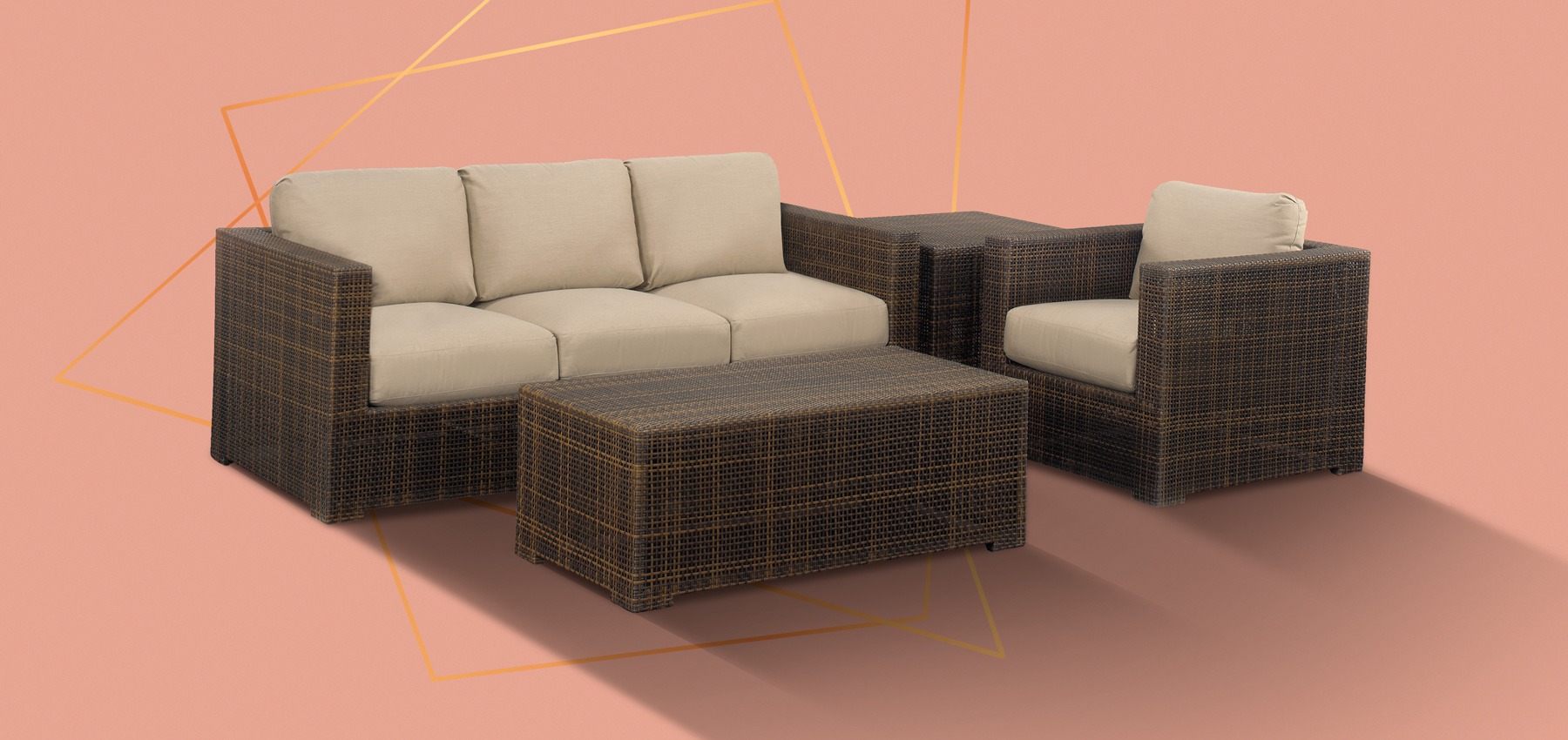 EVOKE

GOOD FEELINGS
This collection, with its cubist design elements, awakens the artist within. Sofas and chairs featuring straight edges, high arms and backs, and textured base are the foundation for outdoor parties. Combine this look with a full-size coffee table, or an end table from the same line, or pair this with whimsical pieces for a look that evokes the art of entertaining. Perfect Pairings: Porto Accent Table, Grass Bench Ottoman
Explore Evoke…
Open weave rattan-look collection with wide track arm and beige outdoor sunbrella fabric. Perfect for outdoor use.
Evoke Sofa | Evoke Chair
Evoke Cocktail Table | Evoke End Table | Evoke Cube Table
Your Furniture Rental Company Has Arrived
AFR delivers the most exceptional furniture and accessory rentals from coast to coast, inspiring engaging event and trade show exhibits that tell your unique brand story. Our creativity and top-level client support make us a go-to resource that event marketers and businesses have relied upon for decades.
Pop-up or permanent, physical or virtual, B2B or B2C – we produce strategic designs that are personalized to provide an unforgettable experience for your attendees. With top-tier selection for activations, conferences, exhibits, awards, lounges, and beyond, our team works closely with you to ensure your complete satisfaction. Get Started