A Simple Recipe from the AFR Kitchen
Mango Season
If you're on the lookout for a new summer beverage that's as bright and sweet as the season itself and sure to quench your thirst, we've got the perfect recipe for you. Mango iced tea is delicious, easy to make and customize, and perfect for cooling off poolside, on the deck, or at your next backyard party or barbeque.
In celebration of the summer season and our beautiful Mango upholstery collection, we invite you to grab a couple of fresh mangos and treat yourself and those around you.
Not sure when a mango is ripe or not? Or how to dice and peel one? Read on – we've got you covered!
how to
Pick a Ripe Mango
A brightly colored mango is great, but we still need to check a few more things.
If the mango feels hard, that usually means it needs more time to ripen.
A ripe mango will feel slightly soft but not squishy or mushy.
Smell the mango around the stem, and if it smells sweet, it's ripe and ready to eat.
Ripe mangos can be stored in the fridge for a few days.
If a mango isn't ripe yet, leave it at room temperature to speed things up.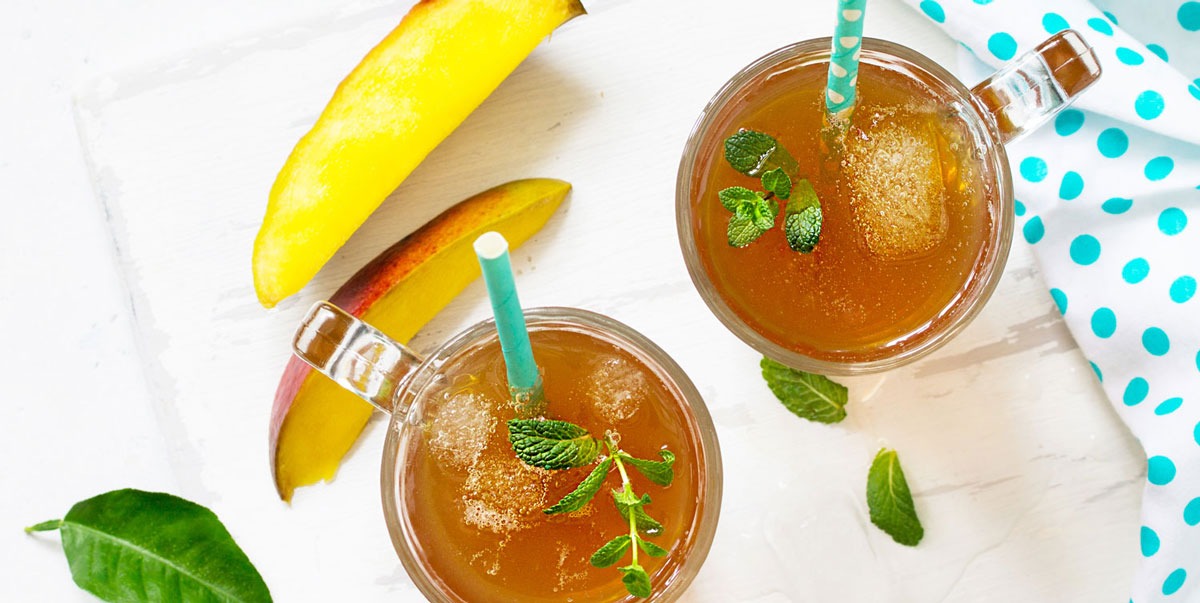 What You'll Need
This drink is refreshingly simple to create because it only requires a few common ingredients: water, sugar, tea, mango, and ice. This will make enough to fill about a half-gallon pitcher.
Mango Syrup:
1 cup of water
1 cup of granulated sugar (granulated sugar is just a fancy name for white or "regular" sugar)
2 fresh, ripe mangos, diced and peeled
Pitcher of Iced Tea:
6 cups of water
10 tea bags - standard size, green or black tea
about enough ice cubes to fill a half-gallon pitcher
Garnish Ideas:
paper straws
tiny umbrellas
fresh mint
fresh lemon or lime
Other Stuff:
small to medium saucepan
medium to large saucepan
fine strainer
wooden spoon or potato masher
small plastic squeeze bottle
(something like a plastic honey or agave nectar squeeze bottle works perfect)
half-gallon pitcher
how to
Dice and Peel a Mango
Stand up on the stem and cut downward, carefully separating each half from the pit in the center.
You will be left with two half pieces and a center piece that holds the pit.
Lay each of the half pieces flat and cut several straight lines in the flesh, avoiding the peel.
Now cut across your straight lines to make little even boxes, again avoiding the peel.
Now press or "fold" the mango outward so the boxes you made stick out.
Cut or pull your mango chunks away from the peel and you're good to go.
Plus, there's still good mango left in the center part that holds the pit.
Making Mango Syrup
In a small to medium saucepan, add 1 cup water, 1 cup sugar, and mangos (diced, peeled).
Set your stove to low heat and allow the sugar to dissolve fully, stirring occasionally as needed.
Now increase your heat to medium-high to get a nice simmer going.
Simmer for about 10 minutes, breaking up the mango chunks throughout – try a wooden spoon!
Remove from heat and let the syrup cool to room temperature.
Strain out any of the mango pulp and store in a small bottle.
Keep your mango syrup in the fridge for up to two weeks.
Making Iced Tea
In a medium to large saucepan, bring 6 cups of water to boil
Add the 10 tea bags and continue to boil for 1 minute, then remove from heat.
Let the tea bags steep for about 5 minutes.
Fill a half-gallon pitcher (glass is best) with ice cubes.
Pour your fresh tea over the ice and keep in the fridge until guests arrive. 
Mix and Enjoy
When you're ready to serve, fill a few glasses with ice.
Pour about 2 tablespoons of mango syrup into each glass.
Pour in your freshly brewed tea and give it a quick stir to mix the syrup, adding more if desired.
Paper straws, tiny umbrellas, fresh mint, and sliced lemons or limes make ideal garnishes.
Kick back, sip, and enjoy mango season!
Making it Your Own
One of our favorite things about this recipe is that you can substitute any of your favorite fresh, in-season fruits for the mango to create all kinds of delicious fruit-flavored iced teas, lemonades, cocktails and more! You can even mix a few different fruits to make your own strawberry/mango blend as an example. The point is the possibilities are endless.
Another way to customize this recipe is to consider adjusting what kind of tea you use for your iced tea. We suggest green or black tea in this recipe for simplicity sake but there's no rule against swapping that out for something you like even better.
Finally, if granulated sugar isn't your thing, make sure to search online for alternative simple syrup recipes made instead with stevia, or honey, or agave nectar. While this may slightly change some of the ingredient amounts and cooking times listed above when making your syrup, the main idea is still the same. No matter what you choose, the key is in breaking up the fruit really well so all the flavor transfers over to the syrup.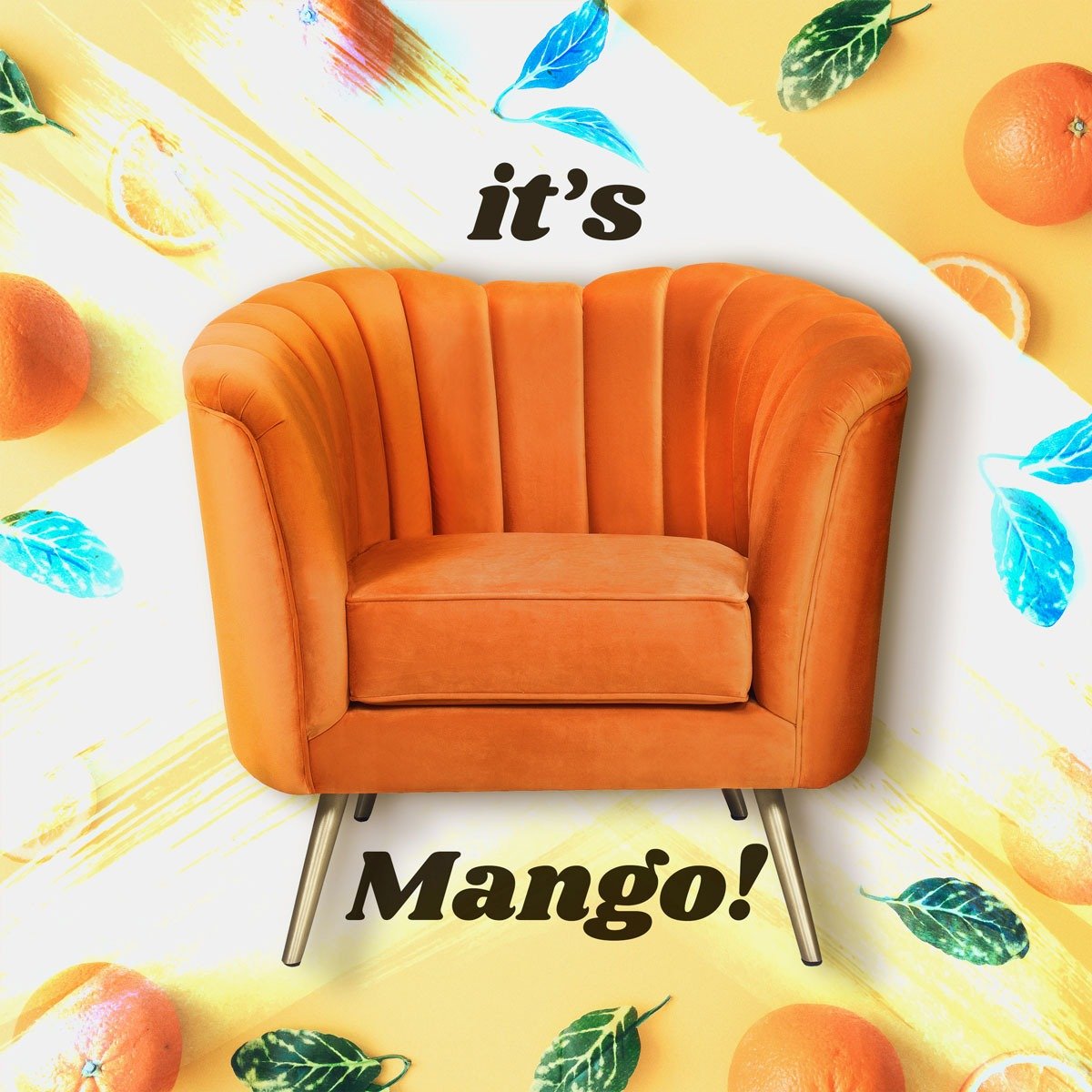 Your Furniture Rental Company Has Arrived
AFR delivers the most exceptional furniture and accessory rentals from coast to coast, inspiring engaging event and trade show exhibits that tell your unique brand story. Our creativity and top-level client support make us a go-to resource that event marketers and businesses have relied upon for decades.
Pop-up or permanent, physical or virtual, B2B or B2C – we produce strategic designs that are personalized to provide an unforgettable experience for your attendees. With top-tier selection for activations, conferences, exhibits, awards, lounges, and beyond, our team works closely with you to ensure your complete satisfaction. Get Started